BRITBASE - British Chess Game Archive
Tournament: 33rd British Chess Championship • All 66 games
(plus 92 other games from subsidiary sections)


Venue: University Coll., Nottingham • Dates: 12-23 August 1946 • Download PGN

• Last Edited: Sunday 12 November, 2017 3:26 PM
1946 British Chess Championship
| | | | | | | | | | | | | | | |
| --- | --- | --- | --- | --- | --- | --- | --- | --- | --- | --- | --- | --- | --- | --- |
| | | 1 | 2 | 3 | 4 | 5 | 6 | 7 | 8 | 9 | 10 | 11 | 12 | Pts |
| 1 | Combe,Robert Forbes | | 1 | ½ | 1 | ½ | 1 | 0 | 1 | 1 | 0 | 1 | 1 | 8.0 |
| 2 | Wood,Gabriel Jacquin | 0 | | 0 | 1 | 1 | ½ | 1 | 1 | 1 | 1 | 0 | 1 | 7.5 |
| 3 | Winter,William | ½ | 1 | | 0 | 0 | 1 | 0 | ½ | ½ | 1 | 1 | 1 | 6.5 |
| 4 | Abrahams,Gerald | 0 | 0 | 1 | | ½ | 0 | 1 | 1 | 1 | 0 | 1 | 1 | 6.5 |
| 5 | Golombek,Harry | ½ | 0 | 1 | ½ | | ½ | ½ | 0 | ½ | ½ | 1 | 1 | 6.0 |
| 6 | Alexander,Conel Hugh O'Donel | 0 | ½ | 0 | 1 | ½ | | 0 | 1 | 1 | 1 | 1 | 0 | 6.0 |
| 7 | Broadbent,Reginald Joseph | 1 | 0 | 1 | 0 | ½ | 1 | | 1 | 0 | 0 | 0 | 1 | 5.5 |
| 8 | Milner-Barry,Philip Stuart | 0 | 0 | ½ | 0 | 1 | 0 | 0 | | 1 | 1 | 1 | 1 | 5.5 |
| 9 | Wood,Baruch Harold | 0 | 0 | ½ | 0 | ½ | 0 | 1 | 0 | | 1 | ½ | ½ | 4.0 |
| 10 | Parr,Frank | 1 | 0 | 0 | 1 | ½ | 0 | 1 | 0 | 0 | | 0 | 0 | 3.5 |
| 11 | Thomas,Andrew Rowland Benedick | 0 | 1 | 0 | 0 | 0 | 0 | 1 | 0 | ½ | 1 | | 0 | 3.5 |
| 12 | Wade,Robert Graham | 0 | 0 | 0 | 0 | 0 | 1 | 0 | 0 | ½ | 1 | 1 | | 3.5 |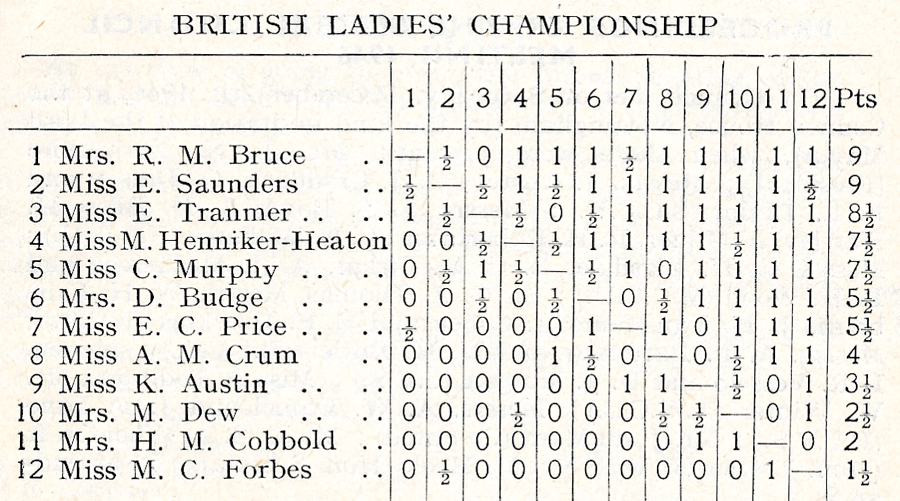 In the play-off for the women's title, held in Covent Garden, London, from 30 September to 2 October 1946, Elaine Saunders defeated Rowena Bruce 2½-½.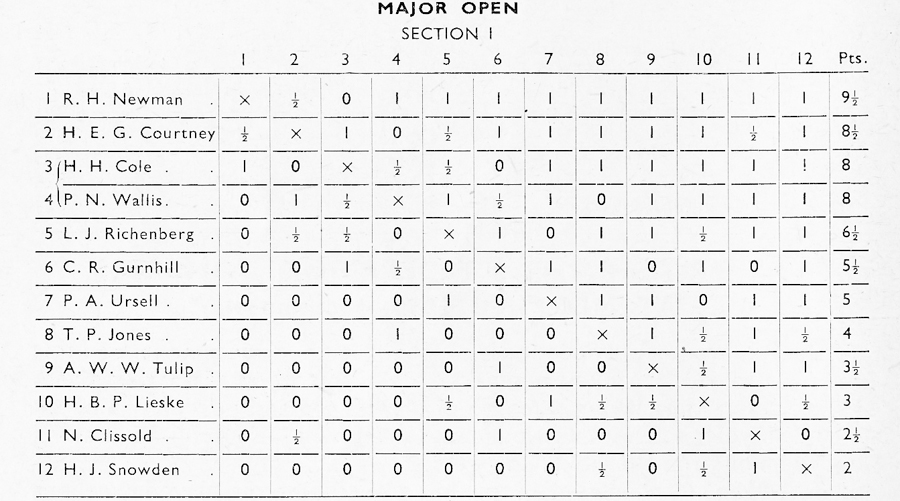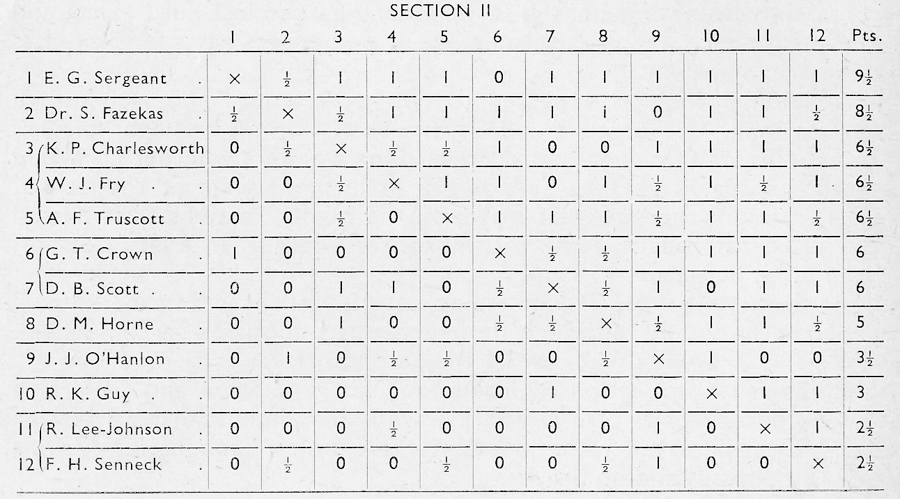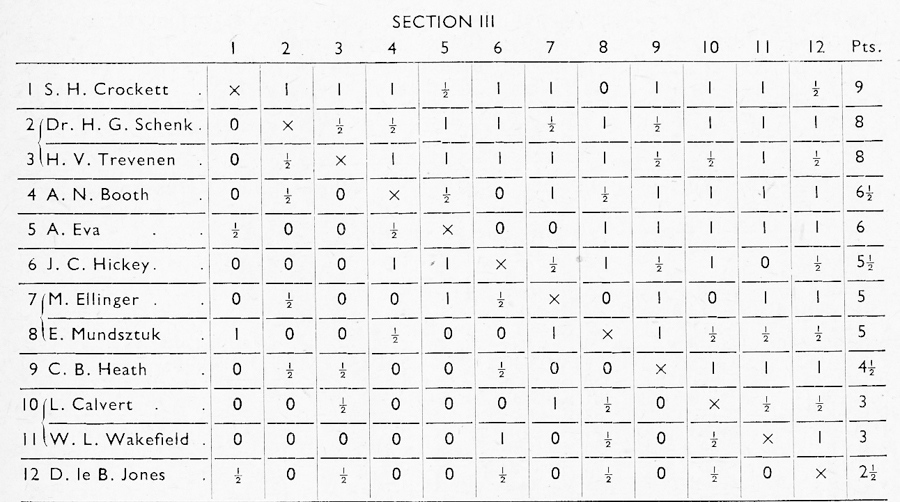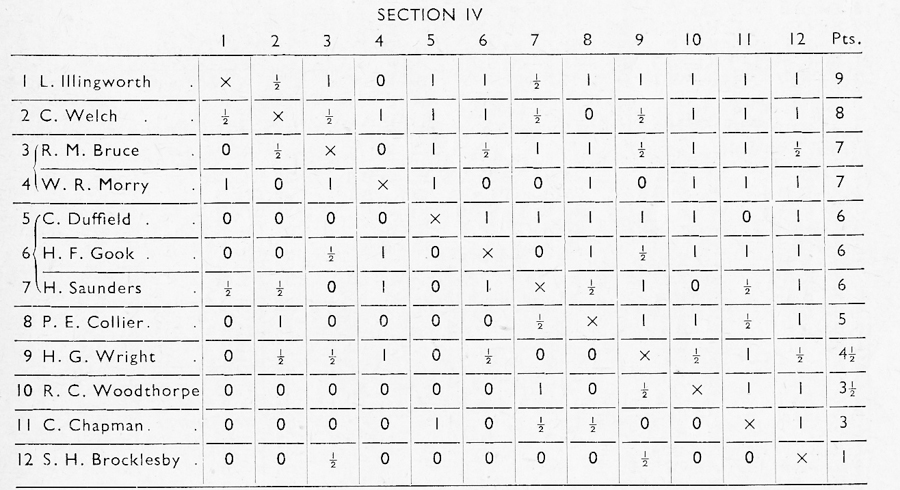 (Draw order for Section 4 was 1 Brocklesby, 2 Woodthorpe, 3 Collier, 4 Welch, 5 Morry, 6 Bruce, 7 Duffield, 8 Gook, 9 Wright, 10 Illingworth, 11 Saunders, 12 Chapman - apply pairing rules to find rounds and dates of games)
FIRST CLASS Section 1: 1 B. Pawliszyn (Nottingham) 9½ ; 2 H. W. Scarlett (Cambridge) 8½; 3 F. E. Beadles (Thorneywood) 7½. Section 2: 1 J. Harwood (Doncaster) 9; 2 J. H. B. Bennett (Darlington) 7½; 3 R. Teene (London) 7. Section 3: 1 F. L. Osborne (London) 8½; 2 Miss F. Heemskerk (Holland) 7; 3, W.W. Henderson (London) 6½.
SECOND CLASS Section 1: 1-2 F. J. Andrews (Redhil), T. J. Hart (Plymstock) 8½; 3 Rev. H. C. de Barathy (Bromley) 8. Section 2. 1 R. A. Wagstaff (London) 8½; 2 K. F. Wroe 8; 3 W. N. Emeny 7½.
THIRD CLASS Section 1: 1 D. A. Thomas (Bristol) 9 ; 2 R. L. Nunn (Tring) 8½ ; 3 Rev. C. Ball (Sherwood) 8. Section 2: 1 D. Ll. Jones (Barry) 8½ ; 2-3 D. G. Horseman (Coventry), A. F. Thomas (Worcester) 8.
JUNIOR 1 J. A. Wall (London) 9 ; 2 P. Worthington (Birkenhead) 8½ ; 3 B. Doy (Mansfield), H. W. Rayson (Nottingham) and I. P. Russell (Hull) 8.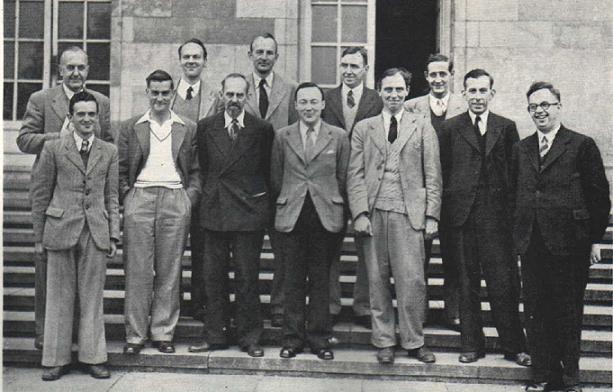 Back row, left to right: Gabriel Wood, Reginald Broadbent, Philip Milner-Barry, Andrew RB Thomas, Baruch H Wood.
Front row, left to right: Bob Wade, Frank Parr, William Winter, Robert Combe, Hugh Alexander, Harry Golombek, Gerald Abrahams.
---
Robert Forbes Combe (16 August 1912, Logie Buchan, Aberdeenshire — 12 February 1952, Aberdeen)
Note - according to a report in the Hastings and St Leonard's Observer of 31 August 1946, the Championship winner's surname was pronounced 'coam'.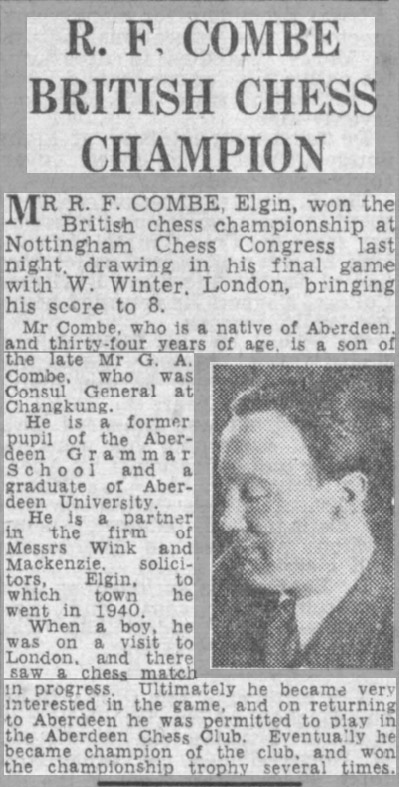 From the Aberdeen Journal, 24 Aug 1946
---
Gabriel Jacquin Wood (23 June 1903, Battle/Bexhill-on-Sea, Sussex — 5 November 1983, Dereham, Norfolk) A very unusual middle name, given in both birth and death registrations, but not hitherto in any chess references to him. In 1939 he was listed as a "chemist photographic dealer" living with his wife Gladys M Wood in Southall, Middlesex, with a Mary E(dith) Wood, who could well have been his (unmarried) mother. He was with her in 1911 in Hull. He married Gladys in 1927 in Peterborough.
---
From the Hull Daily Mail, 28 August 1946: "G. Wood, who has just finished second with 7½ points against R. F. Combe's 8 in the British Chess Championship Tournament at Nottingham, is a Hull man, and his performance is of much interest to the strong group of chess-players in the city.

"He became a junior member of the Hull Chess Club at a time when the club was rich in junior talent and with Teddy Hanger, grandson of Ald[erman]. Hanger, and E. B. Waller made a good show in the club tournaments. He lived in Caughey-st., and was employed by Boots, at the former King Edward-st. premises. Mr Wood then moved to London and little was heard of him here, until, about a year ago, it was seen that he had won the London Championship. Since then his victories include this year's British Correspondence Chess Championship. It was this fine achievement that secured for him the invitation to play in the British Tournament and he has not failed to add to his reputation.
"Hull players hope before long that they will see the British champion risen from their ranks."
---
Gabriel Wood's obituary in BCM, Jan 1984, p21: "Gabriel Wood (23 June 1903 — the date has been supplied by our correspondent Andrew Blackburn, whose firm is acting in the deceased's estate) died at Dereham, Norfolk, on November 5th 1983. We are informed by Owen Hindle that the 1946 British Correspondence Champion had played in Norfolk chess circles in recent years. The wider chess community had lost touch with him decades ago, since we understand that he gave the game up shortly after his most successful period at the end of the war, when he was runner-up to Combe in the 1946 British Championship. In the 1948 British Championship he beat Alexander in only 19 moves, but after a loss 4-2 to Winter in a match in 1949 he seems to have given up OTB competitive play."
---