BRITBASE - British Chess Game Archive
Tournament: 10th British Championship (won by FD Yates)
(34 games / 66, 1 part-game, 29 from subsid. events)


Venue: Cheltenham • Dates: 11-23 August 1913 • Download PGN

• last edited Thursday August 4, 2022 6:07 PM
1913 British Chess Championship, Cheltenham, 11-23 August • 1912« »1914
1913 British Chess Championship
Draw No.
Resid.
1
2
3
4
5
6
7
8
9
10
11
12
Total
1
Fred Dewhirst Yates
3
Leeds
0
1
1
1
1
1
1
½
½
1
1
9
2
James Mahood
7
London
1
0
0
1
1
1
1
1
0
½
1
7½
3
Joseph Henry Blackburne
6
London
0
1
0
½
0
1
1
1
½
1
1
7
4
Harold Saunders
1
London
0
1
1
1
0
1
0
0
1
½
1
6½
5
William Gibson
8
Glasgow
0
0
½
0
1
1
1
0
1
1
½
6
6
Herbert Levi Jacobs
12
London
0
0
1
1
0
0
1
½
1
1
½
6
7
Reginald Pryce Michell
4
London
0
0
0
0
0
1
½
1
1
1
½
5
8
William Hewison Gunston
2
Cambridge
0
0
0
1
0
0
½
1
1
0
1
4½
9
David Miller
5
London
½
0
0
1
1
½
0
0
0
1
½
4½
10
Roland Henry Vaughan Scott
11
London
½
1
½
0
0
0
0
0
1
1
0
4
11
Henry Bernard Uber
9
London
0
½
0
½
0
0
0
1
0
0
1
3
12

Rev. Francis Edward Hamond

10
Norwich
0
0
0
0
½
½
½
0
½
1
0
3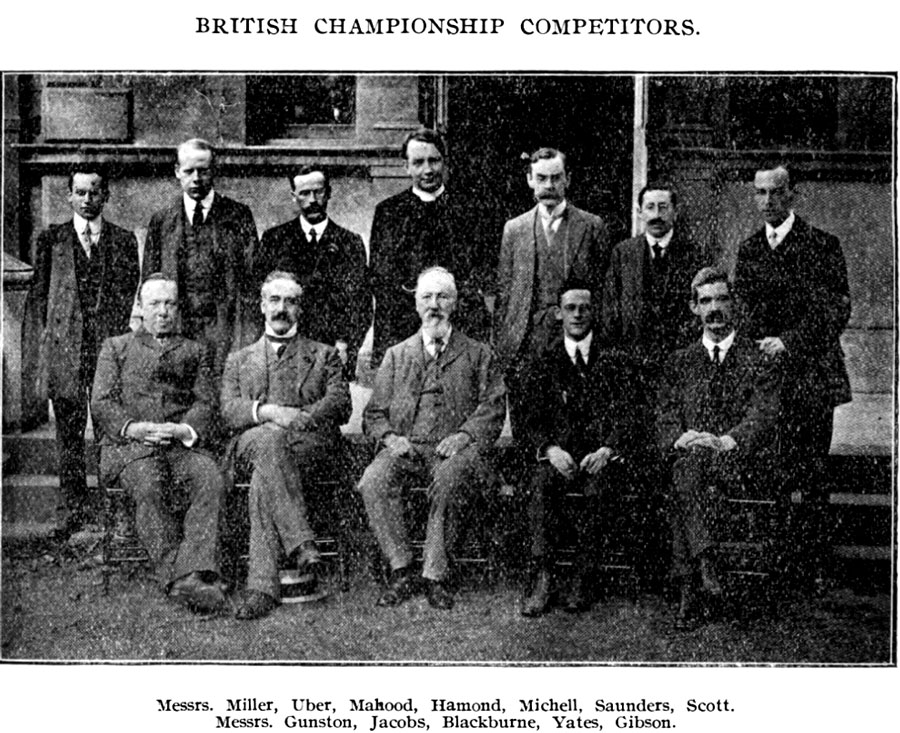 ---
1913 British Ladies Chess Championship • 1912« »1914
1913 British Ladies Championship
Draw No.
Resid.
1
2
3
4
5
6
7
8
9
10
11
12
Total
1
Mrs Amabel Nevill Gwyn Moseley (née Jeffreys) §
5
Oxford
0
0
1
1
½
1
1
0
1
1
1
7½
2
Mrs Agnes Bradley Stevenson (née Lawson)
1
Dartford
1
1
1
0
½
0
½
1
1
1
½
7½
3
Miss Florence Hutchison Stirling
9
Edinburgh
1
0
1
1
½
1
½
1
0
½
1
7½
4
Miss Emily Eliza Abraham
3
Herne Bay
0
0
0
0
1
1
1
0
1
1
1
6
5
Mrs Mary Mills Houlding (née Palmer)
7
Newport
0
1
0
1
1
0
0
1
1
0
1
6
6
Mrs Helen Eliza Sidney (née Truelove)
6
Hove
½
½
½
0
0
0
½
1
½
1
1
5½
7
Mrs Annie Sophia Roe (née Verdon)
2
Putney
0
1
0
0
1
1
0
1
0
0
1
5
8
Mrs Edith Mary Ann Michell (née Tapsell)
11
London
0
½
½
0
1
½
1
0
0
1
½
5
9
Miss Annie Mabel Gooding
10
Cheltenham
1
0
0
1
0
0
0
1
1
1
0
5
10
Miss Ann Dick Smith Cuninghame
12
Edinburgh
0
0
1
0
0
½
1
1
0
0
1
4½
11
Mrs Edith Martha Holloway (née Crittenden)
4
Dartford
0
0
½
0
1
0
1
0
0
1
0
3½
12
Mrs Rosa Annie Banting (née Vines)
8
London
0
½
0
0
0
0
0
½
1
0
1
3
1913 British Ladies Championship Play-Off, 27 October - 1 November, Chess Divan & Ladies Chess Club, London
1913 British Ladies Championship Play-Off
Resid.
1
2
3
Total
1
Mrs Amabel Nevill Gwyn Moseley (née Jeffreys)
Oxford
1 ½
1d 1d
3½
2
Mrs Agnes Bradley Stevenson (née Lawson)
Dartford
0 ½
1 1d
2½
3
Miss Florence Hutchison Stirling
Edinburgh
0d 0d
0 0d
0
§ [BCM 1913, p477] "The triple tie in the Ladies' Championship tournament, at Cheltenham, was decided in London during the last week in October [1913]. Miss Hutchison-Sterling (Edinburgh), after losing to Mrs. R. H. S. Stevenson, retired owing to indisposition. The other competitor was Mrs. Moseley, of Oxford, who secured the first prize and the championship by scoring 1½ points out of two games against Mrs. Stevenson."
---
London Evening Standard - Saturday 01 November 1913
WOMEN'S CHESS
ln the tournament for the ladies' championship of the British Chess Federation, played at Cheltenham in August, three competitors, as will be remembered, made an even score. Those who had tied were Mrs. Stevenson, Mrs. Moseley,, and Miss Hutchison Stirling, of Dartford, Oxford, and Edinburgh respectively. The three players met in London this week to play off the tie. The first game contested was between Mrs. Stevenson and Miss Hutchison Stirling. Mrs. Stevenson secured a victory, whereupon her opponent promptly retired from the contest, somewhat upsetting the arrangements made.
The second game was played between Mrs. Stevenson and Mrs. Moseley. A rather well-contested game resulted in easy honours. This game is appended. The third game played on Thursday [30 October] resulted in a win for Mrs. Moseley, who, therefore, wins the ladies' championship and gold medal.
---
[Surrey Mirror - Friday 17 October 1913 / Dorking and Leatherhead Advertiser - Saturday 18 October 1913]
CHELTENHAM CONGRESS.
The award of the prizes for Brilliant Games is just issued, after the entered games have been carefully examined by the donor, Mr. R. C. Griffith, and other first-class players. The results are as follows:—
Championship and Major Open division—Prize value £2 10s., Mr. R. H. V. Scott for his game against Mr. D. Miller.
Ladies' Championship.—Prize, Chess Picture, presented by Mrs. Tallboys. Miss Hutchison-Stirling for her game against Mrs. Houlding.
First-class Division.—Prize value £1 5s. —Mr. G. Wilkes, for his game against Mr. O. Tipal.
Second-class Division.—Prize value 15s. —Mr. C. V. Loye for his game against Mr. F. O. Beamish.
Third-class Division.—Prize value 10s. —Miss Watson for her game against Mr. D. Jones.
The ties for the Ladies' Championship will be played off in the week commencing Oct. 27th, at the Ladies' Chess Club, 9, Park Place, St. James', S.W., and at the Chess Divan, 105, Strand, W.C. The committee of the Ladies' Chess Club have kindly consented to make the necessary arrangements, and Mr. I. Gunsberg has likewise offered to provide all the necessary facilities for the games which are proposed to be played there.
The hours of play each day will be 3 p.m. to 7 p.m., and 8 p.m. to 10 p.m., and the pairings are as under:—
At the Ladies' Chess Club: —
Oct. 27th.—Mrs. Stevenson v. Miss Stirling. [1-0]
Oct. 29th.—Mrs. Moseley v. Miss Stirling. [1d-0d - Stirling withdrew]
Nov. 1st.—Mrs Stevenson v. Mrs Moseley. [actually played on Thursday 30 October - 0-1]
At the Chess Divan:—
Oct. 28th.—Miss Stirling v. Mrs. Stevenson. [0d-1d - Stirling withdrew]
Oct. 30th.—Miss Stirling v. Mrs. Moseley. [0d-1d - Stirling withdrew]
Oct. 31st.—Mrs. Moseley v. Mrs. Stevenson. [½-½]
It will be seen that two games will be played between each pair. [BUT these arrangements were later revised - see below]
---
Dorking and Leatherhead Advertiser - Saturday 01 November 1913
THE LADIES' CHAMPIONSHIP.
The arrangements for this match had to be revised, and only the games on Oct. 29th and Nov. 1st could be played at the Ladies' Chess Club, the remainder being played at the Gambit Café, 6, Budge-row where a private room is available. The Gambit Café is a chess resort for City gentlemen, and is rapidly becoming popular now that new and commodious premises have been obtained. It is not a ladies' café, but Miss Price, the proprietress, who has once competed most successfully in the Ladies' Championship, has generously set apart a private room for the games, and will do all in her power for the comfort and convenience of the competitors and their friends. The contest has progressed during the week, and the following results have been announced:—Miss Stirling played one game with Mrs. Stevenson, but was too indisposed to continue. Her other games were scored by default to her opponents. [the crosstable published in the newspaper shows all the wins/defaults vs Stirling but neither of the results between Moseley and Stevenson - JS]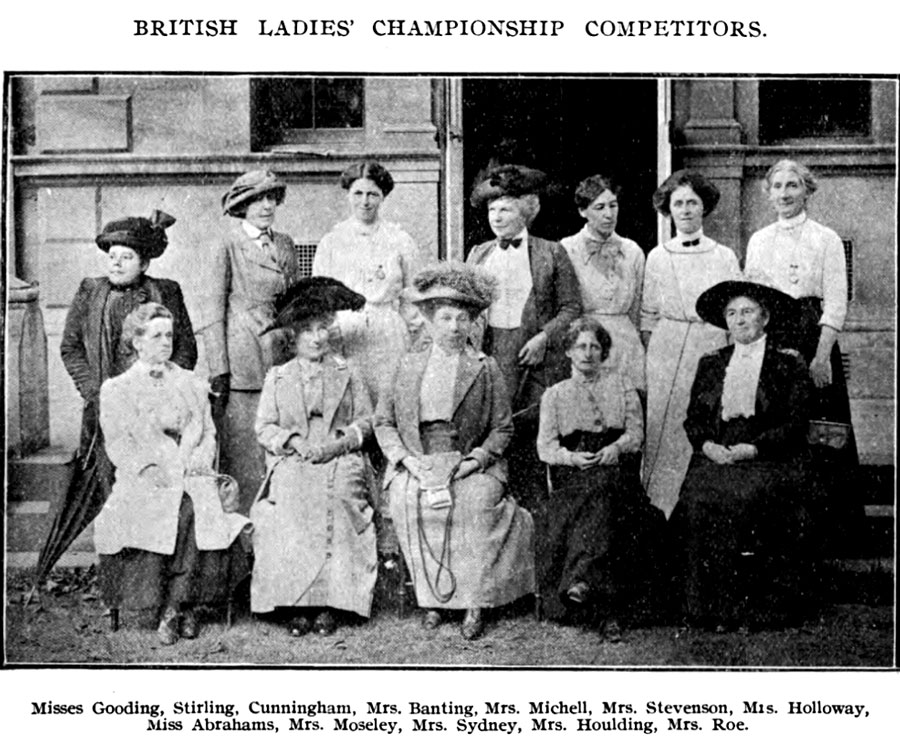 ---
1913 BCF Major Open
1913 BCF Major Open
Draw No.
Resid.
1
2
3
4
5
6
7
8
9
10
11
12
Total
1
Arthur John Mackenzie
2
Birmingham
0
0
1
1
1
1
1
1
1
1†
1d
9
2
Edward Empson Middleton, jnr
9
Brussels
1
1
0
1
½
1
½
1
1
1
1d
9
3
Oscar Conrad Müller
10
London
1
0
1
½
½
0
1
1
1
1
1d
8
4
Georg Schories
4
Bradford
0
1
0
1
1
1
1
0
1
1
1d
8
5
Arthur James Maas
3
London
0
0
½
0
1
1
0
1
1
1
1d
6½
6
Willem Andreas Theodorus Schelfhout
6
Amsterdam
0
½
½
0
0
0
½
1
1
1
1d
5½
7
Dr Jacob Schumer
1
London
0
0
1
0
0
1
1†
½
0
1
1d
5½
8
Wilfred Hugh Miller Kirk
8
London
0
½
0
0
1
½
0†
0
1
1
1d
5
9
Arthur George West
5
Yeovil
0
0
0
1
0
0
½
1
½
½
1d
4½
10
Carrick Wardhaugh
11
Glasgow
0
0
0
0
0
0
1
0
½
0
1d
2½
11
Thomas Taylor
7
Plymouth
0†
0
0
0
0
0
0
0
½
1
1d
2½
12
Dr Abraham Speijer "A Green"
12
Amsterdam
0d
0d
0d
0d
0d
0d
0d
0d
0d
0d
0d
0
† Two games are marked thus showing the loser lost on time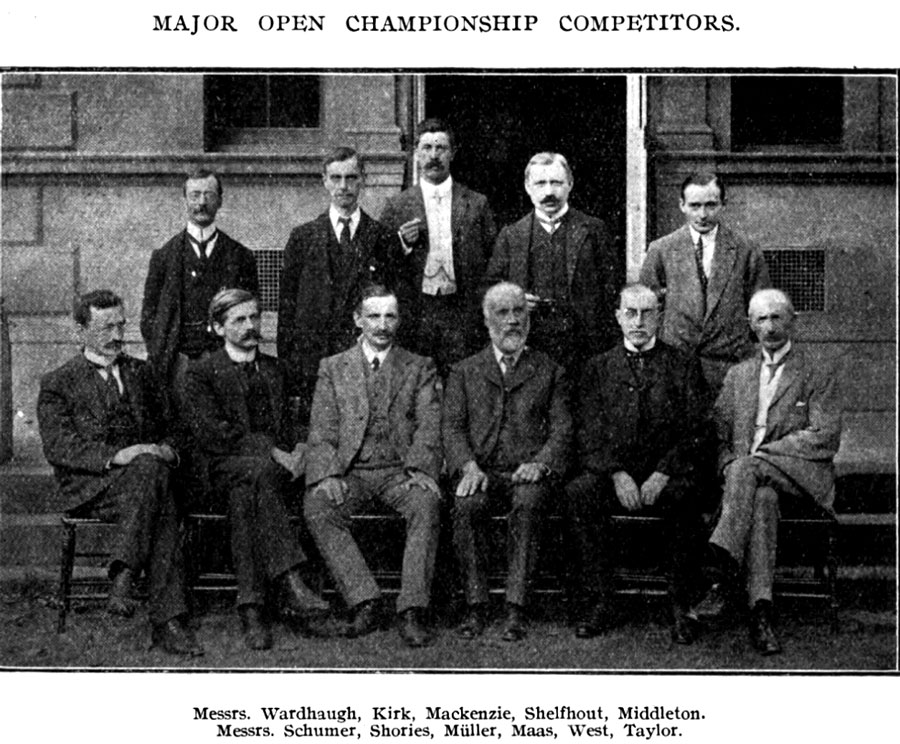 BRITISH CHESS FEDERATION CONGRESS AT CHELTENHAM [BCM, September 1913, p359ff]
The British Chess Federation, having already twice visited in turn territory of each of its constituent "units," started on the third round on the 11th of last month, when the Tenth Congress, for the promotion of which the Southern Counties Union had secured the co-operation of the Cheltenham Chess Club, was opened in the well-appointed Town Hall of the justly designated "Garden Town."
In undertaking to make provision for the Congress the local club was greatly helped by the circumstance that its president was also Mayor and Member of Parliament for the Borough—a triple combination which it may be safely said is unique. Mr. Agg-Gardner was able to be present on the opening to welcome the visitors, and right hospitably and heartily did he do it. Unfortunately he could not put in many subsequent appearances at the Congress nor attend the farewell gathering, but many of the local players, prominent amongst them being Col. Ashburner, were present almost daily, and of chess and other notabilities who attended may be mentioned [John Francis Welsh] the Bishop of Trinidad, Sir John Thursby, Bart., the Rev. Canon Gordon-Ross, Mrs. Baird, Mrs. Blackburne, the Misses May and Eva Needham (grand-daughters of Mr. Blackburne), Miss [Kate] Finn, Mr. H. E. Atkins, Mr. L. Hoffer [Leopold Hoffer died five days after the end of the tournament], Mr. I. M. Brown, Mr. Antony Guest, Mr. T. H. Moore, Mr. J. Keeble, and Mr. W. S. Branch.
Cheltenham itself provided so many opportunities of recreation and enjoyment in the way of lawn tennis, golf, and cricket, that only one excursion was arranged. This was to the site of the Roman villa which was unearthed at Chedworth some forty-five years ago. A party of between eighty and ninety players and their friends were conveyed to Chedworth in motor vehicles, and after an al fresco tea, were conducted round the various buildings by Mr. Sawer, the Editor of the Cheltenham Examiner, who gave a most interesting description of the accidental discovery of the remains, their probable date, and the purpose for which it is supposed the buildings were used. The Cheltenham Cricket Festival was coincident with the first week of the Congress, and was largely patronised, and on Thursday in the second week a cricket team was got together from amongst the younger members of the party to play against the Cambry Cricket Club. The match took place at Leekhampton, and though the Congress team was defeated it was not disgraced, scoring 106 runs to 147 for nine wickets made by the local men. The lawn tennis players also had two set encounters with local opponents and were, not unnaturally, beaten each time.
It cannot be complained that the Federation is not bringing out new men. Last year there were live players in the Championship competition who had not competed previously, and this year the new aspirants to fame numbered four, namely, Messrs. J. Mahood, H. Saunders, R. H. V. Scott, and D. Miller. The first-named three are all fellow members, with Mr. R. C. Griffith, last year's British Champion, of the Hampstead Club, and Miller at present holds the Championship of the Metropolitan Club, which he wrested from Mr. G. A. Thomas. The other competitors were the Rev. F. E. Hamond and Messrs. F. D. Yates, J. H. Blackburne, R. P. Michell, Herbert Jacobs, W. Gibson, W. H. Gunston, and H. B. Uber. It was expected that Yates, fresh from Scheveningen, where he had defeated Janowski and drawn with Alechin, would now, at the fifth attempt, succeed in carrying off the Championship. These expectations were fulfilled, and in the end Yates won with a higher score than has ever been made before in the competition, but his path to victory was hampered by a somewhat unexpected obstacle in the person of Mahood, who made an excellent start, and improved upon it by beating Yates in their personal encounter. It would, however, be truer to say of that particular game that Yates beat himself, for he had an easy win, but carelessly ignored a Pawn that Mahood was pushing on until he suddenly found that he could not prevent its transformation into a queen. Apart from this and his first round game with Scott—which immediately followed a sleepless all-night boat journey from Holland—Yates played very well all through, and the only other player to hold him was Miller, who drew. Yates' game with Michell, in which he gave up two Pawns in the Ruy Lopez, is an important contribution to the theory of that opening.
With this victory of Yates' the Championship, after a brief visit to London, comes North again to Yorkshire, of which county the new holder is a native. He was born twenty-nine years ago at Birstall, where he still resides.
Yates has been a member of the Leeds Club's Woodhouse Cup team since 1905. He first took part in the Federation's Congress in 1907, when he won first prize in the second class tournament. In the first class in the following year he was not placed, but as the holder of the Yorkshire Championship he was selected to play for the British Championship, at the Scarborough meeting, in 1909. In this he shared the fourth place with Blackburne, with whom at Oxford in the following year he again tied, but now for second place. At Glasgow in 1911 Yates headed the prize list with H. E. Atkins, but lost the deciding match played later at Bradford. Last year he was again second, with Griffith first. He has contested in nearly every open tournament of importance in this country of recent years, and competed in International Masters' Tournaments at Hamburg and Scheveningen, where the experience gained by contact with the leading continental experts has undoubtedly greatly improved his play and tended to modify his style, which always bold, was prone at times to degenerate into rashness. Having now won the laurel leaves of the British Championship, Yates, unlike his immediate predecessor, may be relied upon to do his best to keep them, and it is therefore pleasing to hear that there is a strong probability that next year when the Congress is due to meet on Northern Union territory—exactly where is at present undetermined—Mr. Atkins will once more don the war paint and go out for scalps, and that the Rev. W. C. Palmer will also join the fray.
It is no disparagement to Mr. Mahood to say that his success was very much in the nature of a surprise to the majority of the frequenters of the Congress. Games of his published in the British Chess Magazine have proved him to be the possessor of a considerable degree of talent, which it now appears is greater than has been generally supposed.
We think we shall not be wide of the mark in saying that Mahood, nothwithstanding his excellent score and good play, was favoured with the luck of the tournament. We think that his games versus Yates, Hamond, and Gibson prove this. Against the Scotch champion (Gibson), we fail to see how Mahood could have escaped defeat had his opponent played the obvious move, 20...RxB, &c.; instead of 20. B x Kt. Still we must admit that luck is generally with the strong player, and that Mahood is a fighter of first-rate strength no one will deny. We hope he will compete in future contests for the British Championship, as his play is never of the dull, "stone-wall" order.
Blackburne's re-entry into the arena in his seventy-second year was a courageous act, and his success in carrying off the third prize was well deserved and highly popular. We cannot but think that Mr. Blackburne unduly handicaps himself in these competitions by the adoption of irregular and bizarre defences which involve the donning of the thinking cap almost from the start of the game, and lead to clock troubles just at the time that the plan of campaign should be unfolding itself. He is still able to play regular openings as well as anyone, as his game with Mahood in the last round, though he reverted to an "old-time" variation, clearly showed.
The Hampstead Club had four representatives in the Championship and may well be proud of the fact that three of them were prize-winners Mahood, Saunders, and Jacobs. Saunders made a brilliant recovery from a bad start. His score after the fourth round was one only, but he annexed 5½ points from the next six games, and in the last round had chances of tieing for second prize. He lost, however, to Jacobs, and had to be content with fourth. Jacobs began in even more discouraging fashion, for one point represented his harvest for the whole of the first week. Then he improved to the extent of two drawn games, and wound up with three successive victories. The inference is tolerably obvious that he was suffering from lack of practice, otherwise he would have done better than tie with Gibson for the fifth and sixth prize. The Scottish champion's performance was disappointing, but an analysis of his score suggests an explanation. He is essentially an attacking player, and temperamentally not so well equipped for defence. Of five games wherein he had the White pieces he won four, and drew the other: of six in which he defended he won but one, drew one, and lost four. Of the non-prize winners Messrs. Michell, Gunston, and Hamond were all obviously more or less out of form, Mr. Hamond specially so, to the general disappointment, for when he is at his best no games are more interesting than his.
When Scott's exuberant style has been toned down he will develop into a really fine player, for he has imagination, courage, and ingenuity-three very excellent qualities, but imagination without restraint becomes madness, and courage without discretion recklessness. At present his interest is probably more aroused by possible brilliances rather than by the correct moves. He drew cleverly with Yates, and the final combination in his game with Miller was finely conceived, but he lost more than one game by over-impetuosity. Miller and Uber were partners in a game of which we can sincerely say that we hope we shall never look upon its like again. It lasted thirteen hours and three-quarters, ending with mate on the 166th move, Uber no doubt continuing to the bitter end in the sheer spirit of mischief.
The triple tie in the Ladies' Championship is not unprecedented, a similar termination having marked the contest in 1908. Miss Lawson, of West Hartlepool, who was one of the trio, now appears again under a new name and address as Mrs. R. H. S. Stevenson, of Dartford. The other two are Mrs. Moseley, of Oxford, and Miss F. Hutchison-Stirling, of Edinburgh. Miss Stirling seemed to have the championship within her grasp as she lead by half a point when the last round was started, but, probably through nervousness, she played badly against Mrs. Holloway, lost two Pawns, and then, after winning a piece, mismanaged an elementary ending of K, Kt, and Pawn against K, and only drew. The tie will be played off at a time and place to be fixed later.
The absence through illness of Dr. Speijer necessarily lessened the importance of the Major Open Tournament, in which there was, nevertheless, a keen fight. A. J. Mackenzie went through the first eight rounds without the loss of even half a point, but he was then defeated in succession by Middleton and Müller, and tied for first prize with Middleton, whose only defeat was sustained in the last round, Shories pulling off a game that Middleton ought to have won. Müller tied with Shories for third and fourth prizes; Maas, who fell off towards the end, was fifth; and the sixth prize was divided between Schelfhout and Schumer. Kirk did fairly well, but West played a good deal below the standard of 1911, when he gave a good account of himself in the Championship, and Wardhaugh was outclassed.
Amongst the first-class amateurs, G. Wilkes, of London, and N. B. Holmes, of Bury, each scored nine out of eleven, Wilkes being undefeated whilst Holmes did not lose a game until he had made certain of first prize. Both these players may reasonably look for promotion another year. G. W. Douglass, of Sutton Coldfield, and formerly a well-known Leeds player, was out of place in the second class, as was H. G. Scantlebury, of London ; and the same remark applies with even greater force to D. P. Williams, of Brynteg; J[ames]. Fish, of Blackburn ; and Owen Stuchbery, of Maidenhead, in the third class.
OTHER SECTIONS RESULTS
(pieced together from various newspaper sources, principally the Cheltenham Examiner - BCM gave neither crosstables nor complete results)
Prizes - 1st Class - £8, £5, £3; 2nd Class - £5, £3, £2; 3rd Class - £3, £2, £1.
First-Class A: 1 George Wilkes (London) 9/11; 2-4 Frank Raven Adcock (Norwich), John MacAlister (London), Oto Tipal (London; Bohemia) 7; 5 Joshua Walter Dixon (Hanley) 6½; 6-7 Philip Walsingham Sergeant (London), Samuel Walter Billings (Cheltenham) 6; 8 Harry Ford (London) 5½; 9 Harry Bogdanor (London) 5; 10 Edward Davidson Palmer (London) 3½; 11 Rev. William Alban Cunningham Craig (London) 2; 12 Thomas Salthouse (Blackpool; blind player) 1½. (Draw order: 1 Bogdanor, 2 Craig, 3 Adcock, 4 Tipal, 5 MacAlister, 6 Billings, 7 Wilkes, 8 Salthouse, 9 Palmer, 10 Dixon, 11 Ford, 12 Sergeant)
First-Class B: 1 Norman Boles Holmes (Bury) 9/11; 2-3 Arthur Compton Ellis (London), William Henry Watts (London) 7½; 4 John Crum (Inveresk) 7; 5 Bertram Goulding Brown (Cambridge) 6½; 6-8 Major Francis Hooper Rawlins (Oxford), Arthur John Spencer (London), H B Williams (Sleaford) 5½, 9 William John Berryman (Barnsley) 5; 10 John Dibbin Chambers (Glasgow) 3; 11 Edward Empson Middleton, snr (Hastings) 2½; 12 Rev. E Wells (Salisbury) 1½. (Draw order: 1 Spencer, 2 Chambers, 3 Middleton, 4 Watts, 5 Holmes, 6 Berryman, 7 Compton Ellis, 8 Goulding Brown, 9 Rawlins, 10 Williams, 11 Crum, 12 Wells)
Second-Class A: 1 George Whitewood Douglass (Sutton Coldfield) 9; 2 Herbert George/Glanville Scantlebury (London) 8; 3 Ferdinand Uniacke Beamish (Bristol) 6½; 4-5 Christian Vilhelm Loye (London), Henry John Charles Hardcastle § (ex-Cheltenham, London) 6; 6-7 Rev. William Ernest Evill (Cranbrook), Rev. George Dickson Hutton (Falkirk) 5; 8 Philip Leslie Jones (Biddenden) 3½; 9 George Herbert Lock (Shrewsbury) 3; 10 Henry George Bockett-Pugh (Bath) 2; 11 Alfred William Martyn § (Cheltenham) 1. [tots up to 54 so a point missing somewhere] (Draw order: 1 Beamish, 2 Evill, 3 Bockett-Pugh, 4 Jones, 5 Lock, 6 Douglass, 7 Loye, 8 Hutton, 9 Martyn, 10 Hardcastle, 11 Scantlebury)
§ In his post dated 17 December 2021 on the English Chess Forum (in which he gave five of Ferdinand U Beamish's games), Gerard Killoran suppies some biographical information about Henry John Charles Hardcastle and Alfred William Martyn
Second-Class B: 1-2 Alfred Henry Owen (Birmingham), Arthur William Daniel (Bridgend) 8½/11; 3 William Penberthy (Tredegar) 8; 4 Alfred Cliff (Harpenden) 7½; 5 Rev. Charles Fenton Bolland (Bridgwater) 5½; 6-9 Frederick George Perrins (Cheltenham), George Henry Wheeler (Beverley), William Henry Greenhalgh (Dawley), George Edward Wainwright (Surbiton) 5; 10 Henry Ashwell Cadman (Gomersal, Leeds) 4½; 11 Robert Noel Le Fanu (London) 3½; Michael Aldwin Maillard (Trinidad) did not attend (illness). (Perrins beat Wheeler, Greenhalgh and Wainwright and drew with Penberthy and Le Fanu) (Draw order: 1 Bolland, 2 Cliff, 3 Perrins, 4 Cadman, 5 Wheeler, 6 Owen, 7 Greenhalgh, 8 Maillard/Bye, 9 Daniel, 10 Penberthy, 11 Le Fanu, 12 Wainwright)
Third-Class A: 1 D P Williams (Brynteg) 10/11; 2 James Fish (Blackburn) 9½; 3 Samuel John Holloway (Dartford) 8; 4-5 Edward Victor Strugnell (London), Miss Kate Eyre (London) 6½; 6 Mrs Hannah Maria Joughin (née Blogg) 6; 7-8 William Marcus Brown (Liverpool), Thomas Whittard (Cheltenham) 5½; 9 Mrs Collier (London) 5; 10-11 Miss Emily Hunt (Barnstaple), Miss Cooke (Tunbridge Wells) 1½; 12 Mrs Wheeler (Wiltshire) ½. (Whittard beat WM Brown, Miss Hunt, Miss Cooke, Miss Eyre and Mrs Wheeler, and drew with Holloway.) (Draw order: 1 Fish 2 Hunt, 11 Williams, 3 Wheeler, 10 Cooke, 4 Joughin, 9 Holloway, 5 Strugnell, 8 Eyre, 6 Collier, 7 Brown 12 Whittard)
Third-Class B: 1 (William) Owen Cecil Stuchbery (Maidenhead) 10½/11; 2 Rev. William Thomas Mackenzie Hooppell (Stoke-on-Trent) 9½; 3 Frank Round Pickering (London) 8½; 4-5 David Jones (Blaina), W Frost (London) 7; 6 Miss Georgiana Watson (Hastings) 6½; 7 Mrs Selina Charity Kershaw (née Davie) (London) 6; 8 Miss M/F Wilkins (London) 4; 9 James Nixson Harvey (Cheltenham) 3½; 10 Miss Margaret Hunt (Barnstaple) 2½; 11 Miss Gertrude Emma Sanders (Edinburgh) 1; 12 Henry Ernest Wodehouse (Cheltenham) 0. (Harvey beat Miss Wilkins and Miss Sanders, drew with Miss Hunt) (Draw order: 1 Jones, 2 Hunt, 11 Frost, 3 Wodehouse, 10 Watson, 4 Kershaw, 9 Hooppell, 5 Stuchbery, 8 Sanders, 6 Wilkins, 7 Pickering, 12 Harvey)
Henry Ernest Wodehouse (1845-1929) was the father of PG Wodehouse.
Handicap Tournament: 1 Rufus Henry Streatfeild Stevenson (Dartford); 2 James Fish (Blackburn); 3 W Frost (London); 4 George Edward Wainwright, jnr (Surbiton); 5 Mrs Edith Martha Holloway (née Crittenden; London); 6 John Dibbin Chambers (Glasgow); 7 Arthur Compton-Ellis (London).
1st Lightning Tournament: 1 Rev. Francis Edward Hamond (Norwich); 2 William P Gibson (Glasgow); 3 Georg Schories (Bradford); 4 Henry Pinkerton (Bristol).
2nd Lightning Tournament: 1 Isidor Arthur Gunsberg (London); 2-3 Georg Schories (Bradford), Edward Empson Middleton, jnr (Brussels); 4 Oscar Conrad Müller (London).
Problem Solving Competition: 1 Joshua Walter Dixon (Hanley); 2 A Waterhouse (Manchester); 3 John Keeble (Norwich).
Retractor Problem Solving Competition: 1 Joshua Walter Dixon (Hanley); 2 Arthur William Daniel (Bridgend).
"The prizes were distributed to the winners by Mr. T[homas]. Whittard, J.P., of Cheltenham, a veteran of ninety-two, who pluckily volunteered to fill a vacancy in the third class, and made an even score. He actually won his first four games off hand, but no doubt found the strain of daily play too exhausting. Presentations were made to Mr. and Mrs. Rees, Miss Bacon, their youthful assistant, Mr. F. G. Perrins, the local secretary, and Mr. R. H. S. Stevenson. Nothing was said officially as to next year's meeting place, which is due to take place in the North, but the matter is, we believe, under consideration by the Northern Counties Union."
---
Cheltenham Examiner, 28 August 1913
"Our report of the Congress proceedings, with the presentation of prizes, appears on another page. The following is supplementary.
"The Congress of 1913 will long be remembered as one of the most successful. as to attendance, weather conditions, accommodation, and pleasant surroundings. Its special features include the victory of Mr. F. D. Yates—for the first time—in the British Championship tourney; the playing of the longest game on record in this country—and that by experts in the principal contest; and the good score 5½ out Of 11—made by a player who is in his 91st year, and who took a prominent part in the arrangements and in the final ceremony—at which he presented the numerous prizes. That this gentleman should be a very well-known and highly respected resident of Cheltenham increases the interest of the fact to Cheltonians. He, Mr. [Thomas] Whittard, is the only known survivor of the first Cheltenham Chess Club, established in 1870; and he has from 1889 been a Vice-President and strong playing member of the present Cheltenham C.C., formed in that year.
"Seven Cheltonians, six of them members of the local chess club, took part in one or other of the main tourneys, and one other club member in the handicap. There would have been more in this if it had been earlier realised that local players could compete in the evenings, and on one or two afternoons, but the first idea was that daily attendance, including morning play, would be required for a fortnight. And then there was, for many who did attend frequently, the attraction of watching the champions.
"No local player won a prize, but Mr. S. W. Billings won more games than he lost, and Mr. Whittard as many as he lost. Two years ago, at Glasgow, Mr. Billings won the first prize, in the same section as he competed in last week.
"In the Ladies' Championship tourney Miss Gooding scored five out of eleven—a better score than those made by three others, and equal to those of Mrs. Michell and Mrs. Roe. The three ladies who tied with 7½ points each are of national renown. Miss Gooding won her game with one of these—Mrs. Moseley. Mr. F. G. Perrins. the local secretary, scored four wins and two draws—five points out of seven.
"No one in any section scored eleven points, but a player in the Third Class, Mr. Stuchbery, got very near with 10½. He will be thought too strong for 3rd class next year.
"Mr. F. D. Yates won the British Championship with the loss of only one game, and two draws. The loss was a rather sensational one, with Mr. Mahood, who won the second prize. This prize would have fallen to Mr. Blackburne, instead of the third, had Mr. Yates not overlooked a pawn-promotion line of play at a critical period in his game with Mr. Mahood. This lost him the game, in which he had had the advantage. But he scored nine points out of eleven, and his final game with the Rev. F. E. Hamond, of Norwich secured him the championship. They shook hands, and Mr. Hamond congratulated the victor.
"Mr. Yates has had an exceedingly busy time. He arrived from Holland, where he had won fourth prize in the international tourney at Scheveningen, just in time for the first round—and after very little sleep for 48 hours—and at the conclusion of his first game had to continue, as when in Holland, his daily—or nightly—press work, supplying the Yorkshire Post with chess news and games with notes. With all this he competed also in one of the "lightning" tourneys and one of the problem-solving contests, but in these did not secure a prize.
"Col. E. Law, of Cheltenham—one of the numerous Cheltonians who preferred looking on to playing—was reminded, to his surprise, for he had forgotten the name of his opponent, by Mr. Mahood that some nine years ago they played a correspondence game, which was drawn.
"An interesting feature of the Congress was the frequent presence of a little boy of eight, who played some unofficial games—with the present writer among others—and who may be a strong player ten years hence. A picture of this young gentleman, engaged in play with Mr. Whittard, appeared in several illustrated papers on Saturday.

From the Daily Mirror, 23 August 1913: Walter Henry Rhodes Wisbey (3 April 1905 - 1993) vs Thomas Whittard (9 September 1822 - 1 April 1919)
"Mr. H. E. Atkins, the ex-champion, was present as a spectator during the greater part of the fortnight. Some other notabilities arrived during the second week, including the Bishop of Trinidad—better known as the Rev. [John Francis] Welsh, of Wilts—and Mr. I. M. Brown, editor of the British Chess Magazine, and Mr. H. E. Dobell of Hastings—the treasurer of the Federation.
"The trophies of the championship tourney and the Ladies championship tourney were on view early on Saturday before the presentations, and had previously been exhibited in the High-street. The championship trophy is especially handsome—a large silver crown, on a pedestal with winners names on silver slabs, surmounted by the figure of Victory. Below or inside the wide expanse of the crown is a silver chess board, on which two dismounted Knights are fighting with sword and shield. As part of the ornamentation of the base of the crown are four silver chess Knights —"Staunton" shape—and sixteen pawns, half of them darkened. With the honour of holding this trophy for the year the victor receives the sum of £20—a nice holiday-expense covering amount. Proportionate cash prizes are awarded to the five next best, and the six non-prizewinners receive, from the entrance fees, or chiefly, the sum of 10s. [equivalent to 50p] for each won game.
"In the Ladies' Tourney the first prize is the Trophy for the year and £8. With five other prizes.
"In the three—practically six—"Amateur" tourneys eightteen cash prizes are given, two of £8, four of £5, six £3, four £2, and two £1.
"There are cash prizes for the handicap tourney, the lightning tourney, and the solving contests. Altogether more than £200 are given in prizes. But as they are so numerous there is no very large one—for a fortnight's exertions—and the main incentive is honour and the pleasure of the game. And that of renewing acquaintance with former opponents and meeting many distinguished chessists. There were seven competitors from Scotland, one from Amsterdam, one Brussels, one Plymouth, one Barnstaple, two Norwich, two Cambridge, some from Yorkshire and Lancashire, several from Wales, several of Kent and Sussex, many from London, and from the Midlands, and one or two from each of several other English counties. Bristol and Bath sent, for the fortnight, but one player each, and the Bristol player won third prize in his section—Mr. Beamish. Another Bristolian, Mr. Pinkerton, made a short visit and won fourth prize in the first lightning tourney.
"The two blind players, one in the First Class Amateur and one in the Third, did not do so well as their friends might have anticipated, but the one in the Third Class, Mr. W. M. Brown, won five games and drew one, and the other, in a stronger contest, won one and drew one.
"But for three absentees in the main tourneys there would have been 108 competitors. There were about 120 competitors—different individuals—in something or other. Of these twenty-four were ladies. Many other ladies were among the spectators.
"In the nine chief tourneys—forming the basis of the Federation's existence—about (after allowing for a few scored by default) 560 games were played. About 800 games were played in the handicap tourney—a go-as-you-please, almost, contest—in which every competitor was supposed to play three games with every other—and there were forty-one entries. And there were two lightning tourneys. Ignoring a few private games played in the morning must have amounted to about 1,560. Only the main tourney games were played with clocks.
"There were also some "Kriegspiel chess" games—a competition with two prizes, won by Arthur Compton Ellis and C. V. Loye. This is a peculiar, and modern, form of chess, unknown to more than 99 per cent. of chess players.
"So many strong chess players have never before met in the West of England (South of Shrewsbury, where one Congress was held), and although, of course, many other first-rates were left in London, etc, etc, we should say that the best twenty in Cheltenham last week could have beaten any other twenty in the British Empire."
---
1913 British Women's Champion
Amabel Moseley (born 8 March 1855*, Llangennech, Carmarthenshire, Wales, died 28 April 1928, Headington, England)
Maiden name: Amabel Nevill Gwyn Jeffreys - married Henry Nottidge Moseley in 1881, widowed 1891, married William Johnson Sollas in 1914. [* evidence of date of birth is an entry in the Cardiff and Merthyr Guardian, Glamorgan, Monmouth, and Brecon Gazette for Saturday 17 March 1855, page 3: "JEFFREYS.—March 8, at Llangenech-park, Carmarthenshire, Mrs. Gwyn Jeffreys, of a daughter." There is plenty of other evidence for the year of her birth being 1855.]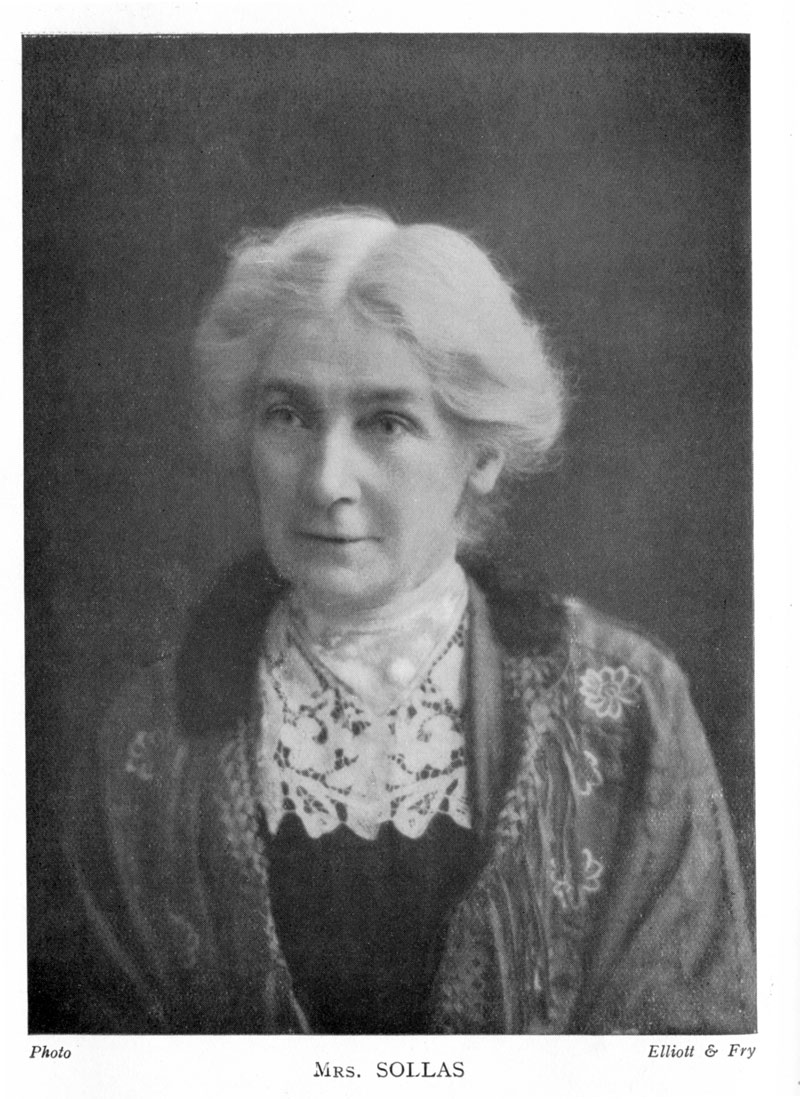 BCM, June 1928, page 238: "We much regret to have to record the death on April 28th [1928] of Mrs. W. J. Sollas, ex-British woman chess champion—a title which she won at Cheltenham in 1913 (under her former name of Mrs Moseley), after a tie with Mrs. Stevenson and Miss Hutchinson-Sterling. Previously at Glasgow, in 1911, she had come out second to Mrs Houlding. She did not again contest the title [not true - JS], but was a regular competitor in the mixed events at Federation and other congresses.
"Mrs. Sollas, whose maiden name was Amabel Nevill Jeffreys married Professor H. N. Moseley, of Oxford, in 1881, but was widowed in 1891. Her second husband was Professor W. J. Sollas, also of Oxford. Her associations were therefore very close with that university and city."
The Times, 1 May 1928, page 1: "SOLLAS.—On April 23, 1928. Amabel Nevill, wife of Professor W. J. Sollas. F.R.S.. 84, Banbury-road, Oxford, daughter of the late John Gwyn Jeffreys, F.R.S., and widow of Professor Henry Nottidge Moseley, F.R.S. Funeral at Clevedon to-day (Tuesday), 2.30 p.m. Memorial service at St. Giles, Oxford, on Thursday, May 3. at 2.15 p.m."
The Times, 1 May 1928, page 21: "MRS. SOLLAS. Mrs. Sollas, wife of Professor W. J. Sollas, F.R.S., Professor of Geology at Oxford, died on Saturday. She was Amabel Nevill, youngest daughter of John Gwyn Jeffreys, F.R.S., the eminent conchologist, whose collection of European mollusca was purchased before his death by the American Government. She was married first in 1881 to H. N. Moseley, F.R.S., Linacre Professor at Oxford, the eminent marine biologist. The only son of the marriage, Henry Gwyn Jeffreys Moseley, early showed marked originality and insight in scientific research. He had already produced results of far-reaching importance on the constitution of atoms, when he went with his mother to the meeting of the British Association in Australia in 1914. Returning hurriedly on the outbreak of the War, he was killed in action at Gallipoli in 1915 at the age of 27—an irreparable loss to science. Professor Moseley had died in 1891, and his widow married secondly Professor W. J. Sollas, whose contributions to science are by no means limited to geology. The funeral will be at Clevedon to-day at 2.30, and there will be a memorial service at St. Giles, Oxford, on Thursday, at 2.15."
---
Hastings and St Leonards Observer - Saturday 12 May 1928: "It is with deep regret that we learn of the death of Mrs. Sollas of Oxford, the motor accident which caused her death having occurred within a few moments of her leaving the Oxford City Chess Club. Mrs. Sollas won the British Ladles Championship in 1913, and has been a frequent competitor at English chess meetings."
Amabel Sollas played in the West of England Chess Festival held earlier that month (the Easter weekend of 7-8 April).
---
Oxford Chronicle and Reading Gazette - Friday 08 June 1928: "[meeting of the Oxfordshire Chess Association, Tuesday 5 June 1928 at Cooper's Café, Magdalen St] At the outset the Chairman said he had a sad duty to perform, and that was to remind the members of the club, if they required reminding, of the loss they had lately suffered by the death of one of the cleverest and most esteemed members. For years past there was scarcely any public match played by the club in which Mr Sollas did not take part as one of the representatives of the team. It was really her devotion to the game which was responsible for her death. Some of them remembered he did not think the University was up [i.e in residence] at the time—it was after a long contest in the room above. While crossing the street in returning home she was run down by a motor-car, and in consequence she died the next morning. Perhaps some of them knew she was shortsighted and it came out in the course of the inquiry that the chauffeur, who was entirely exonerated from blame, did not see her until it was too late nor she him. They very much hoped, therefore, that the suddenness of the blow prevented her from suffering consciously at all..."
---
CHESS MATERIALS FOR SOLDIERS. [BCM, November 1917, pages 356-357]
To the Editor of "The British Chess Magazine."
Dear Sir;
If you can spare me a Chess Magazine for this month and onwards I shall be grateful. I play chess now and then with the soldiers, who come down from the trenches for a few days' repose. We have a Salle de Recréations for them open all the afternoon and evening, and they come in hundreds to play games, write and read. If any of your subscribers would like to send out another chessboard and men, we should be grateful, for we have only one set at present.
"The French Red Cross would forward it to us. The address is—Hon. Sec., French Red Cross, 9, Knightsbridge, London. But you must put on the address that it is for Mrs. Sollas's Canteen.
"We are very near the front, only about six miles from the nearest Germans, at a little village which serves as a shelter for troops, not having been destroyed much in the German retreat last March. I give you the address of our Headquarters at Compiegne, as we are beyond railway communication.
I am,
Yours faithfully,
Amabel Sollas
Oeuvres des Dames Anglaises,
Bureau de la Place, Compiègne, Oise,
October 13th, 1917.
[Doubtless many of our readers who have attended the tournament meetings of the British Chess Federation will best recollect Mrs. Sollas as Mrs. Mosely [Moseley], who won the British Ladies' Championship at Cheltenham, in 1913. Since her marriage to Professor Sollas, of Oxford, Mrs. Sollas has been constantly engaged in nursing wounded soldiers in France. We are sending her some copies of the B.C.M. and we hope she will have a generous response to her appeal for chess materials.—Ed., B.C.M.]
---
Biographical Note: David Miller (1881-1972)
David Miller (scored 4½/11 in the 1913 British Championship) (born 4 November 1881, Russia, died 31 January 1972, London)
From Russia (his father was born in "Brisk at Grodno" according to his 1899 naturalisation papers – probably Brest, Belarus in the Grodno region): in London by 1891, naturalised British in 1899, son of Samuel & Freda Miller, both Russian born. Inland Revenue clerk in 1911.
From BCM, April 1972, p138: "Mr. David Miller - We regret to announce the death of Mr. David Miller, who was well known in London chess circles for more than half a century.
"He joined the Metropolitan Chess Club before the first world war, and for many years played on top board in the 'A' division of the London Chess League. He was President of the Metropolitan C.C. from 1950 to 1956, and established a club record by winning its championship twelve times, between 1912-13 and 1953-54.
"In recent years he belonged to the Hampstead Chess Club, and when well over eighty years of age was playing regularly on top board for Hampstead 2nd team.
"In his best years he was a first-rate amateur player, and if he had been able to give more time to the game would have been of master strength. He is remembered as an engaging personality and an unfailingly courteous opponent." A.A.R. [not sure who A.A.R. is - typo for A.M. Reilly?]
Footnote: I've just unearthed this game won by David Miller against the Dutch master Abraham Speijer at the Hastings Victory Tournament in 1919. It's an amazing swindle after Miller had blundered away a lot of material in the opening. JS, 26 April 2021.
---
Biographical Note: Thomas Whittard (1822-1919)
Thomas Whittard (who scored 5½/11 in the tournament), census 1911, a retired, widowed tutor (ex-master at Cheltenham Grammar School) and JP, living in Cheltenham with his two unmarried daughters, who were schoolmistresses. His vital dates were (birth) 9 Sep 1822 and (death) 1 Apr 1919 (in Cheltenham). Obits, Cheltenham Chronicle - Saturday 05 April 1919; Cheltenham Chronicle - Saturday 12 April 1919; Gloucester Journal - Saturday 05 April 1919; Exeter and Plymouth Gazette - Thursday 29 May 1919. "Mr. Whittard was, even within the last five years, one of the strongest chess players of this district, and he continued to play at home occasionally till quite lately. He may have been a chess-player for seventy years or more, as few ever become good at the game unless beginning young. He helped to establish the Town Chess Club in 1889, and was at once recognised as one of its few first-class players. From then until about seven years ago he continued to take part in many matches between Cheltenham and other clubs — Oxford, Bristol, Birmingham, etc.— and made the required long journeys to play a game of chess as cheerfully as a youth would. He played several times in the club-room since 1914, and attended several of the committee meetings. Mr. Whittard was a vice-president of the club from its formation. He was a regular solver till about two years ago of the chess problems published weekly in the "Cheltenham Chronicle".
---
Biographical Note: William Marcus Brown (1866-1916)
William Marcus Brown: from Liverpool (Cheltenham Chronicle, 16 Aug 1913); "From the 1911 census we can identify him as William Marcus Brown, from West Derby, Liverpool, a teacher of music who had been blind for 9 years. BMD records confirm that he was born in 1866. There's a death record for William M Brown in Liverpool in 1916 which is almost certainly the right one." (Richard James)
---
File updated
| Date | Notes |
| --- | --- |
| 8 February 2018 | Full score of Schories-Middleton (Round 11, Major Open) replaced the partial score previously posted. Thanks to Alan Smith. |
| 19 April 2018 | Added the full score of Yates-Michell (Rd 5) - thanks to Alan Smith. |
| 16 May 2018 | Added the game Bogdanor-Craig (First-Class A) - many thanks to Gerard Killoran. I took the opportunity to add some photos, crosstables and results of subsidiary groups to the file. |
| 26 June 2019 | Added the game Bogdanor-Dixon, First Class A, kindly contributed by Gerard Killoran. |
| 27 August 2020 | Added the game Mahood-Jacobs, Championship Rd 1, kindly contributed by David McAlister. Many thanks to David, who also draws our attention to an informative biographical piece about James Mahood at chessgames.com by 'Tabanus'. While I was going about the amendment, I thought I would provide a little biographical detail about the 1913 British Women's Champion. Regrettably, but typically, it has been harder to find out more about Amabel Moseley herself rather than the men in her life, eminent and worthy though they undoubtedly were. However, I have discovered her exact date of birth which had hitherto eluded chess researchers (for some unknown reason, her birth is undiscoverable in statutory records). |
| 28 August 2020 | Added a short biographical note about David Miller, who played in the 1913 British Championship. |
| 3 March 2021 | Amendment applied to Kirk-Schories, Major Open, Rd 10: White's 15th move was c3, not f3. My thanks to Alan Smith for pointing this out. |
| 18 April 2021 | Updated crosstables to include full names and place of residence where available. BCM failed to supply crosstables and full results of 1st/2nd/3rd Class tournaments so these have been collected from various newspaper sources, with a number of differences between versions and typos, not all of which have been satisfactorily resolved. |
| 20 April 2021 | Another four game entries: (1) Hamond 0-1 Scott, Championship Rd 8 (found in a Dutch newspaper); (2) Schelhout 1-0 Taylor, Major Open Rd 11; (3) Billings 1-0 Tipal, First-Class A; (4) AW Daniel 1-0 NN, Second-Class B (part-game). I have also provided more details of results, round numbers and dates, having discovered the draw numbers for all events, plus more press reports and a photo of youngest vs oldest competitors. |
| 17 December 2021 | Five more games from Second Class A, all involving Ferdinand Uniacke Beamish, and all culled from the Cork Weekly News by Gerard Killoran: (1) Beamish 1-0 Jones (rd 3); (2) Lock 0-1 Beamish (rd 4); (3) Martyn 0-1 Beamish (rd 8); (4) Beamish 1-0 Hardcastle (rd 9); (5) Scantlebury 1-0 Beamish (rd 10). Many thanks to Gerard Killoran. |
| 23 March 2022 | Added two complete games: (1) H.Saunders 1-0 R.Michell (Championship rd 3); (2) A.Maas 0-1 G.Schories (Major Open, rd 5) |
| 30 April 2022 | Added a Championship game: F.Hamond ½-½ R.Michell (rd 1). My thanks to 'Tabanus' for drawing my attention to this game, which was already on chessgames.com. |
| 2 July 2022 | Added two games from the Ladies' Championship play-off, held in London in October 1913: A.Moseley ½-½ A.Stevenson, contributed by Richard James via the English Chess Forum. This led me to look for their other other play-off game, A.Stevenson 0-1 A.Moseley, which I duly found in a newspaper. Note that I have recorded the games under Amabel Moseley's later married name of Sollas so that all her games appear together in ChessBase's plyer index. EDIT: this led to finding another game from the Women's Championship - A.Moseley 1-0 A.Cuninghame, rd 8, though the score is a little shaky. |