BRITBASE - British Chess Game Archive
Tournament: 10th British Championship (won by FD Yates)
(31 games of a possible 66, plus 16 from subsidiary events)


Venue: Cheltenham • Dates: 11-23 August 1913 • Download PGN

• last edited Thursday December 17, 2020 6:30 PM
1913 British Chess Championship
1913 British Championship

1
2
3
4
5
6
7
8
9
10
11
12
Pts
1
Yates,Fred Dewhirst
0
1
1
1
1
1
1
½
½
1
1
9.0
2
Mahood,James
1
0
0
1
1
1
1
1
0
½
1
7.5
3
Blackburne,Joseph Henry
0
1
0
½
0
1
1
1
½
1
1
7.0
4
Saunders,Harold
0
1
1
1
0
1
0
0
1
½
1
6.5
5
Gibson,William P
0
0
½
0
1
1
1
0
1
1
½
6.0
6
Jacobs,Herbert Levi
0
0
1
1
0
0
1
½
1
1
½
6.0
7
Michell,Reginald Pryce
0
0
0
0
0
1
½
1
1
1
½
5.0
8
Gunston,William Hewison
0
0
0
1
0
0
½
1
1
0
1
4.5
9
Miller,David
½
0
0
1
1
½
0
0
0
1
½
4.5
10
Scott,Roland Henry Vaughan
½
1
½
0
0
0
0
0
1
1
0
4.0
11
Uber,Henry Bernard
0
½
0
½
0
0
0
1
0
0
1
3.0
12

Hamond,Francis Edward (Rev)

0
0
0
0
½
½
½
0
½
1
0
3.0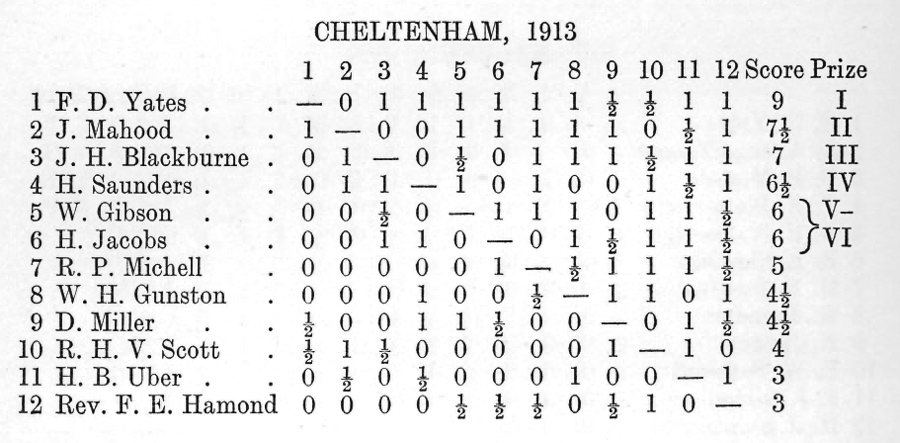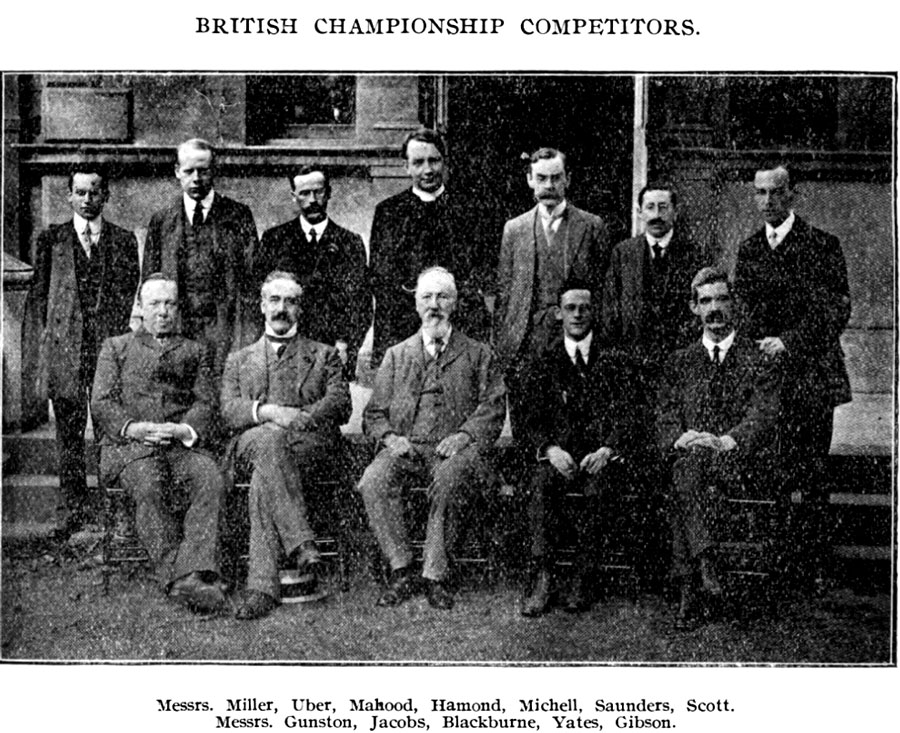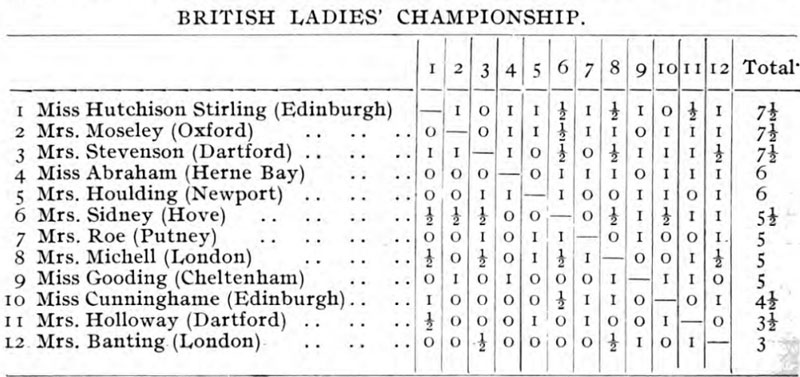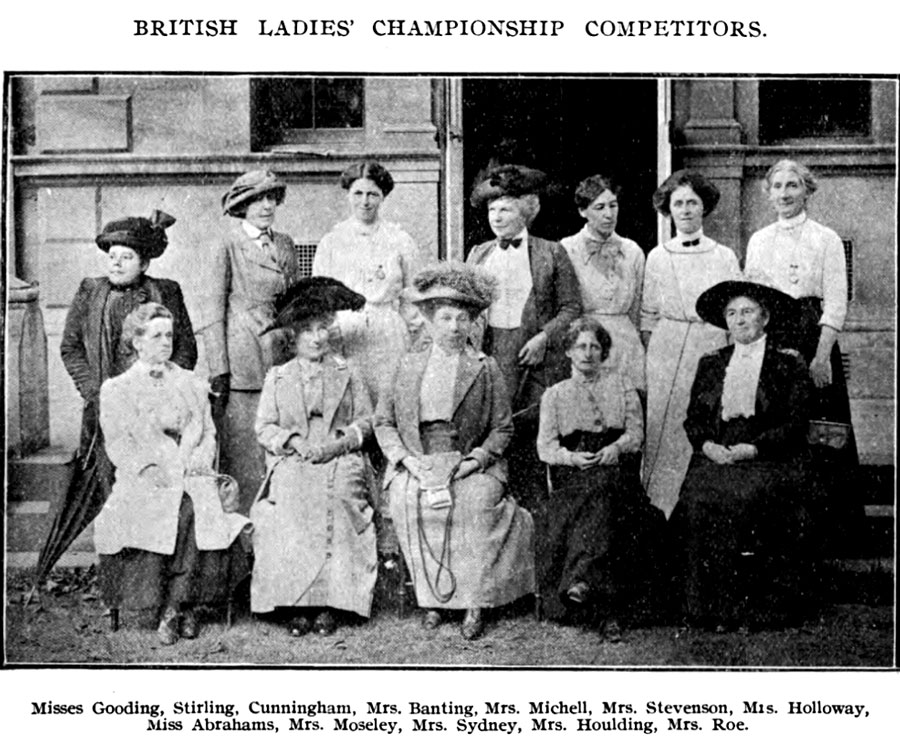 [BCM 1913, p477] "The triple tie in the Ladies' Championship tournament, at Cheltenham, was decided in London during the last week in October. Miss Hutchison-Sterling (Edinburgh), after losing to Mrs. R. H. S. Stevenson, retired owing to indisposition. The other competitor was Mrs. Moseley, of Oxford, who secured the first prize and the championship by scoring 1½ points out of two games against Mrs. Stevenson."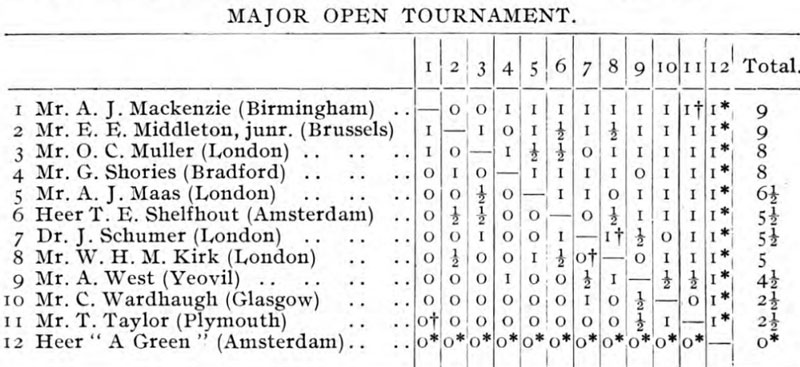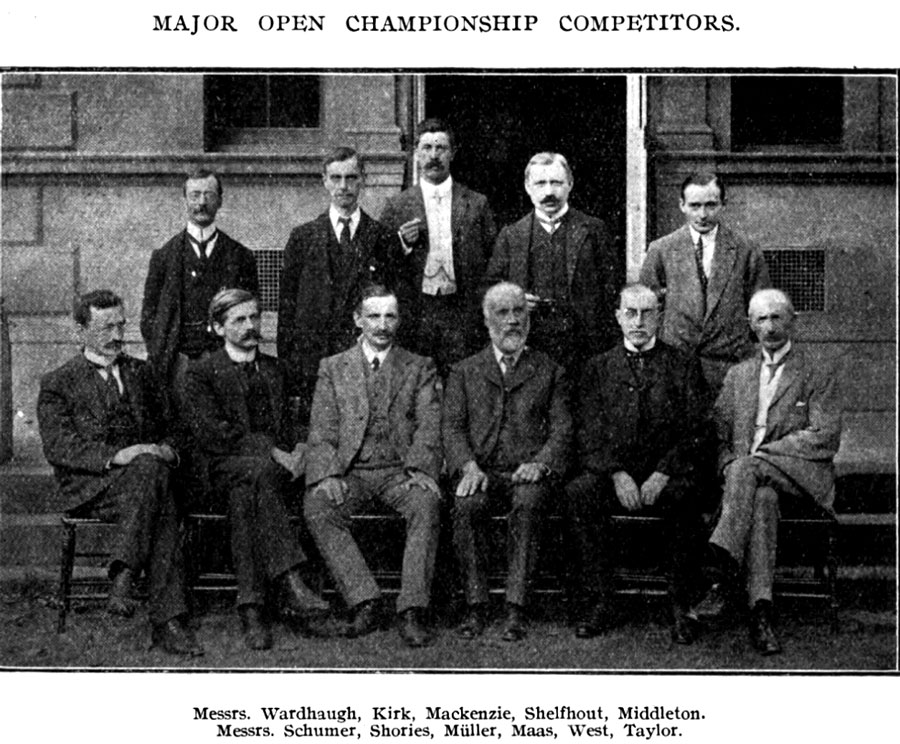 [BCM, 1913 p364f]"Amongst the first-class amateurs, G. Wilkes, of London, and N. B. Holmes, of Bury, each scored nine out of eleven, Wilkes being undefeated whilst Holmes did not lose a game until he had made certain of first prize. Both these players may reasonably look for promotion another year. G. W. Douglass, of Sutton Coldfield, and formerly a well-known Leeds player, was out of place in the second class, as was H. G. Scantlebury, of London ; and the same remark applies with even greater force to D. P.Williams, of Brynteg; J. Fish, of Blackburn ; and Owen Stuchbery, of Maidenhead, in the third class.
"The prize winners in the Amateur Tournaments were as under :—
"First Class, Section A. : first, G. Wilkes, London ; second and third, tie between F. R. Adcock, Norwich ; J. Macalister, London ; and O. Tipal, London. Section B. : first, N. B. Holmes, Bury ; second and third, tie between A. Compton Ellis, London ; and W. H. Watts, London. Prizes : £8, £5, £3.
"Second Class, Section A. : first, G. W. Douglass, Sutton Coldfield ; second, H. G. Scantlebury, London ; third, F. U. Beamish, Bristol. Section B. : first and second, tie between A. W. Daniel, Bridgend ; and A. H. Owen, Birmingham; third, W. Penbarthy, Tredegar. Prizes : £5, £3, £2.
"Third Class, Section A. : first, D. P. Williams, Brynteg ; second, J. Fish, Blackburn ; third, S. J. Holloway, London. Section B. : first, Owen Stuchbery, Maidenhead; second, Rev. M. Hooppell, Stoke-on-Trent; third, F. R. Pickering, London. Prizes : £3, £2, £1.
"Handicap Tournament: First, R. H. S. Stevenson, Dartford; second, J. Fish, Blackburn ; third, W. Frost, London ; fourth, G. E. Wainwright, junr., Surbiton ; fifth, Mrs. Holloway, London ; sixth, J. D. Chambers, Glasgow ; seventh, A. Compton-Ellis, London. First Lightning Tournament: First, Rev. F. E. Hamond, Norwich second, W. Gibson, Glasgow ; third, G. Shories, Bradford ; fourth, H. Pinkerton, Bristol. Second Lightning Tourney : First, I. Gunsberg, London ; second and third, divided between G. Shories, Bradford, and E. E. Middleton, junr., Brussels ; fourth, O. C. Muller, London.
"Problem Solving Competition: First, J. W. Dixon, Hanley; second, A. Waterhouse, Manchester ; third, J. Keeble, Norwich. Retractor Problem Solving Competition : First, J. W. Dixon ; second, A. W. Daniel, Bridgend.
"The prizes were distributed to the winners by Mr. T. Whittard, J.P., of Cheltenham, a veteran of ninety-two, who pluckily volunteered to fill a vacancy in the third class, and made an even score. He actually won his first four games off hand, but no doubt found the strain of daily play too exhausting. Presentations were made to Mr. and Mrs. Rees, Miss Bacon, their youthful assistant, Mr. F. G. Perrins, the local secretary, and Mr. R. H. S. Stevenson. Nothing was said officially as to next year's meeting place, which is due to take place in the North, but the matter is, we believe, under consideration by the Northern Counties Union."
---
1913 British Women's Champion
Amabel Moseley (born 8 March 1855*, Llangennech, Carmarthenshire, Wales, died 28 April 1928, Headington, England)
Maiden name: Amabel Nevill Gwyn Jeffreys - married Henry Nottidge Moseley in 1881, widowed 1891, married William Johnson Sollas in 1914. [* evidence of date of birth is an entry in the Cardiff and Merthyr Guardian, Glamorgan, Monmouth, and Brecon Gazette for Saturday 17 March 1855, page 3: "JEFFREYS.—March 8, at Llangenech-park, Carmarthenshire, Mrs. Gwyn Jeffreys, of a daughter." There is plenty of other evidence for the year of her birth being 1855.]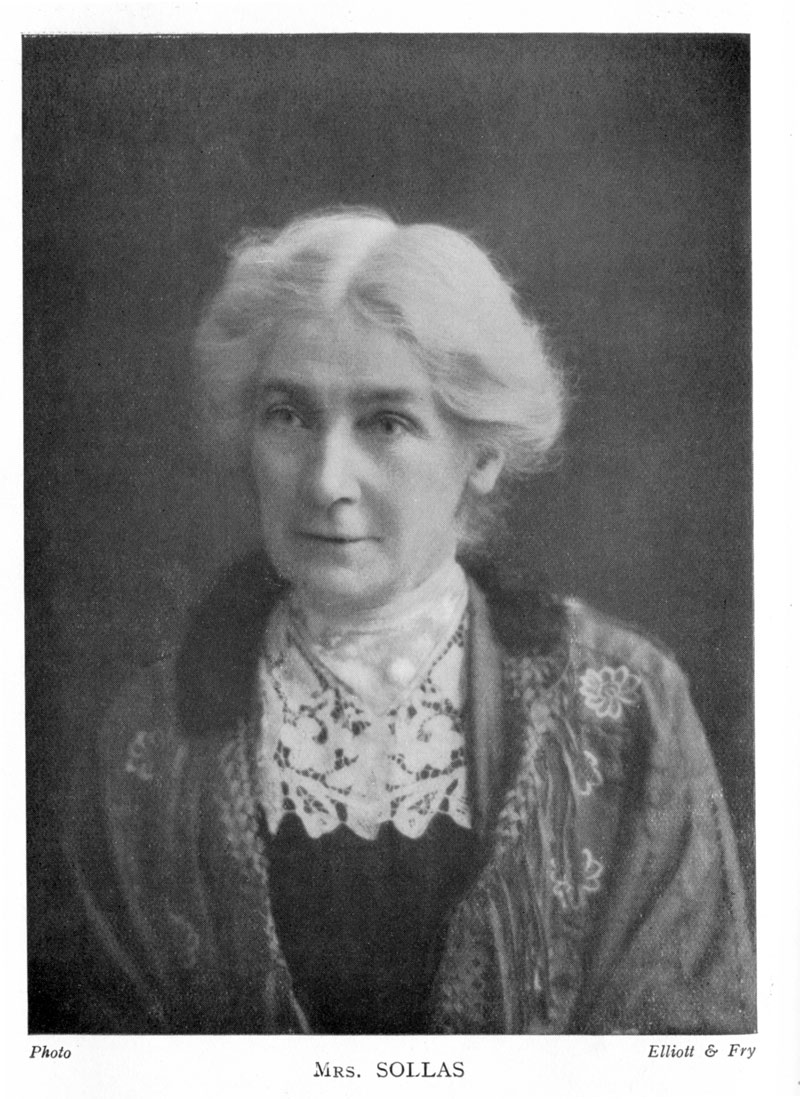 BCM, June 1928, page 238: "We much regret to have to record the death on April 28th [1928] of Mrs. W. J. Sollas, ex-British woman chess champion—a title which she won at Cheltenham in 1913 (under her former name of Mrs Moseley), after a tie with Mrs. Stevenson and Miss Hutchinson-Sterling. Previously at Glasgow, in 1911, she had come out second to Mrs Houlding. She did not again contest the title [not true - JS], but was a regular competitor in the mixed events at Federation and other congresses.
"Mrs. Sollas, whose maiden name was Amabel Nevill Jeffreys married Professor H. N. Moseley, of Oxford, in 1881, but was widowed in 1891. Her second husband was Professor W. J. Sollas, also of Oxford. Her associations were therefore very close with that university and city."
The Times, 1 May 1928, page 1: "SOLLAS.—On April 23, 1928. Amabel Nevill, wife of Professor W. J. Sollas. F.R.S.. 84, Banbury-road, Oxford, daughter of the late John Gwyn Jeffreys, F.R.S., and widow of Professor Henry Nottidge Moseley, F.R.S. Funeral at Clevedon to-day (Tuesday), 2.30 p.m. Memorial service at St. Giles, Oxford, on Thursday, May 3. at 2.15 p.m."
The Times, 1 May 1928, page 21: "MRS. SOLLAS. Mrs. Sollas, wife of Professor W. J. Sollas, F.R.S., Professor of Geology at Oxford, died on Saturday. She was Amabel Nevill, youngest daughter of John Gwyn Jeffreys, F.R.S., the eminent conchologist, whose collection of European mollusca was purchased before his death by the American Government. She was married first in 1881 to H. N. Moseley, F.R.S., Linacre Professor at Oxford, the eminent marine biologist. The only son of the marriage, Henry Gwyn Jeffreys Moseley, early showed marked originality and insight in scientific research. He had already produced results of far-reaching importance on the constitution of atoms, when he went with his mother to the meeting of the British Association in Australia in 1914. Returning hurriedly on the outbreak of the War, he was killed in action at Gallipoli in 1915 at the age of 27—an irreparable loss to science. Professor Moseley had died in 1891, and his widow married secondly Professor W. J. Sollas, whose contributions to science are by no means limited to geology. The funeral will be at Clevedon to-day at 2.30, and there will be a memorial service at St. Giles, Oxford, on Thursday, at 2.15."
---
Hastings and St Leonards Observer - Saturday 12 May 1928: "It is with deep regret that we learn of the death of Mrs. Sollas of Oxford, the motor accident which caused her death having occurred within a few moments of her leaving the Oxford City Chess Club. Mrs. Sollas won the British Ladles Championship in 1913, and has been a frequent competitor at English chess meetings."
Amabel Sollas played in the West of England Chess Festival held earlier that month (the Easter weekend of 7-8 April).
---
CHESS MATERIALS FOR SOLDIERS. [BCM, November 1917, pages 356-357]
To the Editor of "The British Chess Magazine."
Dear Sir;
If you can spare me a Chess Magazine for this month and onwards I shall be grateful. I play chess now and then with the soldiers, who come down from the trenches for a few days' repose. We have a Salle de Recréations for them open all the afternoon and evening, and they come in hundreds to play games, write and read. If any of your subscribers would like to send out another chessboard and men, we should be grateful, for we have only one set at present.
"The French Red Cross would forward it to us. The address is—Hon. Sec., French Red Cross, 9, Knightsbridge, London. But you must put on the address that it is for Mrs. Sollas's Canteen.
"We are very near the front, only about six miles from the nearest Germans, at a little village which serves as a shelter for troops, not having been destroyed much in the German retreat last March. I give you the address of our Headquarters at Compiegne, as we are beyond railway communication.
I am,
Yours faithfully,
Amabel Sollas
Oeuvres des Dames Anglaises,
Bureau de la Place, Compiègne, Oise,
October 13th, 1917.
[Doubtless many of our readers who have attended the tournament meetings of the British Chess Federation will best recollect Mrs. Sollas as Mrs. Mosely [Moseley], who won the British Ladies' Championship at Cheltenham, in 1913. Since her marriage to Professor Sollas, of Oxford, Mrs. Sollas has been constantly engaged in nursing wounded soldiers in France. We are sending her some copies of the B.C.M. and we hope she will have a generous response to her appeal for chess materials.—Ed., B.C.M.]
---
Biographical Note
David Miller (scored 4½/11 in the 1913 British Championship) (born 4 November 1881, Russia, died 31 January 1972, London)
From Russia (his father was born in "Brisk at Grodno" according to his 1899 naturalisation papers – probably Brest, Belarus in the Grodno region): in London by 1891, naturalised British in 1899, son of Samuel & Freda Miller, both Russian born. Inland Revenue clerk in 1911.
From BCM, April 1972, p138: "Mr. David Miller - We regret to announce the death of Mr. David Miller, who was well known in London chess circles for more than half a century.
"He joined the Metropolitan Chess Club before the first world war, and for many years played on top board in the 'A' division of the London Chess League. He was President of the Metropolitan C.C. from 1950 to 1956, and established a club record by winning its championship twelve times, between 1912-13 and 1953-54.
"In recent years he belonged to the Hampstead Chess Club, and when well over eighty years of age was playing regularly on top board for Hampstead 2nd team.
"In his best years he was a first-rate amateur player, and if he had been able to give more time to the game would have been of master strength. He is remembered as an engaging personality and an unfailingly courteous opponent." A.A.R. [not sure who A.A.R. is - typo for A.M. Reilly?]
---
File updated
| Date | Notes |
| --- | --- |
| 8 February 2018 | Full score of Schories-Middleton (Round 11, Major Open) replaced the partial score previously posted. Thanks to Alan Smith. |
| 19 April 2018 | Added the full score of Yates-Michell (Rd 5) - thanks to Alan Smith. |
| 16 May 2018 | Added the game Bogdanor-Craig (First-Class A) - many thanks to Gerard Killoran. I took the opportunity to add some photos, crosstables and results of subsidiary groups to the file. |
| 26 June 2019 | Added the game Bogdanor-Dixon, First Class A, kindly contributed by Gerard Killoran. |
| 27 August 2020 | Added the game Mahood-Jacobs, Championship Rd 1, kindly contributed by David McAlister. Many thanks to David, who also draws our attention to an informative biographical piece about James Mahood at chessgames.com by 'Tabanus'. While I was going about the amendment, I thought I would provide a little biographical detail about the 1913 British Women's Champion. Regrettably, but typically, it has been harder to find out more about Amabel Moseley herself rather than the men in her life, eminent and worthy though they undoubtedly were. However, I have discovered her exact date of birth which had hitherto eluded chess researchers (for some unknown reason, her birth is undiscoverable in statutory records). |
| 28 August 2020 | Added a short biographical note about David Miller, who played in the 1913 British Championship. |