BRITBASE - British Chess Game Archive
Tournament: 11th British Championship (Yates won)
(36 of a possible 55 games)

•

Updated: Friday 9 February, 2018 0:14 AM


Venue: Chester • Dates: 10-21 August 1914 • Download PGN

(includes 41 games from subsidiary events)
1914 British Chess Championship
| | | | | | | | | | | | | | | |
| --- | --- | --- | --- | --- | --- | --- | --- | --- | --- | --- | --- | --- | --- | --- |
| | | 1 | 2 | 3 | 4 | 5 | 6 | 7 | 8 | 9 | 10 | 11 | 12 | Pts |
| 1 | Yates,Fred Dewhirst | | ½ | 1 | 1 | 1 | 0 | 1 | 1 | 1 | 1 | 1 | 1 | 9.5 |
| 2 | Blackburne,Joseph Henry | ½ | | ½ | 1 | 1 | ½ | 1 | 1 | 1 | 1 | 1 | 1 | 9.5 |
| 3 | Gunsberg,Isidor | 0 | ½ | | 1 | ½ | 1 | ½ | 0 | 1 | 1 | 1 | 1 | 7.5 |
| 4 | Louis,Allan William Edward | 0 | 0 | 0 | | 1 | 1 | ½ | 1 | ½ | 1 | 1 | 1 | 7.0 |
| 5 | Schumer,Jacob | 0 | 0 | ½ | 0 | | 0 | 1 | 1 | 1 | 1 | 1 | 1 | 6.5 |
| 6 | Scott,Roland Henry Vaughan | 1 | ½ | 0 | 0 | 1 | | ½ | 0 | 1 | 1 | ½ | 1 | 6.5 |
| 7 | Viner,William Samuel | 0 | 0 | ½ | ½ | 0 | ½ | | 1 | ½ | 1 | 1 | 1 | 6.0 |
| 8 | Lean,Richard Edward | 0 | 0 | 1 | 0 | 0 | 1 | 0 | | 0 | ½ | 1 | 1 | 4.5 |
| 9 | Sparkes,William Henry John | 0 | 0 | 0 | ½ | 0 | 0 | ½ | 1 | | ½ | ½ | 1 | 4.0 |
| 10 | Parry,John Ellis | 0 | 0 | 0 | 0 | 0 | 0 | 0 | ½ | ½ | | 1 | 1 | 3.0 |
| 11 | Wilkes,George | 0 | 0 | 0 | 0 | 0 | ½ | 0 | 0 | ½ | 0 | | 1 | 2.0 |
| 12 | Default (Carrick Wardhaugh) | 0 | 0 | 0 | 0 | 0 | 0 | 0 | 0 | 0 | 0 | 0 | | 0.0 |
The tie was awarded to Yates as Blackburne could not play off.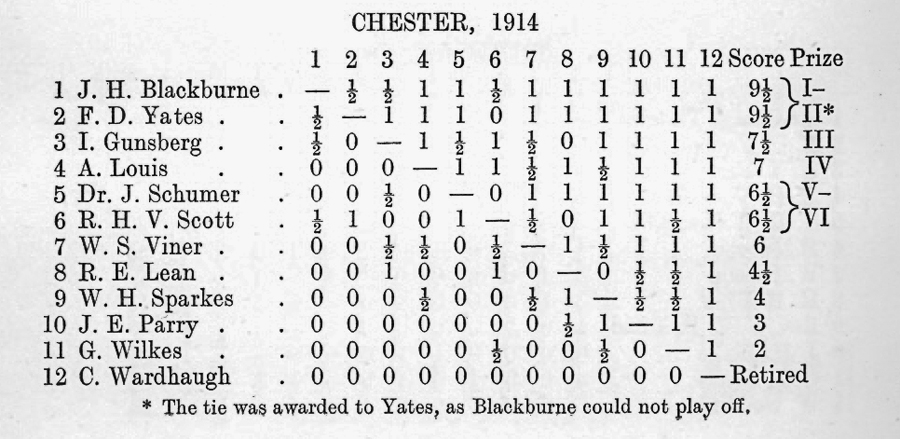 British Women's Championship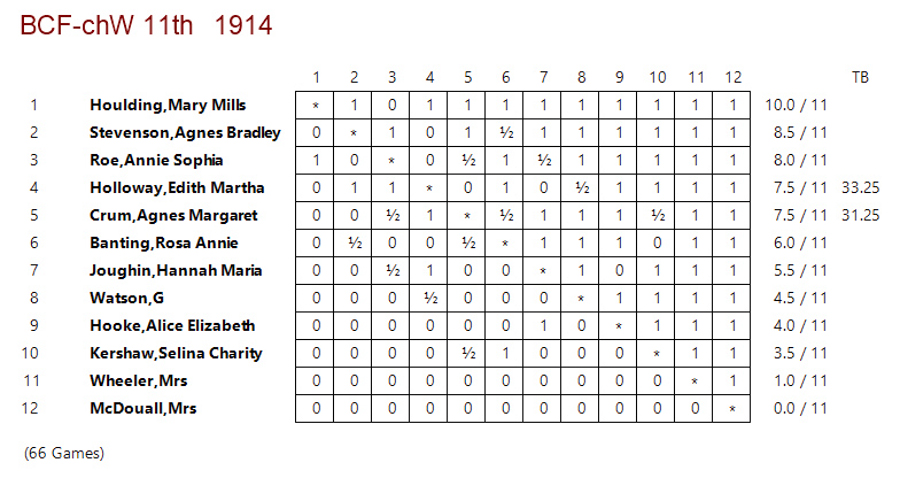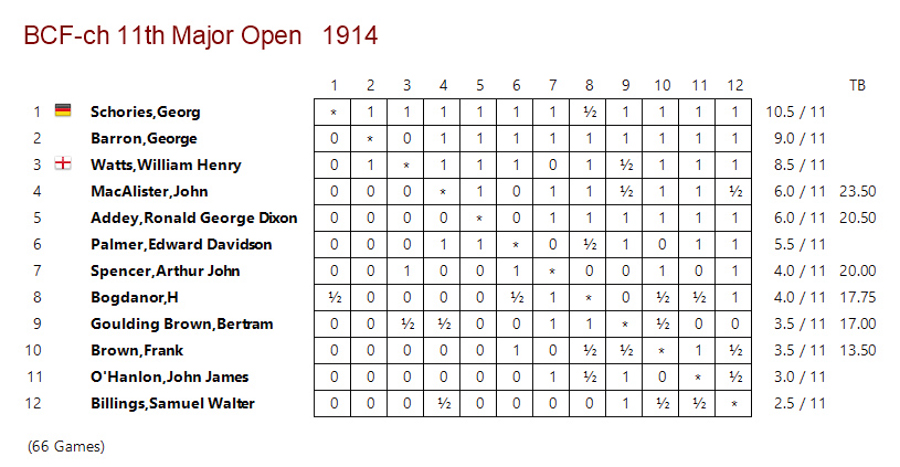 ---
Other competitions' results, from Chester Chronicle, Saturday 29 August 1914:
First Class Tournament.—1, S.[probably 'A'] Waterhouse, 7½; 2= R. H. G[more likely 'S']. Stevenson and G. W. Moses, 7.
Second Class Tournament (Major).—1 J. W. Broadbent, 10; 2, O. Stuchberry, 7; 3, H. J. Bockett-Pugh, 6½.
Second Class Tournament (Minor).—1 M. Webster 10; 2. J. W. James, 9½; 3, W. M. Brown, 7½.
First Handicap.—1, J. Fish; 2, E. B. Gittins; 3, J. O. Chambers. Second handicap.—1, J. E. Parry; 2, J. James; 3, J. Fish.
(I think there could be several typos here - JS)
---
From the Manchester Guardian, 21 July 1914:
"The details of the Chester Congress were finally arranged. There will be a reception of Congress competitors and visitors by the Corporation at 3 p.m. on Monday, August 10, and play will begin on the same day. There are 112 entries, arranged in nine sections. The players in the principal sections are as under:—
British Championship: J. H. Blackburne, I. Gunsberg, H. Jacobs, R. E. Lean, A. J. Mackenzie, J. Mahood, R. P. Michell, O. C. Muller, J. E. Parrey, R. H. V. Scott, W. S. Viner, and F. D. Yates.
British Ladies' Championship: Miss Abraham, Herne Bay; Miss Campbell, Cambridge: Miss Cotton, London; Mrs. Holloway, Dartford; Miss Hooke, Cobham; Mrs. Houlding, Newport; Mrs. Michell, London; Miss Price, London; Mrs. Roe, London; Miss Ruchon Hastings; Mrs. Stevenson, Dartford; and Miss Hutchison-Stirling, Edinburgh.
Major Open: G. Barron, Hull; S. W. Billings, Cheltenham; G. J. Birks, West Hartlepool; Frank Brown, Dudley; C. H. Lorch, Stone; A. Louis, London; J. J. O'Hanlon, Portadown; F. Ruoux, Brighton; Dr. J. Schumer, London; G. Shories, Bradford; C. Wardhaugh, Glasgow: and G. Wilkes, London.
There are 24 players in the first-class, 24 in the second-class, and 28 in the third-class."
---
Further background on the 1914 British Championship, from A Century of Chess (1934), by Philip Walsingham Sergeant:
"The month of August arrived, the B.C.F. Congress being fixed for the period between the 10th and 22nd, and Chester being the chosen spot. The crash of the world came first; and, though it was decided to carry out the programme as far as possible, out of a hundred and twelve entries for the various events nearly fifty were scratched. In the British Championship there were five withdrawals, including that of Mahood, who was second in 1913. The vacancies were filled up; but one of the substitutes did not play, so that there were only ten games (note by JS - I think he means ten rounds, so that the player listed above as scoring 0/11 may not have played). Yates and Blackburne tied for first place, with 8½ [sic] points each. Gunsberg took third prize, with 7½; A. Louis, of the Metropolitan C.C., fourth, with 7; and Dr. J. Schumer and R. H. V. Scott divided the two remaining prizes, with 6½ each. The Ladies' Championship was won by Mrs. Houlding. In the Major Open Tournament G. Shories— a German, very shortly to be interned as a civilian prisoner-of-war!— won with 10½ points, G. Barron, of Yorkshire, being second [with 9 - JS]. (Later in BCM, p375: "Mr. G. Shories, who won the major open tournament at Chester, is interned at the concentration camp at Frimley.")
"The tie between Yates and Blackburne was never played off, as Blackburne resigned, not being in sufficiently good health for a match later. Thus Yates was a second time champion.
"There is little more to be recorded for 1914, for chess nearly came to a stop. The English County Championship for the year was completed on January 16th, 1915, when Middlesex beat Lancashire in the final round at Birmingham by 8-4. In this winter the City of London and London League tournaments were carried out with diminished entries. The late champion of the City of London, Edward Lasker, it may be noted, was able, through the influence of friends, to leave England for New York, as his German nationality was atoned for by an American mother, agreeable manners, and a considerable period of residence in England. He was luckier than some of his chessplaying compatriots here ; and also than some players of " alien enemy " origin who, though long naturalised British subjects, received harsh treatment, socially at least, for the error of their birth. Happily not all British chessplayers were so minded in their conduct towards them.(see PWS's footnote below)
"Death claimed a prominent amateur player as victim in the autumn of this year, the Rev. W. C. Palmer succumbing to typhoid fever in Trinidad on September 1st, aged only forty-one. With him passed almost the last of chess's " fighting parsons.""
(Footnote, by PWS) I may perhaps be permitted to recall, without too much claim to negative virtue, the memorable general meeting of the City of London Chess Club when it was decided, by an overwhelming vote, to expel all members of alien enemy birth, and I ventured to protest in the case of two honourable and hitherto honoured members—thereby incurring, for some time, the deadly reproach of being "pro-German"!
Another example of war fever during the 1914 Chester Congress: "Mr Beamish, whilst studying a position on a pocket chessboard in the park, was arrested as a suspect, but was soon released by an inspector who played chess." (Lincolnshire Echo, 13 August 1914)
---
Files updated
| | |
| --- | --- |
| Date | Notes |
| 8 Feb 2018 | Source of the game Schories-O'Hanlon (Round 6, Major Open) now given as Dunedin Evening Star, 17 April 1915. Thanks to Alan Smith. |