BRITBASE - British Chess Game Archive
Tournament: 9th British Championship (won by RC Griffith)
(36 games of a possible 66, plus 19 from subsidiary events)


Venue: Richmond • Dates: 12-24 August 1912 • Download PGN

• updated: Thursday 30 May, 2019 6:21 PM
1912 British Chess Championship
| | | | | | | | | | | | | | | |
| --- | --- | --- | --- | --- | --- | --- | --- | --- | --- | --- | --- | --- | --- | --- |
| | | 1 | 2 | 3 | 4 | 5 | 6 | 7 | 8 | 9 | 10 | 11 | 12 | Pts |
| 1 | Griffith,Richard Clewin | | 0 | ½ | 1 | 1 | ½ | 1 | 1 | ½ | ½ | 1 | 1 | 8.0 |
| 2 | Cole,Harold Godfrey | 1 | | ½ | 1 | ½ | ½ | ½ | 1 | ½ | 0 | 1 | 1 | 7.5 |
| 3 | Yates,Fred Dewhirst | ½ | ½ | | 1 | 0 | 1 | ½ | 1 | 0 | 1 | 1 | 1 | 7.5 |
| 4 | Gibson,William P | 0 | 0 | 0 | | ½ | 1 | 1 | ½ | ½ | 1 | 1 | 1 | 6.5 |
| 5 | Hamond,Francis Edward (Rev) | 0 | ½ | 1 | ½ | | 1 | 0 | 0 | 1 | 0 | 1 | 1 | 6.0 |
| 6 | Michell,Reginald Pryce | ½ | ½ | 0 | 0 | 0 | | 0 | 1 | 1 | 1 | 1 | 1 | 6.0 |
| 7 | Jacobs,Herbert Levi | 0 | ½ | ½ | 0 | 1 | 1 | | 0 | 0 | 1 | ½ | 1 | 5.5 |
| 8 | Crakanthorp,Spencer | 0 | 0 | 0 | ½ | 1 | 0 | 1 | | 1 | 1 | 0 | 1 | 5.5 |
| 9 | Wahltuch,Victor Leonard | ½ | ½ | 1 | ½ | 0 | 0 | 1 | 0 | | ½ | ½ | ½ | 5.0 |
| 10 | Uber,Henry Bernard | ½ | 1 | 0 | 0 | 1 | 0 | 0 | 0 | ½ | | 1 | 1 | 5.0 |
| 11 | West,Arthur George | 0 | 0 | 0 | 0 | 0 | 0 | ½ | 1 | ½ | 0 | | 1 | 3.0 |
| 12 | Billings,Samuel Walter | 0 | 0 | 0 | 0 | 0 | 0 | 0 | 0 | ½ | 0 | 0 | | 0.5 |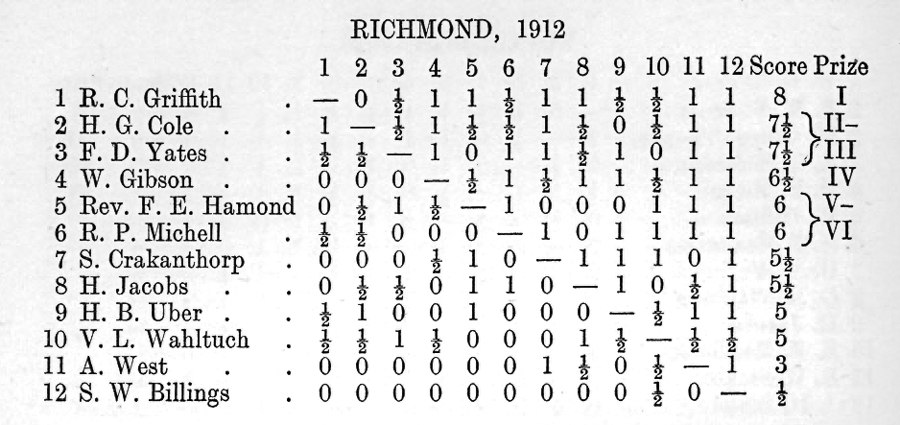 * On the second Monday (19 August 1912) a match was held between the 12 players in the British Championship proper and the 12 players of the Major Open (they were, in finishing order, WH Gunston, Abraham Speijer 10/11, JC Waterman 8, RHV Scott 6, AJ Mackenzie, AJ Maas 5½, A Louis, Willem Andreas Theodorus Schelfhout (NED), C Wardhaugh 4, JJ O'Hanlon 2, F Brown 1½). The match was won by the Major Open players by 6½-5½.
(From the Illustrated London News - my thanks to Gerard Killoran for the photo)
The room shown was the ballroom in the Castle Assembly Rooms, Richmond.
This building still exists and is now known as Whittaker House, Whittaker Avenue, Richmond, Surrey TW9 1EH
---
The 1912 British chess champion, Richard Clewin Griffith (1872-1955), reminisced about his success in BCM, April 1932, p151: "My success at Richmond was unexpected by myself and everybody else. Of course, I was particularly lucky. Atkins retired that year and several players who invariably used to beat me never entered; why they accepted my entry I do not know. I wrote to Rees and said it was the only chance I should ever have of playing for the Championship in the summer and perhaps my special pleading softened the hearts of the selection committee. The work on the M.C.O. [Modern Chess Openings] certainly bore fruit at Richmond and J. H. White backed me up all he could, but the only chess player I could get to bet that I should be in the first half was J. Schumer. I was fortunate to lead throughout, although I made an ass of myself against V. L. Wahltuch. The heading the next morning in The Standard was amusing, "Griffith's brilliant stalemate." This was adding insult to injury! I found it very hard work and my wife said I looked a wreck at the end of it, but these Congresses are invariably well run and I wish I could afford the time to enter another."
---
| | |
| --- | --- |
| Date | Notes |
| 19 August 2015 | Two more Major Open games added, thanks to Brian Denman. |
| 20 August 2015 | Three more Major Open games added, thanks to Tim Harding. |
| 23 February 2016 | One more game added, Jacobs-Gibson (Rd 11), many thanks to Gerard Killoran. |
| 25 March 2016 | Added Scott-Speyer, Major Open. Thanks to Gerard Killoran. |
| 10 April 2016 | Additional championship game: Gibson-H.G.Cole, Rd 10. |
| 16 May 2018 | Additional championship game: Billings-Hamond (Rd 6) - many thanks to Gerard Killoran. |
| 07 Dec 2018 | Additional championship game: Michell-Wahltuch (Rd 10) - many thanks to Alan Smith |
| 30 May 2019 | Added RC Griffith's reminiscences. |