BRITBASE - British Chess Game Archive
Tournament: 70th British Championship • All 319 games, plus 34 games from subsidiary sections • Tournament Programme (PDF)
Venue: Southport • Dates: 8-19 August 1983 • Download PGN
• last updated Friday January 13, 2023 12:51 PM
1983 British Chess Championship, Southport, 8-19 August • 1982« »1984
n.b. the crosstable below has been generated from the ChessBase file
1983 British Chess Championship
1
2
3
4
5
6
7
8
9
10
11
Total
1
A Jonathan Mestel
Cambridge
2500g
♦ 1/26
◊ 1/18
♦ 1/20
◊ ½/11
♦ ½/3
◊ ½/22
♦ 1/21
♦ 1/16
◊ ½/2
◊ 1/7
♦ ½/4
8½
2
Murray G Chandler
London
2500ge
♦ ½/42
◊ 1/45
♦ 0/10
◊ 1/43
♦ ½/20
◊ 1/23
♦ 1/6
◊ 1/3
♦ ½/1
◊ 1/5
♦ ½/7
8
3
Darryl Keith Johansen
Australia
2485m
◊ ½/9
♦ 1/44
◊ 1/40
♦ 1/10
◊ ½/1
♦ ½/17
◊ ½/16
♦ 0/2
◊ 1/15
♦ 1/23
◊ ½/8
7½
4
Andrew D Martin
London
2340f
◊ 1/51
♦ ½/17
◊ ½/5
♦ 0/15
◊ 1/29
♦ 1/24
◊ 0/10
♦ 1/22
◊ 1/9
♦ 1/18
◊ ½/1
7½
5
George S Botterill
Aberystwyth
2410m
♦ ½/52
◊ 1/43
♦ ½/4
◊ 1/34
♦ ½/12
◊ ½/6
♦ 1/19
◊ ½/14
♦ 1/11
♦ 0/2
◊ 1/10
7½
6
William N Watson
London
2395m
◊ 1/50
♦ ½/28
◊ 1/29
♦ ½/9
◊ ½/15
♦ ½/5
◊ 0/2
♦ 1/35
◊ ½/13
♦ 1/17
◊ 1/18
7½
7
Julian M Hodgson
London
2385me
◊ 1/46
♦ 0/34
◊ ½/38
♦ ½/29
◊ 1/32
♦ 1/37
◊ 1/15
♦ 1/17
◊ 1/10
♦ 0/1
◊ ½/2
7½
8
Ian Rogers
Australia
2450m
♦ 0/40
◊ ½/35
♦ 0/43
◊ 1/52
♦ 1/34
◊ 1/20
♦ 1/11
◊ 1/21
♦ ½/16
◊ 1/14
♦ ½/3
7½
9
Neil H Bradbury
Barnet
2295
♦ ½/3
◊ 1/27
♦ 1/19
◊ ½/6
♦ ½/14
◊ 1/12
◊ ½/17
♦ 0/10
♦ 0/4
◊ 1/43
♦ 1/16
7
10
Jeff Horner
Bolton
2380
◊ ½/47
♦ 1/57
◊ 1/2
◊ 0/3
♦ 1/50
◊ ½/14
♦ 1/4
◊ 1/9
♦ 0/7
◊ 1/16
♦ 0/5
7
11
Mark Hebden
Leicester
2495m
◊ 1/36
♦ 1/23
◊ 1/34
♦ ½/1
◊ 0/16
♦ ½/18
◊ 0/8
♦ 1/39
◊ 0/5
♦ 1/28
◊ 1/24
7
12
Geoffrey W Lawton
Leicester
2380
♦ 1/48
◊ ½/14
◊ ½/15
♦ 1/18
◊ ½/5
♦ 0/9
◊ ½/36
♦ 1/32
◊ ½/17
♦ 1/19
◊ ½/13
7
13
David H Cummings
Brighton
2360f
♦ 1/55
◊ ½/19
♦ 0/14
◊ 1/30
♦ 0/22
◊ ½/42
♦ 1/49
◊ 1/25
♦ ½/6
◊ 1/21
♦ ½/12
7
14
Jonathan Speelman
London
2535g
◊ 1/33
♦ ½/12
◊ 1/13
♦ ½/17
◊ ½/9
♦ ½/10
◊ 1/22
♦ ½/5
◊ ½/18
♦ 0/8
◊ ½/15
6½
15
Dibyendu Barua
India
2475m
♦ ½/45
◊ 1/42
♦ ½/12
◊ 1/4
♦ ½/6
◊ ½/19
♦ 0/7
◊ 1/20
♦ 0/3
◊ 1/38
♦ ½/14
6½
16
Praveen Thipsay
India
2425me
◊ ½/29
♦ 1/47
◊ 1/28
♦ 1/37
♦ 1/11
◊ ½/21
♦ ½/3
◊ 0/1
◊ ½/8
♦ 0/10
◊ 0/9
6
17
Vaidya Ravikumar
India
2390m
♦ 1/39
◊ ½/4
♦ 1/30
◊ ½/14
♦ 1/48
◊ ½/3
♦ ½/9
◊ 0/7
♦ ½/12
◊ 0/6
♦ ½/27
6
18
John J Cox
Telford
2355f
◊ 1/31
♦ 0/1
♦ 1/52
◊ 0/12
♦ 1/40
◊ ½/11
♦ 1/26
◊ 1/42
♦ ½/14
◊ 0/4
♦ 0/6
6
19
Niaz Murshed
Bangladesh
2405m
◊ 1/32
♦ ½/13
◊ 0/9
♦ 1/44
◊ 1/35
♦ ½/15
◊ 0/5
♦ 1/37
◊ ½/23
◊ 0/12
♦ ½/20
6
20
Nigel Rodney Davies
Wrexham
2375m
♦ 1/56
◊ 1/25
◊ 0/1
♦ ½/50
◊ ½/2
♦ 0/8
◊ 1/38
♦ 0/15
◊ ½/30
♦ 1/39
◊ ½/19
6
21
John E Littlewood
Skelmersdale
2380
◊ 1/49
♦ 0/40
◊ 1/46
♦ 1/36
◊ 1/24
♦ ½/16
◊ 0/1
♦ 0/8
◊ 1/33
♦ 0/13
◊ ½/29
6
22
Craig W Pritchett
London
2400m
♦ ½/43
◊ 1/52
◊ 0/37
♦ 1/38
◊ 1/13
♦ ½/1
♦ 0/14
◊ 0/4
◊ ½/36
♦ 1/32
◊ ½/23
6
23
Glenn C Flear
London
2380m
♦ 1/58
◊ 0/11
♦ ½/48
◊ 1/42
◊ ½/37
♦ 0/2
◊ 1/33
♦ 1/36
♦ ½/19
◊ 0/3
♦ ½/22
6
24
Anthony C Kosten
Chandler Ford
2395f
♦ 0/30
◊ 1/58
♦ 1/39
◊ 1/40
♦ 0/21
◊ 0/4
♦ 0/42
◊ 1/53
♦ 1/26
◊ 1/31
♦ 0/11
6
25
Jean Hébert
Canada
2430m
◊ 1/38
♦ 0/20
◊ 0/50
♦ 1/46
◊ ½/36
♦ 1/39
◊ ½/35
♦ 0/13
◊ ½/32
♦ ½/30
◊ 1/45
6
26
Victor W Knox
Cheadle
2320
◊ 0/1
♦ ½/49
◊ ½/57
♦ 1/53
◊ ½/39
♦ 1/31
◊ 0/18
♦ ½/30
◊ 0/24
♦ 1/35
◊ 1/34
6
27
Paul E Littlewood
Billericay
2455m
◊ ½/44
♦ 0/9
◊ 1/45
♦ 0/35
◊ 0/38
♦ 1/57
◊ 0/39
♦ 1/47
◊ 1/37
♦ 1/36
◊ ½/17
6
28
Nicholas W Ivell
Blackpool
2350
♦ 1/54
◊ ½/6
♦ 0/16
◊ 0/48
♦ 0/31
◊ 1/56
♦ ½/50
◊ 1/49
♦ 1/42
◊ 0/11
♦ 1/38
6
29
Christopher M Cooley
Kingston-upon-Th
2250
♦ ½/16
◊ 1/41
♦ 0/6
◊ ½/7
♦ 0/4
◊ 0/49
♦ 1/55
◊ 0/34
♦ 1/48
◊ 1/37
♦ ½/21
5½
30
Simon JB Knott
London
2250
◊ 1/24
♦ ½/37
◊ 0/17
♦ 0/13
◊ 1/54
♦ 0/35
◊ 1/46
◊ ½/26
♦ ½/20
◊ ½/25
♦ ½/31
5½
31
Peter Allan Richmond
Pontypool
♦ 0/18
♦ 1/32
◊ 0/36
♦ ½/33
◊ 1/28
◊ 0/26
♦ ½/34
♦ 1/44
◊ 1/35
♦ 0/24
◊ ½/30
5½
32
Stuart Conquest
St Leonards on Sea
2255f
♦ 0/19
◊ 0/31
♦ 1/54
◊ 1/58
♦ 0/7
◊ 1/48
♦ 1/41
◊ 0/12
♦ ½/25
◊ 0/22
♦ 1/42
5½
33
John C Hawksworth
Cranleigh
2325
♦ 0/14
◊ 0/48
♦ 1/55
◊ ½/31
♦ ½/49
◊ 1/40
♦ 0/23
◊ 1/50
♦ 0/21
◊ ½/42
♦ 1/43
5½
34
Peter K Wells
Portsmouth
2335f
♦ 1/53
◊ 1/7
♦ 0/11
♦ 0/5
◊ 0/8
♦ ½/46
◊ ½/31
♦ 1/29
◊ 0/38
♦ 1/44
♦ 0/26
5
35
Syed Nasir Ali
India
2345
♦ 0/37
♦ ½/8
◊ 1/47
◊ 1/27
♦ 0/19
◊ 1/30
♦ ½/25
◊ 0/6
♦ 0/31
◊ 0/26
♦ 1/48
5
36
Peter G Large
London
2310
♦ 0/11
◊ 1/56
♦ 1/31
◊ 0/21
♦ ½/25
◊ 1/50
♦ ½/12
◊ 0/23
♦ ½/22
◊ 0/27
♦ ½/41
5
37
Richard L Britton
Hull
2325f
◊ 1/35
◊ ½/30
♦ 1/22
◊ 0/16
♦ ½/23
◊ 0/7
♦ 1/53
◊ 0/19
♦ 0/27
♦ 0/29
◊ 1/49
5
38
Gary William Lane
Paignton
2270
♦ 0/25
◊ 1/55
♦ ½/7
◊ 0/22
♦ 1/27
◊ ½/41
♦ 0/20
◊ 1/48
♦ 1/34
♦ 0/15
◊ 0/28
5
39
Graham Waddingham
Nottingham
◊ 0/17
♦ 1/51
◊ 0/24
♦ 1/57
♦ ½/26
◊ 0/25
♦ 1/27
◊ 0/11
♦ 1/41
◊ 0/20
♦ ½/40
5
40
Jonathan James Ady
Watford
2270
◊ 1/8
◊ 1/21
♦ 0/3
♦ 0/24
◊ 0/18
♦ 0/33
◊ 0/45
♦ ½/51
◊ 1/57
♦ 1/54
◊ ½/39
5
41
Paul V Byway
Hoddesdon
2365
◊ ½/57
♦ 0/29
◊ 0/44
♦ 1/47
◊ 1/43
♦ ½/38
◊ 0/32
♦ ½/45
◊ 0/39
♦ 1/46
◊ ½/36
5
42
John R Richardson
London
2305
◊ ½/2
♦ 0/15
◊ 1/49
♦ 0/23
◊ 1/44
♦ ½/13
◊ 1/24
♦ 0/18
◊ 0/28
♦ ½/33
◊ 0/32
4½
43
Byron A Jacobs
Brighton
2255f
◊ ½/22
♦ 0/5
◊ 1/8
♦ 0/2
♦ 0/41
◊ 0/53
◊ 1/54
♦ 1/46
◊ 1/45
♦ 0/9
◊ 0/33
4½
44
Alan A Smith
Manchester
2275
♦ ½/27
◊ 0/3
♦ 1/41
◊ 0/19
♦ 0/42
◊ 1/51
♦ ½/48
◊ 0/31
♦ 1/49
◊ 0/34
♦ ½/47
4½
45
James C Howell
Harrogate
2285
◊ ½/15
♦ 0/2
♦ 0/27
◊ 0/49
♦ ½/55
◊ 1/58
♦ 1/40
◊ ½/41
♦ 0/43
◊ 1/50
♦ 0/25
4½
46
Ian R Watson
Canterbury
2205
♦ 0/7
◊ 1/53
♦ 0/21
◊ 0/25
♦ 1/58
◊ ½/34
♦ 0/30
◊ 0/43
♦ 1/56
◊ 0/41
♦ 1/52
4½
47
Sheila Jackson
London
2195wm
♦ ½/10
◊ 0/16
♦ 0/35
◊ 0/41
♦ 0/56
◊ 1/52
♦ ½/51
◊ 0/27
♦ 1/58
♦ 1/57
◊ ½/44
4½
48
Michael Smyth1
Bangor, Co Down
◊ 0/12
♦ 1/33
◊ ½/23
♦ 1/28
◊ 0/17
♦ 0/32
◊ ½/44
♦ 0/38
◊ 0/29
♦ 1/51
◊ 0/35
4
49
Terry PD Chapman
Wimbledon
♦ 0/21
◊ ½/26
♦ 0/42
♦ 1/45
◊ ½/33
♦ 1/29
◊ 0/13
♦ 0/28
◊ 0/44
◊ 1/53
♦ 0/37
4
50
Peter W Hempson
Sheffield
2245
♦ 0/6
◊ 1/54
♦ 1/25
◊ ½/20
◊ 0/10
♦ 0/36
◊ ½/28
♦ 0/33
◊ ½/51
♦ 0/45
♦ ½/53
4
51
Jane Garwell
Pontypool
2090
♦ 0/4
◊ 0/39
♦ 0/58
◊ ½/55
♦ 1/52
♦ 0/44
◊ ½/47
◊ ½/40
♦ ½/50
◊ 0/48
◊ 1/54
4
52
Michael Kerridge
Rugby
◊ ½/5
♦ 0/22
◊ 0/18
♦ 0/8
◊ 0/51
♦ 0/47
◊ 1/58
♦ 0/54
◊ 1/55
♦ 1/56
◊ 0/46
3½
53
Brian R Smith
Darlington
◊ 0/34
♦ 0/46
♦ 1/56
◊ 0/26
◊ ½/57
♦ 1/43
◊ 0/37
♦ 0/24
◊ ½/54
♦ 0/49
◊ ½/50
3½
54
Leon P Burnett
Bradfield
◊ 0/28
♦ 0/50
◊ 0/32
◊ 1/56
♦ 0/30
◊ ½/55
♦ 0/43
◊ 1/52
♦ ½/53
◊ 0/40
♦ 0/51
3
55
Allan Sutherland
Grangemouth
◊ 0/13
♦ 0/38
◊ 0/33
♦ ½/51
◊ ½/45
♦ ½/54
◊ 0/29
♦ ½/57
♦ 0/52
◊ ½/58
◊ ½/56
3
56
Paul C Raynes
Birmingham
◊ 0/20
♦ 0/36
◊ 0/53
♦ 0/54
◊ 1/47
♦ 0/28
◊ ½/57
♦ 1/58
◊ 0/46
◊ 0/52
♦ ½/55
3
57
Peter Varley
Newport, Gwent
♦ ½/41
◊ 0/10
♦ ½/26
◊ 0/39
♦ ½/53
◊ 0/27
♦ ½/56
◊ ½/55
♦ 0/40
◊ 0/47
♦ 0/58
2½
58
Arthur F Brameld
Fareham
◊ 0/23
♦ 0/24
◊ 1/51
♦ 0/32
◊ 0/46
♦ 0/45
♦ 0/52
◊ 0/56
◊ 0/47
♦ ½/55
◊ 1/57
2½
1 original sources (bulletin, BCM) give the name as "C Smyth" but I am reliably informed by leading authority on Ulster chess David McAlister that the player was Michael Smyth, whom he tells me "qualified by winning the Ulster Championship. He played for Bangor Chess Club in Northern Ireland and I believe at the time of the 1983 Championship he was a student at Warwick University." (English Chess Forum, 22 August 2020)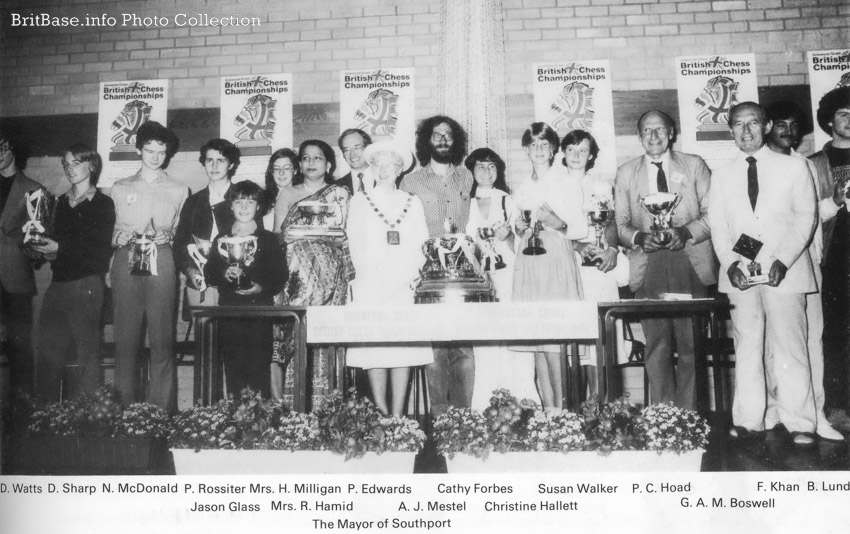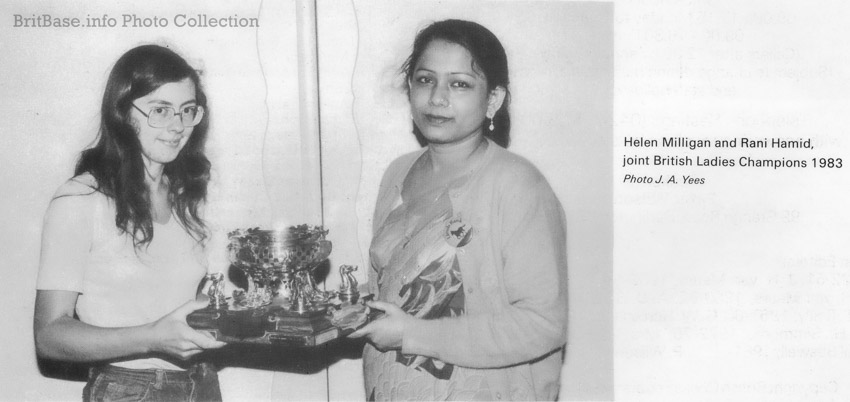 1983 British Ladies Championship (7 round Swiss) • 1982« »1984
1983 British Ladies Championship
1
2
3
4
5
6
7
Total
1
Rani Hamid
Bangladesh
2035
1/9
1/2
1/5
0/3
½/7
1/4
½/6
5
2
Helen Milligan
St Andrews
1905
1/15
0/1
1/14
½/11
1/6
1/3
½/7
5
3
Alison Condie
Helensburgh
1905
½/10
1/4
1/13
1/1
1/8
0/2
0/5
4½
4
Suzzane Wood
London
1915
1/6
0/3
½/7
1/13
1/11
0/1
1/8
4½
5
Dinah Wright
Wembley
2025
1/11
½/13
0/1
½/7
1/12
½/9
1/3
4½
6
Lynnette Fursman
Glastonbury
0/4
½/12
1/16
1/9
0/2
1/11
½/1
4
7
Kathleen Hindle
Cromer
1830
½/8
1/14
½/4
½/5
½/1
½/10
½/2
4
8
Rowena Mary Bruce
Plymouth
1950wm
½/7
½/10
½/9
1/12
0/3
1/15
0/4
3½
9
Rosemary Jackson
Dundee
1860
0/1
1/15
½/8
0/6
1/13
½/5
½/10
3½
10
Alison McLure
Glasgow
½/3
½/8
0/11
½/14
1/16
½/7
½/9
3½
11
Jean Rogers
London
0/5
1/16
1/10
½/2
0/4
0/6
1/15
3½
12
Rani Chakrabarti
Wilmslow
0/13
½/6
1/15
0/8
0/5
½/14
1/16
3
13
Cathy Travers
Australia
1905
1/12
½/5
0/3
0/4
0/9
1/16
½/14
3
14
Louise McDonald
Australia
½/16
0/7
0/2
½/10
½/15
½/12
½/13
2½
15
Patricia Thackray
Leeds
0/2
0/9
0/12
1/16
½/14
0/8
0/11
1½
16
Jo Frend
London
½/14
0/11
0/6
0/15
0/10
0/13
0/12
½
1983 Major Open Tournament (11 round Swiss)
1983 Major Open, Southport
1
2
3
4
5
6
7
8
9
10
11
Total
SOS
1
Mark Levene
NZL
201
◊ 1/60
♦ 1/69
◊ 1/38
♦ 0/10
◊ 1/20
◊ ½/2
♦ 1/21
◊ ½/39
♦ 1/11
♦ 1/7
◊ ½/3
8½
2
Gareth D Pearce
WLS
191
♦ ½/61
◊ 1/57
♦ 1/6
◊ 1/18
◊ ½/10
♦ ½/1
◊ 1/12
♦ ½/11
◊ 1/7
♦ ½/15
◊ ½/9
8
74.50
3
Keith Fuller
ENG
188
♦ 1/76
◊ ½/35
♦ 1/23
◊ ½/42
♦ ½/4
◊ ½/6
♦ ½/8
◊ 1/18
♦ 1/31
◊ 1/10
♦ ½/1
8
72.50
4
John N Sugden
ENG
210
◊ 1/33
♦ 1/52
◊ 0/28
♦ 1/31
◊ ½/3
♦ ½/19
◊ 1/38
♦ ½/5
◊ 1/20
♦ ½/13
◊ 1/15
8
71.50
5
Brian A Jones
ENG
191
◊ 1/81
♦ 0/12
◊ 1/43
♦ 0/30
◊ 1/60
♦ 1/41
◊ 1/52
◊ ½/4
♦ ½/19
◊ 1/23
♦ 1/10
8
64.00
6
Ian Upton
ENG
180
◊ 1/11
♦ 1/26
◊ 0/2
♦ ½/32
◊ 1/24
♦ ½/3
◊ 0/9
♦ 1/52
◊ ½/28
◊ 1/39
♦ 1/18
7½
72.50
7
Stuart Niman
ENG
193
♦ 1/48
◊ 0/34
♦ 1/68
◊ 1/29
♦ 1/42
◊ 1/8
♦ 1/28
◊ 1/10
♦ 0/2
◊ 0/1
♦ ½/13
7½
71.00
8
Tom Farrand
ENG
201
◊ 1/59
♦ 1/44
◊ 1/30
♦ ½/28
◊ ½/12
♦ 0/7
◊ ½/3
♦ 0/19
◊ 1/62
♦ 1/20
◊ 1/24
7½
68.50
9
Angus J Dunnington
ENG
192j
◊ 0/68
◊ 1/74
♦ 0/37
◊ 1/72
♦ 1/57
◊ 1/35
♦ 1/6
◊ 1/16
♦ 0/10
◊ 1/19
♦ ½/2
7½
64.50
10
Bart Westra
NED
184
◊ 1/82
♦ 1/22
◊ 1/31
◊ 1/1
♦ ½/2
◊ ½/28
♦ 1/18
♦ 0/7
◊ 1/9
♦ 0/3
◊ 0/5
7
75.00
11
Joseph G Gallagher
ENG
205
♦ 0/6
◊ 1/72
♦ 0/29
◊ 1/61
♦ 1/37
◊ 1/42
♦ 1/34
◊ ½/2
◊ 0/1
♦ ½/16
◊ 1/28
7
69.00
12
Joop Houtman
NED
179
♦ 1/73
◊ 1/5
♦ ½/40
◊ 1/53
♦ ½/8
◊ ½/21
♦ 0/2
◊ ½/58
♦ 1/22
◊ ½/17
♦ ½/23
7
69.00
13
Frank Parr
ENG
195
♦ 1/46
◊ ½/23
♦ 0/42
◊ ½/49
♦ 1/68
◊ ½/29
♦ ½/25
◊ 1/35
♦ 1/34
◊ ½/4
◊ ½/7
7
67.00
14
Philip Adams
ENG
193
♦ ½/45
◊ ½/61
♦ 1/48
◊ 1/37
♦ ½/16
◊ 0/18
♦ 1/17
◊ ½/22
♦ 0/23
◊ 1/29
♦ 1/34
7
67.00
15
Thomas Pioch
GER
213
♦ 0/29
◊ 1/76
♦ ½/44
◊ 1/64
♦ ½/53
◊ ½/25
♦ 1/30
◊ 1/28
♦ 1/39
◊ ½/2
♦ 0/4
7
64.50
16
Mark E Page
ENG
186
◊ 1/66
♦ 0/30
◊ 1/77
♦ 1/38
◊ ½/14
♦ ½/26
◊ 1/32
♦ 0/9
◊ ½/41
◊ ½/11
♦ 1/46
7
64.50
17
David Norwood
ENG
193j
◊ 1/41
♦ 0/28
◊ 1/69
♦ ½/25
◊ 0/52
♦ 1/81
◊ 0/14
◊ 1/59
◊ 1/44
♦ ½/12
◊ 1/35
7
59.50
18
Oliver A Jackson
ENG
186
◊ 1/77
♦ ½/32
◊ 1/24
♦ 0/2
◊ 1/22
♦ 1/14
◊ 0/10
♦ 0/3
◊ 1/36
♦ 1/41
◊ 0/6
6½
71.50
19
James E Vickery
ENG
187
♦ ½/57
◊ 1/45
♦ 1/27
◊ 1/40
♦ 0/28
◊ ½/4
♦ ½/33
◊ 1/8
◊ ½/5
♦ 0/9
◊ ½/22
6½
71.50
20
Jan Weide
NED
186
♦ 1/74
◊ 1/29
♦ ½/34
◊ ½/21
♦ 0/1
◊ ½/30
♦ 1/24
◊ 1/27
♦ 0/4
◊ 0/8
♦ 1/39
6½
71.00
21
John C Saunders
ENG
194
◊ ½/62
♦ 1/47
◊ 1/35
♦ ½/20
◊ 1/30
♦ ½/12
◊ 0/1
♦ 0/31
◊ 1/32
♦ ½/28
◊ ½/26
6½
68.50
22
Russell Granat
ENG
201
♦ 1/37
◊ 0/10
♦ ½/46
◊ 1/63
♦ 0/18
◊ 1/47
♦ 1/29
♦ ½/14
◊ 0/12
◊ 1/40
♦ ½/19
6½
67.00
23
Simon Roe
ENG
183
◊ 1/79
♦ ½/13
◊ 0/3
♦ ½/36
◊ 1/56
♦ 0/32
◊ 1/60
♦ 1/38
◊ 1/14
♦ 0/5
◊ ½/12
6½
67.00
24
Stephen Bell
ENG
202
♦ 1/64
◊ ½/25
♦ 0/18
◊ 1/46
♦ 0/6
♦ 1/55
◊ 0/20
◊ 1/50
♦ 1/58
◊ 1/31
♦ 0/8
6½
65.50
25
Gareth Anthony
WLS
184
◊ 1/75
♦ ½/24
◊ ½/32
◊ ½/17
♦ ½/40
♦ ½/15
◊ ½/13
♦ 0/41
◊ 1/47
♦ ½/33
◊ 1/38
6½
65.00
26
James Steedman
NOR
189
♦ 1/63
◊ 0/6
♦ 1/61
◊ 1/70
♦ ½/34
◊ ½/16
♦ 0/39
◊ ½/33
♦ ½/40
◊ 1/37
♦ ½/21
6½
63.00
27
Richard Beach
ENG
196
◊ ½/36
♦ 1/62
◊ 0/19
♦ 1/59
◊ 1/81
♦ ½/52
◊ ½/31
♦ 0/20
◊ ½/33
♦ ½/38
◊ 1/41
6½
58.50
28
Suri J Rodericks
ENG
183
♦ 1/49
◊ 1/17
♦ 1/4
◊ ½/8
◊ 1/19
♦ ½/10
◊ 0/7
♦ 0/15
♦ ½/6
◊ ½/21
♦ 0/11
6
77.00
29
Guy Mason
ENG
178
◊ 1/15
♦ 0/20
◊ 1/11
♦ 0/7
◊ 1/43
♦ ½/13
◊ 0/22
◊ ½/30
♦ 1/53
♦ 0/14
◊ 1/55
6
70.00
30
John R Sharp
ENG
175
◊ 1/51
◊ 1/16
♦ 0/8
◊ 1/5
♦ 0/21
♦ ½/20
◊ 0/15
♦ ½/29
◊ 1/55
♦ 0/35
◊ 1/65
6
69.50
31
Edwin George Lea
ENG
186e
♦ 1/72
◊ 1/68
♦ 0/10
◊ 0/4
♦ 1/49
◊ 1/40
♦ ½/27
◊ 1/21
◊ 0/3
♦ 0/24
◊ ½/36
6
67.50
32
Christopher K D Holland1
ENG
209
♦ 1/58
◊ ½/18
♦ ½/25
◊ ½/6
♦ ½/35
◊ 1/23
♦ 0/16
◊ ½/44
♦ 0/21
◊ 1/63
♦ ½/33
6
67.00
33
John Moore
ENG
178
♦ 0/4
◊ ½/49
♦ ½/57
◊ 1/65
♦ 1/70
◊ ½/34
◊ ½/19
♦ ½/26
♦ ½/27
◊ ½/25
◊ ½/32
6
64.50
34
Martin Stichlberger
AUT
182
◊ 1/80
♦ 1/7
◊ ½/20
♦ ½/81
◊ ½/26
♦ ½/33
◊ 0/11
♦ 1/51
◊ 0/13
♦ 1/65
◊ 0/14
6
63.00
35
Bosko Gvero
ENG
180
◊ 1/84
♦ ½/3
♦ 0/21
◊ 1/58
◊ ½/32
♦ 0/9
◊ 1/62
♦ 0/13
♦ 1/45
◊ 1/30
♦ 0/17
6
63.00
36
(Denis) Michael Denison
ENG
174
♦ ½/27
◊ 1/54
♦ 0/53
◊ ½/23
♦ 0/39
◊ 1/63
♦ 1/42
◊ ½/40
♦ 0/18
◊ 1/43
♦ ½/31
6
62.00
37
Christopher Lowe
ENG
175
◊ 0/22
♦ 1/75
◊ 1/9
♦ 0/14
◊ 0/11
♦ ½/70
◊ 1/65
♦ ½/55
◊ 1/52
♦ 0/26
♦ 1/54
6
61.50
38
David W Stephenson
ENG
165
♦ 1/50
◊ 1/39
♦ 0/1
◊ 0/16
♦ 1/76
◊ 1/53
♦ 0/4
◊ 0/23
♦ 1/42
◊ ½/27
♦ 0/25
5½
68.00
39
Alan Barton
ENG
188
◊ 1/43
♦ 0/38
◊ 0/81
♦ 1/77
◊ 1/36
♦ 1/51
◊ 1/26
♦ ½/1
◊ 0/15
♦ 0/6
◊ 0/20
5½
64.50
40
John Hawthorne
ENG
193j
◊ 1/56
♦ 1/55
◊ ½/12
♦ 0/19
◊ ½/25
♦ 0/31
◊ 1/75
♦ ½/36
◊ ½/26
♦ 0/22
◊ ½/47
5½
64.00
41
Stephen Mulligan
ENG
169
♦ 0/17
◊ ½/83
♦ ½/54
◊ 1/50
♦ 1/44
◊ 0/5
♦ 1/45
◊ 1/25
♦ ½/16
◊ 0/18
♦ 0/27
5½
63.50
42
Derek G Horseman
ENG
181
◊ ½/78
♦ 1/71
◊ 1/13
♦ ½/3
◊ 0/7
♦ 0/11
◊ 0/36
♦ 1/70
◊ 0/38
♦ 1/75
◊ ½/48
5½
61.50
43
Douglas Barnett
ENG
160
♦ 0/39
◊ 1/50
♦ 0/5
◊ 1/45
♦ 0/29
◊ 1/64
♦ 0/44
◊ ½/46
◊ 1/59
♦ 0/36
♦ 1/58
5½
61.00
44
Henk Bosveld
NED
180e
♦ 1/83
◊ 0/8
◊ ½/15
♦ ½/56
◊ 0/41
♦ 1/68
◊ 1/43
♦ ½/32
♦ 0/17
◊ ½/54
♦ ½/45
5½
58.50
45
Graham Lilley
ENG
170
◊ ½/14
♦ 0/19
◊ ½/66
♦ 0/43
◊ 1/74
♦ 1/69
◊ 0/41
♦ 1/60
◊ 0/35
♦ 1/52
◊ ½/44
5½
58.00
46
Stephen W Dauber
ENG
172
◊ 0/13
♦ 1/82
◊ ½/22
♦ 0/24
◊ 0/51
♦ 1/79
◊ ½/70
♦ ½/43
◊ 1/75
♦ 1/56
◊ 0/16
5½
56.00
47
Martin Buckmaster
ENG
176
♦ ½/54
◊ 0/21
◊ 0/49
◊ 1/78
♦ 1/67
♦ 0/22
◊ 1/81
◊ ½/53
♦ 0/25
◊ 1/58
♦ ½/40
5½
55.50
48
Martin Baumgarten
AUT
169
◊ 0/7
♦ 1/80
◊ 0/14
◊ ½/54
♦ ½/73
◊ 0/58
♦ 0/57
♦ 1/66
◊ 1/77
◊ 1/64
♦ ½/42
5½
53.50
49
Michael Donohue
ENG
143
◊ 0/28
♦ ½/33
♦ 1/47
♦ ½/13
◊ 0/31
♦ 0/59
◊ ½/82
♦ 0/69
◊ 1/81
♦ 1/71
◊ 1/62
5½
52.50
50
Thomas Hazdra
AUT
190e
◊ 0/38
♦ 0/43
◊ 1/78
♦ 0/41
◊ 1/77
♦ 0/56
◊ 1/66
♦ 0/24
◊ ½/57
♦ 1/69
◊ 1/63
5½
52.50
51
Stewart Fishburne
ENG
198
♦ 0/30
◊ 0/70
♦ ½/73
◊ 1/79
♦ 1/46
◊ 0/39
♦ 1/61
◊ 0/34
♦ 0/63
♦ 1/57
◊ 1/59
5½
52.00
52
Keith L Escott
ENG
184
♦ 1/70
◊ 0/4
♦ ½/63
◊ 1/67
♦ 1/17
◊ ½/27
♦ 0/5
◊ 0/6
♦ 0/37
◊ 0/45
♦ 1/68
5
65.50
53
David Carless
ENG
187
◊ ½/71
♦ 1/78
◊ 1/36
♦ 0/12
◊ ½/15
♦ 0/38
◊ ½/59
♦ ½/47
◊ 0/29
♦ ½/62
◊ ½/56
5
58.50
54
Miles Cowling
ENG
207
◊ ½/47
♦ 0/36
◊ ½/41
♦ ½/48
◊ ½/59
♦ 0/62
◊ 1/68
♦ ½/56
◊ 1/71
♦ ½/44
◊ 0/37
5
56.00
55
Richard Haydon
ENG
182e
♦ 1/65
◊ 0/40
♦ 0/70
◊ ½/76
♦ 1/63
◊ 0/24
♦ 1/67
◊ ½/37
♦ 0/30
◊ 1/68
♦ 0/29
5
55.00
56
Nigel McSheehy
ENG
170e
♦ 0/40
◊ ½/67
♦ 1/83
◊ ½/44
♦ 0/23
◊ 1/50
♦ 0/58
◊ ½/54
♦ 1/76
◊ 0/46
♦ ½/53
5
51.50
57
Stefan Neumann
GER
155
◊ ½/19
♦ 0/2
◊ ½/33
♦ 1/69
◊ 0/9
♦ 0/60
◊ 1/48
♦ 0/62
♦ ½/50
◊ 0/51
◊ 1/75
4½
61.00
58
David Tebb
ENG
177
◊ 0/32
♦ 0/77
◊ 1/75
♦ 0/35
◊ 1/66
♦ 1/48
◊ 1/56
♦ ½/12
◊ 0/24
♦ 0/47
◊ 0/43
4½
58.50
59
,A De Boe
NED
175e
♦ 0/8
◊ ½/65
♦ 1/79
◊ 0/27
♦ ½/54
◊ 1/49
♦ ½/53
♦ 0/17
♦ 0/43
◊ 1/80
♦ 0/51
4½
58.00
60
Graeme McCormick
ENG
175
♦ 0/1
◊ ½/79
♦ ½/65
◊ 1/74
♦ 0/5
◊ 1/57
♦ 0/23
◊ 0/45
♦ 0/68
◊ 1/70
♦ ½/64
4½
57.00
61
Bruce G E Halliwell
ENG
167
◊ ½/2
♦ ½/14
◊ 0/26
♦ 0/11
◊ ½/75
♦ 1/82
◊ 0/51
♦ 0/71
◊ ½/67
♦ ½/73
◊ 1/77
4½
56.00
62
Frits Schalij
NED
171
♦ ½/21
◊ 0/27
♦ 0/67
◊ 1/83
♦ ½/64
◊ 1/54
♦ 0/35
◊ 1/57
♦ 0/8
◊ ½/53
♦ 0/49
4½
56.00
63
Jeremy F S Menadue
ENG
164
◊ 0/26
♦ 1/84
◊ ½/52
♦ 0/22
◊ 0/55
♦ 0/36
♦ 1/79
◊ 1/67
◊ 1/51
♦ 0/32
♦ 0/50
4½
54.00
64
David Phillips
ENG
176
◊ 0/24
♦ ½/66
◊ 1/71
♦ 0/15
◊ ½/62
♦ 0/43
◊ ½/69
♦ ½/77
◊ 1/70
♦ 0/48
◊ ½/60
4½
53.50
65
Charles Fisher
ENG
135
◊ 0/55
♦ ½/59
◊ ½/60
♦ 0/33
◊ ½/71
◊ 1/76
♦ 0/37
♦ 1/81
♦ 1/69
◊ 0/34
♦ 0/30
4½
52.00
66
DJ Bull
ENG
151
♦ 0/16
◊ ½/64
♦ ½/45
◊ 0/68
♦ 0/58
◊ 1/80
♦ 0/50
◊ 0/48
♦ 1/79
◊ 1/72
♦ ½/67
4½
51.00
67
Paul Griffiths
ENG
127
◊ 0/69
♦ ½/56
◊ 1/62
♦ 0/52
◊ 0/47
♦ 1/71
◊ 0/55
♦ 0/63
♦ ½/61
◊ 1/76
◊ ½/66
4½
50.00
68
Norbert Stockl
AUT
169
♦ 1/9
♦ 0/31
◊ 0/7
♦ 1/66
◊ 0/13
◊ 0/44
♦ 0/54
♦ 1/80
◊ 1/60
♦ 0/55
◊ 0/52
4
60.50
69
Graham Borrowdale
ENG
181
♦ 1/67
◊ 0/1
♦ 0/17
◊ 0/57
♦ 1/72
◊ 0/45
♦ ½/64
◊ 1/49
◊ 0/65
◊ 0/50
♦ ½/73
4
58.00
70
Philip Cameron
ENG
148
◊ 0/52
♦ 1/51
◊ 1/55
♦ 0/26
◊ 0/33
◊ ½/37
♦ ½/46
◊ 0/42
♦ 0/64
♦ 0/60
◊ 1/82
4
56.50
71
John Brookes
ENG
155e
♦ ½/53
◊ 0/42
♦ 0/64
◊ ½/73
♦ ½/65
◊ 0/67
♦ 1/78
◊ 1/61
♦ 0/54
◊ 0/49
♦ ½/74
4
50.50
72
Anna Bener
SWE
152
◊ 0/31
♦ 0/11
◊ 1/82
♦ 0/9
◊ 0/69
♦ 1/74
◊ ½/77
♦ 0/75
◊ ½/73
♦ 0/66
♦ 1/80
4
49.50
73
N Smith
ENG
109
◊ 0/12
♦ 0/81
◊ ½/51
♦ ½/71
◊ ½/48
♦ 0/75
♦ ½/76
◊ ½/78
♦ ½/72
◊ ½/61
◊ ½/69
4
47.50
74
Alec Toll
ENG
151
◊ 0/20
♦ 0/9
◊ 1/84
♦ 0/60
♦ 0/45
◊ 0/72
♦ 0/80
◊ 1/79
◊ 1/82
♦ ½/77
◊ ½/71
4
44.50
75
Alan Redfern
ENG
150
♦ 0/25
◊ 0/37
♦ 0/58
◊ 1/80
♦ ½/61
◊ 1/73
♦ 0/40
◊ 1/72
♦ 0/46
◊ 0/42
♦ 0/57
3½
53.50
76
Ian Clark
ENG
160
◊ 0/3
♦ 0/15
◊ 1/80
♦ ½/55
◊ 0/38
♦ 0/65
◊ ½/73
♦ 1/82
◊ 0/56
♦ 0/67
♦ ½/78
3½
52.50
77
P Robson
ENG
153e
♦ 0/18
◊ 1/58
♦ 0/16
◊ 0/39
♦ 0/50
◊ 1/84
♦ ½/72
◊ ½/64
♦ 0/48
◊ ½/74
♦ 0/61
3½
52.00
78
John Greenough
ENG
126
♦ ½/42
◊ 0/53
♦ 0/50
♦ 0/47
◊ 0/82
♦ 1/83
◊ 0/71
♦ ½/73
◊ 0/80
♦ 1/81
◊ ½/76
3½
41.50
79
Arthur Roberts
ENG
139
♦ 0/23
♦ ½/60
◊ 0/59
♦ 0/51
♦ 1/84
◊ 0/46
◊ 0/63
♦ 0/74
◊ 0/66
♦ ½/82
◊ 1/81
3
45.00
80
Brian Thompson
ENG
135e
♦ 0/34
◊ 0/48
♦ 0/76
♦ 0/75
◊ 1/83
♦ 0/66
◊ 1/74
◊ 0/68
♦ 1/78
♦ 0/59
◊ 0/72
3
43.50
81
Stephen Chivers
ENG
168
♦ 0/5
◊ 1/73
♦ 1/39
◊ ½/34
♦ 0/27
◊ 0/17
♦ 0/47
◊ 0/65
♦ 0/49
◊ 0/78
♦ 0/79
2½
59.00
82
Conrad Jowett
ENG
145
♦ 0/10
◊ 0/46
♦ 0/72
◊ ½/84
♦ 1/78
◊ 0/61
♦ ½/49
◊ 0/76
♦ 0/74
◊ ½/79
♦ 0/70
2½
45.00
83
Paul Brown
ENG
120e
◊ 0/44
♦ ½/41
◊ 0/56
♦ 0/62
♦ 0/80
◊ 0/78
withdrew
½ / 6
27.00
84
Harold Brown
ENG
116
♦ 0/35
◊ 0/63
♦ 0/74
♦ ½/82
◊ 0/79
♦ 0/77
withdrew
½ / 6
23.50
1 The crosstable above is one I have generated from my own notes as recorded in my copy of the tournament programme at the time. The results are given again, below, as printed in the 1983/84 Yearbook. There is one unresolved anomaly, marked 1 in both crosstable and results list. I have Chris Holland down as scoring 6/11 but the Yearbook shows him as scoring 5½. All of his opponents' scores tally so it's hard to see where the crosstable can be wrong; perhaps he was docked half a point for some reason. I have given BCF grades as noted down at the time (few players at this level had FIDE ratings at the time). 'j' after a name indicates 'junior' (which was important at the time in order to calculate opponents' grades). 'e' indicates 'estimated'. I presume the overseas players' national (or international) ratings were converted to BCF three-figure grades using the then standard conversion method of (Elo - 600) / 8 = BCF.
1983 Major Open: 1 Mark LEVENE (New Zealand) 8½; 2 = Keith FULLER (Winchester), Gareth D PEARCE (Cardiff), Brian A Jones (Sheffield), John N Sugden (Beckenham) 8; 6= Angus J Dunnington (Castleford), Stuart Niman (Manchester), Ian Upton (London), Tom Farrand 7½; 10 = Philip Adams (Oldham), David Norwood (Bolton), Mark E Page (London), Frank Parr (Ewell), Joop Houtman (Netherlands), Bart Westra (Netherlands), Thomas Pioch (Germany), Joseph Gallagher (London) 7; 18= Gareth Anthony (Gloucester), Richard Beach (Stoke-on-Trent), Stephen Bell (Southampton), Oliver A Jackson (Wilmslow), Simon Roe (Dunstable), John C Saunders (Kingston-upon-Thames), James Steedman (Darlington / Norway), James E Vickery (Leeds), Russell Granat (London), Jan Weide (Netherlands) 6½; 28= Denis M Denison (Wakefield), Bosko Gvero (Bradford), Edward G Lea (Horley), Christopher Lowe (Paignton), Guy Mason (Thornton Heath), John Sharp (Kidderminster), Martin Stichlberger (Austria), John Moore (Rayleigh), Suri Rodericks 6; 37 = Douglas Barnett (Sandbach), Alan Barton (Leicester), Martin Baumgarten (Austria), Stephen W Dauber (Darlington), Michael Donohue (Manchester), Stewart Fishburne (Birmingham), Thomas Hazdra (Austria), Derek G Horseman (Southport), Graham Lilley (St Helens), Stephen Mulligan (Blackpool), Henk Bosveld (Netherlands), Martin Buckmaster, John Hawthorne, Chris K D Holland1, David W Stephenson 5½; 52= Miles Cowling (Poole), Keith Escott (Sutton Coldfield), Richard Haydon (Swindon), Nigel McSheehy (Birmingham), David Carless 5; 57 = Charles Fisher (Southport), Paul Griffiths (Warrington), Bruce Halliwell (Leeds), Graeme McCormick (Belfast), David Phillips (Ambleside), Jeremy F S Menadue (Truro), Stefan Neumann (West Germany), Frits Schalij (Netherlands), David Tebb (Wirral), DJ Bull, A. De Boer 4½; 68 = Graham Borrowdale (Ascot), John Brookes (Southampton), Philip Cameron (Formby), Norbert Stöckl (Austria), Alec Toll (RAF), Anna Bener (Sweden), N. Smith 4; 75 = Ian Clark (Bournemouth), John Greenough (Thorpe Bay), Alan Redfern (Maghull), P. Robson 3½; 79 = Arthur Roberts (Southport), Brian Thompson (Wirral) 3; 81 = Stephen Chivers (Bournemouth), Conrad Jowett (Lytham St Annes) 2½; Harold Brown (RAF) and Paul Brown (RAF) withdrew ½/6.
(Keith Fuller and Gareth Pearce qualified for the 1984 British Championship on tie-break).
1983 BRITISH VETERANS CHAMPIONSHIP
1 Philip C HOAD (Chester) 9/11; 2 Dr James M AITKEN (Cheltenham) 8½; 3 Ronald M BRUCE (Plymouth) 7½; 4-5 Richard [E?] White (Lingfield), Harry I Woolverton (London) 6½; 6 Charles Ambrose Scott Damant 5½; 7-9 John R Cotterell (Enfield), Roy Wagstaff (London), M Wilde 4½; 10-11 Arthur Cootes (Belfast), Harry Standring (London) 4; 12 Frank Richardson (St Annes-on-Sea) 1.
1983 BRITISH U21 CHAMPIONSHIP (11-round Swiss)
1= Nicholas THOMAS* (Northampton), Craig Dawson (Birmingham), Farrukh Khan, Brett Lund (Preston) 8; 5 Keith Allen 6½; 6= Nigel Alldritt, Neil Fox, Andrew Lawson (Prudhoe), Malcolm Peacock (Leicester), Luke Rutherford, Martin Simons (Bournemouth), P. K. Singh 6; 14= Gary Dawson (Birmingham), Harvey Duckers (Wirral), Edward Lee (Ilford), Simon Triggs, Timothy Wainwright (Pinner), Nicholas Wall (Wirral) 5½; 20= Patrick Donovan (Bexhill-on-Sea), David Fletcher (Bradford), Michael Forster (Newcastle-upon-Tyne) 5; 23 = R. Gadd, Philip Nizetic (London), Graham Patterson (Liverpool), Stephen Woodhouse (Nottingham) 4; 27 Colin Kidd (Ealing) 2½; 28 Gerard Casey (Strabane) 1
*Awarded place in 1984 British Championship on tie break.
1983 BRITISH U18 CHAMPIONSHIP (11-round Swiss)
1= Brian SHARP (Kidderminster), David WATTS (Pinner) 8½/11; 3= Susan Walker (Sutton), Andrew Wright (Dundee) 7½; 5 = Neil Crickmore (Plymouth), Peter D Kemp (Sutton), Simon Lazarus (Finchley) 7; 8= Richard Barton (Southport), Nigel Greer (Belfast), Julian Llewellyn (Bath), Mark Sampson (Brierley Hill), Moray L. Vincent (Billingham), Timothy P Wall (Newcastle-upon-Tyne) 6½; 14 = Antony Hynes (Crewe), Stephen Marsland (Crewe), Raymond Sayers (Washington), Mark Thornton (Newcastle-upon-Tyne) 6; 18= Michael Barnes (Nottingham), Timothy Burt (Bristol), Simon Hood (Alsager), Saul Richman (Manchester), Andrew Savage (Southport) 5½; 23= Chris Goddard (Scarborough), Michael Hennigan (London), Benedict Hirsch (Bournemouth), Iozeph Okosieme (Southampton), Charles Stephenson (Morpeth), Simon Watson (Lincoln) 5; 29= Andrew Doel (Bristol), Emma Dove (Portsmouth), Jonathan Lintott (Oxford), Conrad Simons (Stockport) 4½; 33 = Andrew Hibbs (Harrow), Joseph Ormrod (Prescot), M. Payne 4; 36 Neil Hackers 3; 37 Ian Turner (Wirral) 2.
1983 BRITISH U-16 CHAMPIONSHIP (11-round Swiss)
1 Neil McDONALD (Gravesend) 9½/11; 2 Mark WHEELER (Walsall) 8½; 3 = Benjamin HORROCKS (Newcastle-upon-Tyne), Donald MASON (Solihull), Chris WARD (Sevenoaks) 7½; 6 Martin Hazelton (Durham), David Knox (Cheadle) 7; 8 = Graham Burgess (Southport), Andrew Daley (Southsea), Christopher Dunworth (West Bridgford), Cathy Forbes (London), Philip Morris (Gravesend), Jeremy Sharp (London) 6½; 14= Sarah Christopher (Scunthorpe), James Clarke (Shrewsbury), Andrew Dunn (Washington), Iain Galloway (Sidcup), Douglas Griffin (Airdrie), Mandy Hepworth (Pulborough), Paul Madden (Bingley), Nicolas von Schlippe (London) 6; 22= Jeffrey Baillie (Portsmouth), Robert Eames (Long Eaton), Mina Eaves (Coventry), Andrew Osborne (Plymouth), Asad Rizvi (Hendon), Andrew Stone (Uxbridge), Keith Walker (Southampton) 5½; 29= Roger Coathup (Stockport), Robin Harskin (Sutton), Andrew Talbot (Rugby), Peter Whalley (Emsworth), Kieran Greer (Belfast), J. Marshall, Christopher Sims (Neath) 5; 36 = Mark Ades (Bolton), Guy Bailey (Havant), Paul Brown (Harrow), John Duggan (Wanstead), Steven Penfold (Pinner) 4½; 41 = Peter Barton (Southport), Michele Carvalho (Croydon) 4; 43 = Gavin Solomon (Pinner), Christopher Whiston (Formby) 3½; 45= Fenella Cohen (London), Paul Craddock (Pinner), Katie Keehner (London) 3; 48 Peter Stokes (Durham) 2½.
1983 BRITISH U-14 CHAMPIONSHIP (11-round Swiss)
1 Philip ROSSITER (Waterlooville) 9/11; 2 Michael ADAMS (Truro) 8½; 3 Darren WHEELER (Walsall) 8; 4= Benjamin Beake (Ashford, Middx), Philip Hughes (Wembley), Gavin Wall (London) 7½; 7 = Christopher Butt (Plymouth), John Carlin (Harrow), Niall Carton (Newcastle, Co. Down), Rajeev Thacker (Hounslow) 7; 11= David Craggs (Leeds), Harry Dixon (Ealing), Christopher Duncan (Pinner), Paul Georghiou (London), Jonathan Hutchings (Torquay), Robert Maullin (Sutton Coldfield), Aaron Summerscale (Putney), Julian Way (Esher), David Wood (Chatham) 6½; 20= Christopher Barton (Southport), Paul Dargan (Whitley Bay), Dale James (Oldham), Philip Leeson (Liverpool) 6; 24 = Paul Burton (Walsall), Craig Cook (Oldham), Steven Earl (Oxford), John Fleetwood (Liverpool), Kenneth Glass (Hartlepool), Paul Keech (Oldham), Timothy Kendall (Plymouth), Andrew Mack (Bromley), Ali Mortazavi (London), Paul Mukherjee (Shrewsbury), Roy Phillips (Barnstaple), Gary Quillan (Bootle), Diarmuid Simpson (Antrim) 5½; 37= Caroline Hallett (Waterlooville), Sampson Low (Hampton), Richard Nash (Harrow), Daniel O'Farrell (Southampton), Justin Vetta (Oxford) 5; 42 = Patrick Carton (Newcastle, Co. Down), Lorian Cunningham (Waterlooville), Kevin Howe (Hull), Devesh Mehta (Brentwood), Nicholas Funnell (Sheffield) 4½; 47= Andrew Fleetwood (Liverpool), Richard Lewis (Torquay), Gerard Mcllroy (Newtownabbey). Toby MacLean (London), Hazel Williams (Liverpool), Martin Collins (Basingstoke) 4; 53= Nancy Jones (Sheffield), Geoffrey Knox (Cheadle), Lizette Pereira (London) 3½; 56 S. Taylor 3; 57 Deborah Johnson (Hull) 2½; 58 John Roberts (Southport) 1½.

1983 BRITISH U-11 CHAMPIONSHIP (8-round Swiss)
1 JASON GLASS (Hartlepool) 7½/8; 2 Robert AKEHURST (Hartlepool) 7; 3 = Roger BECKETT (Belfast), Graeme BUCKLEY (Wolverhampton), Damon COOK (Northfleet), Saul FOLLETT (Reading) 6; 7 = James Akehurst (Hartlepool), Daniel Aldridge (Bournemouth), Edward Holland (Waterlooville), Mark Isaacs (London), Edward Newman (Stonehouse), Matthew Sadler (Chatham), Mark Walker (Southampton) 5½; 14= James Cavendish (London), Richard Eaves (Coventry), Michael Fleetwood (Liverpool), Peter Jowett (Lytham St Annes), Jonathan Rogers (Brentwood), Ben Sabaratman (Sittingbourne), Sumeet Singhal (Birmingham), Philip Whitworth (Oldham) 5; 22= Ann-Marie Ashby (Coventry), Claire Ashby (Coventry), Jonathan Beighton (Leek), Richard Birks (Skegness), Oliver Duncan (Pinner), Jonathan Hayes (Ilford), Martin Hutchings (Torquay), Lee Jones (Sheffield), Andrew Keehner (London), Andrew Pickering (Exeter), John Pillay (Southampton), Adrian Vetta (Oxford), Dean Whitehouse (Wolverhampton) 4½; 35 = Rupert Bellinger (Horsmonden), Gerald Griggs (Holbeach), Derek Harvey (Grangemouth), Dharshan Kumaran (Harrow), Alex Lewis (Manchester), Genevieve O'Farrell (Southampton), Simon Pain (Glossop), Justin Purrington (Rickmansworth), Jeanette Rafferty (Oldham), Joseph Thomas (Shrewsbury), Iain Wallace (Grangemouth) 4; 46= David Armstrong (Brigg), Harry Ball (Belfast), Robert Edwards (Waterlooville), Paul Hennigan (London), Paul Lockett (Leek), Donna Pothecary (Fareham), Ariya Priyasantha (Bury), Timothy Summers (Stamford), Stuart Whiteside (Southport), Caspar Bates (London), Pascal Bates (London), J. Campbell, J. Owen 3½; 59 = David Easton (Grangemouth), Jonathan Pain (Glossop), Paul Vetta (Oxford) 3; 62 = Julian Bailey (Havant), Antony Burroughs (Southport), Dara Carton (Newcastle, Co. Down), Benedict Duncan (Pinner), Gary Flynn (Grangemouth), Emilia Holland (Waterlooville), Dominic Hughes (Wembley), Steven Machin (Holbeach), Michael Watts (Pinner) 2½; 71 = Daniel Harvey (Southport), Christopher Haslam (Southport), Peter Woodhouse (Southport) 2; 74 Gavin Howe (Hull) 1½; 75 Sebastian Sinclair (Preston, aged 6½) 1; 76 Darren Howe (Hull) 0.
1983 BRITISH GIRLS' CHAMPIONSHIP
These titles were awarded to the girls with the highest scores in respective open championships: U-18 Susan Walker, U-16 Cathy Forbes, U-14 Caroline Hallett, U-11 Ann-Marie and Claire Ashby.
---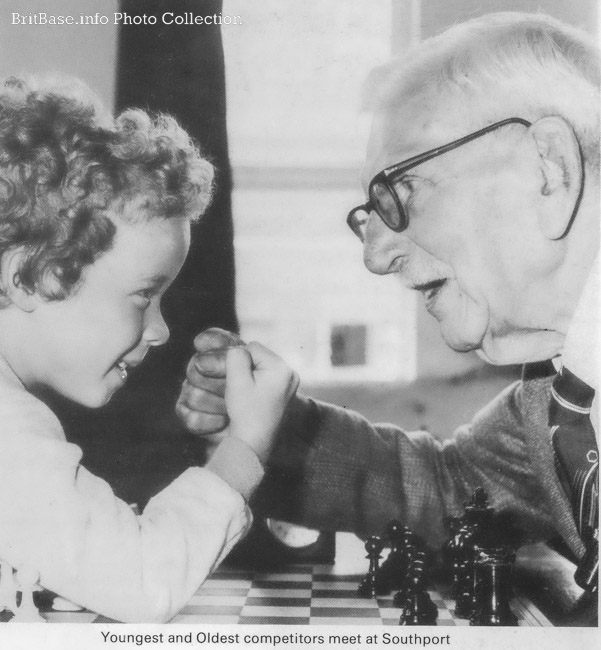 Sebastian Sinclair (Preston, aged 6½) played in the British Under-11 Championship,
while Daniel Southcott (Ainsdale – born 16 October 1889, died 1984) took part in one of the Five-Day competitions.
BLACKBURNE TOURNAMENT (11-round Swiss)
1 Paul EDWARDS (Chester-le-Street) 7½; 2= Stephen BERKLEY (Ormskirk), Kenneth CLOW (Benfleet), Michael DRISCOLL (Wirral), Daniel FEINSTEIN (London), Trevor GLASS (Hartlepool), Robert P ROSS (Hull), Anthony WHEATLEY 7; 9 David Woodruff (Bristol) 6½; 10= L. Bridges, Arthur Pinkerton (Belfast), Paul Stokes (London) 6; 13= B. Ades, Peter Durnell (Stourport-on-Severn), John D H Nicholas (London) 5½; 16= Roger Amram (France), Andrew Hurt (Burton-on-Trent), M. Johnson, David Leeming (Liverpool), Alan White (Manchester) 5; 21 B. Fraser 4½; 22= Paul Dansey (St Neots), Neil Howe (Hull), M. Saunders 4; 25 = Iain Cundy (Bristol), James Savery (Tenbury Wells) 3½; 27 John Beadle (Norwich) 2½; 28 Andrew Dekany (London) 1½.
STAUNTON TOURNAMENT (all-play-all)
1= G Alec M BOSWELL (Liverpool), Donald MACLEAN (London) 8½; 3 Antony SAGE (Bath) 8; 4= Michael Hall (Chester-le-Street), Colin Sinclair (Preston) 6½; 6 = William Clarke (Shrewsbury), Martin Leanse (London) 5½; 8 = John Collins (Chorley), Duncan Macindoe (Dagenham) 4½; 10 Edward Johnston(e) (Hull) 3; 11 = David Everitt (Haywards Heath), John D Calvert 2½.
FIVE-DAY TOURNAMENT WEEK 1, Morning (5 round Swiss)
SECTION A
1 = Gordon DAVIES (Hertford), Jan GORGOL, Gerald HAYES (Ilford) 4; 4= Robin Bellinger (Horsmonden), Mark Ruston 3½; 6= John Liddle (Newcastle-upon-Tyne), Trefor Thynne 3; 8 = Richard Eames (Berkhamsted), Michael Horrigan (Lichfield), Philip Seery (Lancaster), Alastair Summers (Stamford), D. Tarbuck, Clare Whitehead, Andrew Willis (Walsall), Ronald Harman (London) 2½; 16= Timothy Broome (Belfast), Lucien Mouillaux (France), A. Woodland 2; 19= Colin Costello (London), Brian Ewart (Liverpool) 1½; 21 A. Forbes 1; 22 Jack Speigel (London) 0.
SECTION B
1 = Robert JONES (Aldridge), Alan RUFFLE (Stourbridge), A. STEVENS (Formby) 4; 4 A. Vetta 3½; 5 = Kevin Buzzard (High Wycombe), John Dobson (Leeds), Michael McNaughton (Liverpool), Alan Watts (London) 3; 9 = T. Allsopp, Richard Ellis (Northampton), John Keehner (London), Saket Singhal (Birmingham) 2½; 13 = Roger Baker (Bakewell), Neil Davies (Hertford), C. Walker, Ian Whitworth (Oldham) 2; 17= Roger Buzzard (High Wycombe), Stephen Shapiro (Edgware), J. Wallace 1½; 20 Elliot Latham (Southport) 0.
FIVE-DAY TOURNAMENT, WEEK 1, Afternoon (5 round Swiss)
1 Cecil SWICK 4½; 2= Mark CALVERT (Formby), David FAULKNER (Hull), Michael J O'HARA (Bolton) 4; 5 Peter Bond (Formby) 3½; 6= Martin Barkwill (London), Martin Coles (Wembley), Arthur Hall (Goring-by-Sea), Michael O'Connell (Burscough), Franziska Selmein (Netherlands), M. Reid 3; 12= Harish Bhatia (London), George Glover (Carlisle), Peter Jenner (Southport), B. Lynker, J. Barrow, D. Clark 2½; 18 = David Twitchell (Great Yarmouth), Siegbert De Jong (Netherlands), J. McCabe, P. Rowland 2; 22 = Frederick W Bradbury (Southport), Carl Gorka (Basingstoke), Daniel Southcott (Ainsdale – born 16 October 1889, died 1984), Frederick Gill (Kirkham) 1½; 26= David Dickson (Wrexham), Robert Gorka (Basingstoke) 1.
FIVE-DAY TOURNAMENT, WEEK 2, Morning (5 round Swiss)
SECTION A
1 Andrew P H KINSMAN 4½; 2 J. E. CRUMP 4; 3 = Peter BOND (Formby), Michael O'CONNELL (Burscough), D. A. TARBUCK 3½; 6 = Donald M Andrew (Doncaster), Tom Cruse, Allan Gardner (Bolton), Richard J Haddrell (Tunbridge Wells), Lucien Mouillaux (France), John F Turnock (Newcastle-upon-Tyne) 3; 12 = Thomas Borland (Chester), A John Peters (Hayling Island), Alan Tankel (Glasgow) 2½; 15 = Timothy Broome (Blefast), Mark Calvert (Formby), Brian R Ewart (Liverpool), H Trevor Jones (Tunbridge Wells), D. Aldridge 2; 20= Roger Beckett (Belfast), Michael T Bolan 1½; 22 = S. J. Connor, M. Walker 1; 24 Leigh A Trangmar (Beckenham) ½
SECTION B
1 Laurence J TARBUCK 4½; 2 = Frederick W BRADBURY (Southport), Michael HORRIGAN (Lichfield), Jack A SPEIGEL (London) 4; 5 = K. Francis, James Johns(t)on (Rainford), G. L. Wesson 3½; 8 = G. Anstey, Jörg Brass (West Germany), Jeff Goldberg, John R Keehner (London), Dennis Sherwood (Wetherby) 3; 13 P. A. Brown 2½; 14= Peter Anderson (London), H. H. Brown, Angela Eagle, James Goodhead (Derby), D. McGregor, Jonathan Reese (Runcorn), Leon York (Frome) 2; 21 = D. Fleetwood, J. Wright 1½; 23= E. Latham, D. McElhatton, Christopher Spencer (Southport) 1; 26 Harry Ball (Belfast) ½.
FIVE-DAY TOURNAMENT, WEEK 2, Afternoon. (5 round Swiss)
SECTION A
1 Michael J O'HARA (Bolton) 4; 2 = Julian T FARRAND (Stockport), Philip J MEADE, Thomas MILLIGAN, Kenneth P NEAT (Durham) 3½; 6 = Siegbert De Jong (Netherlands), Michael Hardman (Liverpool), A Philip Primett (Haywards Heath), Alastair Simpson (Brentwood) 3; 10 = George Glover (Carlisle), R. Holland, J. S. Ridgway, B. Thomas (Chelmsford), K. P. Thomas 2½; 15= Graham Mclnnes (Liverpool), R. Plater 2; 17 = Bertrand A Barlow (Ewell), Robert Fursman (Clevedon), G. Lane, Patrick Thomas C Lewin, David Smith (Portsmouth) 1½.
SECTION B
1= D. BRYAN, D. L. COOK, Eric WANDLESS-RENTON (Chorley) 4; 4= M. Mackewice, R. Rigby, M. Turner 3½; 7= E. A. Banks, Martin Coles (Wembley), David Twitchell (Great Yarmouth) 3; 10= Michael Fraser (Southport), Mark Hindle (Cromer), Michael Stark (Southport), S. Woodcock, D. Eisen 2½; 15 = S. Bainbridge, Carl Gorka (Basingstoke), Thomas Hynes (Manchester), Stephen Marquez (Altrincham), Peter Russell (Liverpool), Andrew Smith (Portsmouth), Roger J Treglown (Altrincham) 2; 22 = G. Burnett, Peter Jowett (Lytham St Annes) 1; 24 Robert Gorka (Basingstoke) 0.
---
REPORT ON THE 70th ANNUAL BRITISH CHESS CHAMPIONSHIP (Stewart Reuben, 1983/84 Yearbook, p55)
Held at King George V College, Southport 8th-20th August 1983 Sponsored by Grieveson Grant & Co.
'520 and counting!' was the standard cry the week before the congress. In the end 610 people played, excluding those who came only for the evening events. This compares with 526 in Torquay last year. Such a large entry brought a few problems in its wake, the main hall wasn't really large enough. Any increase at a time of recession is extremely flattering, but perhaps it is more connected with Southport being at the centre of such a major residential area than an upsurge in people wishing to play.
We took full advantage of the school facilities and the following list of rooms will give you an idea of the myriad activities: 2 playing, adjournments, analysis, quiet analysis, simultaneous, lecture, 1 bookstall, Taliesin, Conchess, video games, table tennis, Pool, lounge, 1 photographic exhibition, organisers', director, publicity, press, sales, charts, bulletin, giant chess in the courtyard.
There was a record entry of 76 in the Under 11 and we had Barney the Clown from a local circus open their event in the morning. In the afternoon we had to make do with the Mayor and Peter Shaw. It occurs to me it would not be a bad idea to provide beds for people to relax. No, not for the Under 11s – for the Controllers! Other events out of the ordinary included 'The Great Chess Movie' an excellent Canadian documentary which was a sell-out; and a free a visit to the Ken Dodd show. This was provided by the Metropolitan Borough of Sefton, confirming the stereotype that Northerners are exceptionally hospitable. Over 600 people came to this most enjoyable event.
The Championship had 58 players. Praveen Thipsay of India took the lead at the end of the first week with 5/6 but wasn't playing with sufficient conviction to be a likely champion. Jonathan Mestel was the next to go ahead and was joined by Julian Hodgson in the penultimate round. Julian innovated in a line that has been thought to be losing for over 20 years. He and his co-analysts, Joe Gallagher and Andrew Martin had been saving it up for a special occasion. In the excitement Joe could not concentrate on his own game and agreed an instant draw. Jonathan did not find the best line but Julian blundered and lost. Exciting, but not the story-book ending. The last round was something of an anti-climax with Jonathan Mestel drawing quickly after his only possible rival, Murray Chandler, also drew.
The number of non-English contestants in the Championship raised some eyebrows. But the people who really count, the participants, prefer it that way. We may be the only country without our own internal championship, but then too, ours is the only one where international title results can be obtained. Neil Bradbury, David Cummings, Jeff Horner and Geoff Lawton were clearly more concerned about their international master norms than their prize money.
The newly-fashioned one week Ladies' Championship attracted a slightly higher entry than in 1982 but this was entirely due to the non-English players. Rani Hamid of Bangladesh tied for first place with Helen Milligan (Scotland). It was a joy to see their pleasure and pride on winning this prestigious event. A great deal of interest has been shown in Bangladesh and we expect the trophy to travel out there. This should give some impetus to women's chess in Bangladesh and is one of the few examples where we can claim to be following the second article of the BCF Constitution.
A dispute-free congress is now the only acceptable norm and our thanks must go to the control team for achieving this once again. They were: Paul Buswell, Harry Baines, Richard Boxall, Peter Cartman, Sophia Gorman, Neil Graham, Glynne Jones, Mary Kerridge, Mary Kluth, Geoff Lawrence, Peter Morrish, Ron Powis, Peter Purland, David Welch, Jim Timperley attended the whole event as Publicity Director and we can expect to receive corresponding rewards from this in the future.
A myth has grown regarding my organising events during suitable weather. Somebody commented to Jill Triggs in Torquay that it was too hot for chess. She said, "I'll speak to Stewart about it". The following day it rained. Now she received a complaint that one hardly comes on holiday for rain. Once again she said she would have a word with me. The result - blue skies. The one day it rained at Southport, a player came to me and commented that he hadn't bothered to bring suitable clothing, relying on my magic. I am writing this on the day following the Lloyds Bank Masters. Outside it is raining for the first time since that event began.
And so to Brighton 1984, our largest and best venue. There will probably be extra Under 9 and Under 12 Championships, with a weekend Swiss in the middle in an attempt to take full advantage of the superb facilities. Why not come and find out what largesse the controllers have in store for you. Even it is only as at the Crazy Lightning Chess Tournament, where all players shorter than me were awarded an extra point! Stewart Reuben, Congress Director
---
[from BCM, November 1983, pps 498-499]
"BCF Congress — Pressure on space last month squeezed out the results of the other sections of the BCF Congress at Southport. A press release from the BCF amends the overall entry figure to 610. The following were 11-round Swisses unless stated otherwise:
WOMEN'S CHAMPIONSHIP (7 rounds) 1-2 Rani Hamid (Bangladesh), Helen Milligan (SCO) 5; in a field of 16.
U-21 Craig Dawson (Birmingham), F. Khan, B. Lund, N. Thomas 8; with 28 entrants.
U-18 B. Sharp, D. Watts 8; Susan Walker won the Girls title in the mixed field of 38, scoring 7½ to finish 3-4th.
U-16 N. McDonald 9½; 58 played.
U-14 P. Rossiter 9; 58 played and the Girls' title went to Caroline Hallett. [BCM does not say so but I have been told that Ben Beake won his last round game against Mickey Adams in this event - JS]
U-11 J. Glass from Hartlepool ahead of R. Akehurst of the same town! Here 76 took part in an 8-round event in the first week only. 7½ points was the winning score. Girls title shared between two Coventry sisters, Ann-Marie and Claire Ashby, 4½.
[n.b. the above title-winners and others not cited in this BCM commentary may be found in the list of British Champions elsewhere on the website: Boys/Open U21 to U12 • Boys/Open U11 to U8 • Girls U21 to U12 • Girls U11 to U8]
MAJOR OPEN 1 M. Levene (NZ) 8½; 2-5 K. Fuller, G. Pearce (WAL), B. A. Jones, J. Sugden 8; 6-8 S. Niman, I. Upton, T. Farrand 7½. This was in a massive field of 85 players of whom the first three named above qualify for the next British Championship at Brighton.
"A number of 5-day events were played in both the first and second weeks. For gluttons for punishment there were evening events and a wide programme of other chess entertainments including game commentary by B. Cafferty and G. D. Lee, evening film shows and so on. The 1983 Canadian documentary film 'The Great Chess Movie' was well received, though there were sufficient knowledgable people in the audience for the flaws to be spotted!"
---
File updated
| | |
| --- | --- |
| Date | Notes |
| 22 August 2020 | 319 games, plus 24 games from the Major Open & Veterans competitions. Also a crosstable of the Championship and brief summary of other sections from BCM. I have yet to source results from subsidiary sections (which were not included in the bulletin nor BCM). The BCF Yearbook may have them. |
| 22 August 2020 | No sooner had I published than three people provided invaluable feedback via the English Chess Forum. My thanks to David McAlister, Jonathan Rogers and Nick Ivell for their help. David pointed out that the player listed in the bulletin as "C Smyth" was in fact Michael Smyth, who qualified by winning the Ulster Championship. |
| 23 August 2020 | Added results of subsidiary events and a crosstable for the women's championship. |
| 23 August 2020 | The number of games from subsidiary sections is now up to 34. Mark Page has kindly supplied me with the remaining ten of his games in the Major Open (I had already uploaded one of them). Thanks, Mark. I've also provided more name information for the subsidiary events, and scanned the tournament programme, in which I recorded the complete results of the Major Open at the time. It's a bit hard to read so I'm turning it into a proper crosstable at the moment. More of that soon. |
| 25 August 2020 | I have now added a full crosstable for the Major Open, based on my own note of the results. I have also made a number of corrections and amendments following some proof-reading by Paul Georghiou. Many thanks, Paul. |
| 27 August 2020 | Paul Georghiou has helped with a few more forenames to replace initials. Many thanks again, Paul. |
| 13 January 2023 | The game I.Rogers 1-0 J.Speelman has been corrected. The error originated in the tournament bulletin which showed 32...Rd8 whereas Ian Rogers records the move played as 32...Rab8. Paul Summers drew my attention to this and, as a bonus, sent me, the game as annotated by Ian Rogers for inclusion in BritBase. Many thanks to Paul. |