BRITBASE - British Chess Game Archive
Tournament: 37th British Chess Championship
• 57 / possible 198 games (plus 18 part-games, 11 from subsidiary events)
Venue: Town Hall, Buxton • Dates: 21 August - 1 September 1950 • Download PGN • Last Edited: Monday 29 May, 2023 7:44 PM
1950 British Chess Championship, Buxton, 21 August - 1 September • 1949« »1951
1950 British Chess Championship
1
2
3
4
5
6
7
8
9
10
11
Total
1
Reginald Joseph Broadbent
♦ 0/3
◊ ½/10
♦ 1/34
◊ 1/36
♦ 0/23
◊ 1/18
♦ 1/29
◊ 1/14
♦ 1/7
◊ 1/4
◊ 1/6
8½
2
Ernst Ludwig Klein
◊ 1/28
♦ 0/7
◊ ½/8
♦ ½/19
◊ 1/33
◊ 1/17
♦ ½/11
◊ ½/3
♦ 1/10
♦ 1/5
◊ 1/4
8
3
Jonathan Penrose
◊ 1/1
♦ 1/13
◊ 0/5
♦ 0/11
◊ 1/16
♦ ½/27
◊ 1/12
♦ ½/2
◊ 1/14
♦ 1/8
◊ ½/7
7½
4
(Philip) Stuart Milner-Barry
◊ 1/25
♦ ½/23
◊ ½/27
♦ 1/16
◊ 1/5
◊ 1/14
♦ 1/7
♦ 1/10
◊ ½/6
♦ 0/1
♦ 0/2
7½
5
Philip Norman Wallis
♦ 1/35
◊ 1/29
♦ 1/3
◊ 1/14
♦ 0/4
◊ 1/23
◊ 0/10
♦ 0/6
♦ 1/13
◊ 0/2
♦ 1/11
7
6
(Conel) Hugh O'Donel Alexander
♦ ½/18
◊ ½/24
♦ ½/36
◊ 1/31
♦ 0/7
◊ 1/15
♦ 1/27
◊ 1/5
♦ ½/4
◊ 1/10
♦ 0/1
7
7
Leonard William Barden
◊ 1/8
◊ 1/2
♦ 0/14
♦ ½/10
◊ 1/6
♦ 1/12
◊ 0/4
♦ 1/19
◊ 0/1
♦ ½/16
♦ ½/3
6½
8
Walter Veitch
♦ 0/7
◊ 1/34
♦ ½/2
◊ ½/29
♦ 0/15
◊ 1/31
♦ 1/24
◊ 1/17
♦ 1/11
◊ 0/3
◊ ½/10
6½
9
Andrew Rowland Benedick Thomas
◊ ½/12
♦ ½/20
◊ 0/11
♦ 0/28
◊ 1/34
♦ ½/25
♦ ½/32
◊ 1/30
♦ ½/18
◊ 1/19
◊ 1/17
6½
10
Alan Phillips
◊ ½/13
♦ ½/1
♦ 1/30
◊ ½/7
♦ 1/26
◊ 1/11
♦ 1/5
◊ 0/4
◊ 0/2
♦ 0/6
♦ ½/8
6
11
Harry Golombek
♦ ½/24
◊ ½/26
♦ 1/9
◊ 1/3
◊ ½/12
♦ 0/10
◊ ½/2
♦ 1/28
◊ 0/8
♦ 1/14
◊ 0/5
6
12
Gerald Abrahams
♦ ½/9
◊ 1/19
♦ 1/15
◊ ½/17
♦ ½/11
◊ 0/7
♦ 0/3
◊ ½/23
◊ ½/20
♦ 1/28
♦ ½/13
6
13
David Vincent Hooper
♦ ½/10
◊ 0/3
♦ ½/18
♦ ½/25
◊ ½/20
◊ 1/26
♦ ½/17
◊ 1/15
◊ 0/5
♦ 1/27
◊ ½/12
6
14
Edward Arthur Isles
◊ 1/33
♦ 1/36
◊ 1/7
♦ 0/5
◊ 1/24
♦ 0/4
◊ 1/28
♦ 0/1
♦ 0/3
◊ 0/11
♦ 1/27
6
15
Victor Buerger
♦ ½/26
◊ 1/18
◊ 0/12
♦ ½/20
◊ 1/8
♦ 0/6
◊ ½/16
♦ 0/13
◊ ½/21
♦ 1/31
◊ 1/24
6
16
William Winter
♦ ½/31
◊ 1/22
♦ ½/17
◊ 0/4
♦ 0/3
◊ 1/33
♦ ½/15
◊ 1/27
♦ ½/19
◊ ½/7
◊ ½/18
6
17
(Charles) Derek Simpson Paffley
◊ ½/20
♦ 1/21
◊ ½/16
♦ ½/12
◊ ½/27
♦ 0/2
◊ ½/13
♦ 0/8
♦ 1/29
◊ 1/23
♦ 0/9
5½
18
John Arthur Fuller
◊ ½/6
♦ 0/15
◊ ½/13
♦ 1/30
◊ ½/19
♦ 0/1
♦ 1/36
◊ ½/25
◊ ½/9
♦ ½/21
♦ ½/16
5½
19
Dr Stefan Fazekas
◊ ½/21
♦ 0/12
♦ 1/32
◊ ½/2
♦ ½/18
◊ 1/36
♦ 1/23
◊ 0/7
◊ ½/16
♦ 0/9
◊ ½/20
5½
20
Thomas H Wise
♦ ½/17
◊ ½/9
♦ 0/24
◊ ½/15
♦ ½/13
◊ 0/29
♦ 1/26
◊ 1/32
♦ ½/12
◊ ½/22
♦ ½/19
5½
21
Dennis Morton Horne
♦ ½/19
◊ 0/17
♦ 0/31
◊ ½/32
♦ 0/36
♦ 1/34
◊ 1/35
◊ 1/24
♦ ½/15
◊ ½/18
♦ ½/23
5½
22
Richard Hilary Newman
◊ ½/27
♦ 0/16
◊ ½/25
♦ 0/33
◊ ½/35
◊ 0/32
♦ 1/34
♦ 1/36
◊ ½/31
♦ ½/20
◊ 1/28
5½
23
Dr Jacob Katz
◊ 1/34
◊ ½/4
♦ ½/29
♦ ½/27
◊ 1/1
♦ 0/5
◊ 0/19
♦ ½/12
◊ ½/28
♦ 0/17
◊ ½/21
5
24
Baruch Harold Wood
◊ ½/11
♦ ½/6
◊ 1/20
◊ 1/26
♦ 0/14
♦ 0/28
◊ 0/8
♦ 0/21
♦ 1/30
◊ 1/32
♦ 0/15
5
25
Alfred William Bowen
♦ 0/4
◊ ½/32
♦ ½/22
◊ ½/13
♦ ½/31
◊ ½/9
♦ ½/30
♦ ½/18
◊ 0/27
◊ 1/35
♦ ½/29
5
26
T John Beach
◊ ½/15
♦ ½/11
◊ 1/33
♦ 0/24
◊ 0/10
♦ 0/13
◊ 0/20
♦ ½/35
♦ ½/34
◊ 1/36
♦ 1/31
5
27
Oliver Penrose
♦ ½/22
◊ 1/31
♦ ½/4
◊ ½/23
♦ ½/17
◊ ½/3
◊ 0/6
♦ 0/16
♦ 1/25
◊ 0/13
◊ 0/14
4½
28
William Ritson Morry
♦ 0/2
◊ 0/30
♦ 1/35
◊ 1/9
♦ 1/29
◊ 1/24
♦ 0/14
◊ 0/11
♦ ½/23
◊ 0/12
♦ 0/22
4½
29
William Albert Fairhurst
◊ 1/30
♦ 0/5
◊ ½/23
♦ ½/8
◊ 0/28
♦ 1/20
◊ 0/1
♦ ½/31
◊ 0/17
♦ ½/33
◊ ½/25
4½
30
Peter A Harris
♦ 0/29
♦ 1/28
◊ 0/10
◊ 0/18
♦ ½/32
♦ 1/35
◊ ½/25
♦ 0/9
◊ 0/24
◊ ½/34
◊ 1/33
4½
31
Herbert Gibson Rhodes
◊ ½/16
♦ 0/27
◊ 1/21
♦ 0/6
◊ ½/25
♦ 0/8
♦ 1/33
◊ ½/29
♦ ½/22
◊ 0/15
◊ 0/26
4
32
Charles Stanley Hunter
◊ 0/36
♦ ½/25
◊ 0/19
♦ ½/21
◊ ½/30
♦ 1/22
◊ ½/9
♦ 0/20
◊ ½/33
♦ 0/24
◊ ½/35
4
33
Leonard Illingworth
♦ 0/14
◊ 1/35
♦ 0/26
◊ 1/22
♦ 0/2
♦ 0/16
◊ 0/31
◊ ½/34
♦ ½/32
◊ ½/29
♦ 0/30
3½
34
Eileen Betsy Tranmer
♦ 0/23
♦ 0/8
◊ 0/1
◊ ½/35
♦ 0/9
◊ 0/21
◊ 0/22
♦ ½/33
◊ ½/26
♦ ½/30
♦ 1/36
3
35
Elaine Saunders
◊ 0/5
♦ 0/33
◊ 0/28
♦ ½/34
♦ ½/22
◊ 0/30
♦ 0/21
◊ ½/26
◊ 1/36
♦ 0/25
♦ ½/32
3
36
Reginald W Bonham
♦ 1/32
◊ 0/14
◊ ½/6
♦ 0/1
◊ 1/21
♦ 0/19
◊ 0/18
◊ 0/22
♦ 0/35
♦ 0/26
◊ 0/34
2½
THE BRITISH CHAMPIONSHIP [CHESS, July 1950, p191]
Miss Elaine Saunders eliminated L. W. Barden in the final stages of the qualifying tournaments and takes a place in the British Championship in her own right!
L. Illingworth likewise eliminated O. Penrose in the Cambridge group, but these promising young enthusiasts have been given places on their general record. Here is the complete list of the 36 accepted :—
"Seeded" last November : C. H. Alexander, R. J. Broadbent, W. A. Fairhurst, S. Fazekas, H. Golombek, D. V. Hooper, D. M. Horne and P. S. Milner-Barry.
Specially selected, June 30th: J. M. Aitken, L. W. Barden, P. Harris, O. Penrose, Eileen Tranmer, B. H. Wood.
Union Champions: Midlands: R. W. Bonham; Northern: Winner of G. Abrahams v. W. Kinzel; Southern: J. Penrose.
Qualified in zonal competitions: D. Paffley, T. J. Beach, T. H. Wise and Alfred Eva from the North; A. Phillips and W. R. Morry from the Midlands; A. R. B. Thomas from the South-West; R. H. Newman, W. Veitch, E. A. Isles, W. Winter, E. Klein, J. Katz, A. W. Bowen, J. A. Fuller and C. S. Hunter from London and Home Counties; L. Illingworth from the East; Miss Saunders and V. Berger from the S.E. Midlands.
---
1950 British Ladies' Chess Championship, Buxton • 1949« »1951
1950 British Ladies Championship
1
2
3
4
5
6
Total
1
Rowena Mary Bruce (née Dew)
0½
11
11
½1
11
8
2
Mary Henniker-Heaton
1½
10
11
½1
11
8
3
Deirdre Colmer
00
01
01
½1
0½
4
4
Jane Sadler Rees (née Davidson)
00
00
10
01
11
4
5
Helen Muriel Cobbold (née Blagg)
½0
½0
½0
10
½0
3
6
Agnes Margaret Crum
00
00
1½
00
½1
3
Biographical note: Jane Sadler Rees (née Davidson, b 25 May 1884, d 1974)
Play-off match held 12-14 September 1950 in London:
1. Henniker-Heaton ½-½ Bruce (King's Indian, 58 moves, 12 September)
2. Bruce 1-0 Henniker-Heaton (Catalan, 67 moves, 13 September)
3. Henniker-Heaton 0-1 Bruce (King's Indian, 72 moves, 14 September)
4th game not needed - Mrs Bruce won the play-off 2½-½.
---
1950 BCF Major Open
| | 1950 BCF Major Open | 1 | 2 | 3 | 4 | 5 | 6 | 7 | 8 | 9 | 10 | 11 | Total |
| --- | --- | --- | --- | --- | --- | --- | --- | --- | --- | --- | --- | --- | --- |
| 1 | Alan Edgar Nield | 1/13 | 1/7 | 1/18 | ½/9 | 1/4 | 1/5 | 1/3 | ½2 | 0/10 | 1/25 | 1/15 | 9 |
| 2 | Percy Baldwin Cook | ½/21 | ½/27 | 1/12 | 1/15 | ½/9 | 1/13 | 1/4 | ½/1 | ½/3 | 1/10 | ½/5 | 8 |
| 3 | Reginald William Stevenson | 1/33 | 1/31 | ½/4 | 1/16 | 0/13 | 1/11 | 0/1 | 1/24 | ½/2 | 1/9 | 1/10 | 8 |
| 4 | Peter James Oakley | 1/6 | 1/12 | ½/3 | 1/20 | 0/1 | 1/9 | 0/2 | 1/13 | ½/5 | ½/14 | ½/8 | 7 |
| 5 | D Wagstaff | ½/9 | ½/8 | 1/7 | ½/26 | 1/10 | 0/1 | 1/19 | 1/11 | ½/4 | ½/15 | ½2 | 7 |
06-09 H. Black, Charles Reuben Gurnhill, Geoffrey F Harris, Eugene Znosko-Borovsky, 6½.
10-16 Ian R Bradley, Philip E Collier, R. M. Ellison, Jack H Pollitt, Kenneth Whyld, R. L. Williamson, Francis Samuel Woolford, 6.
17-22 Daniel Castello, H H Cole, Rev. E. C. Mortimer, John James O'Hanlon, D. Saunderson, A. T. Watson, 5½.
23-27 E. G. Ansell, Herbert Francis Gook, N. Hawkins, S. H. C. Lucas, S. Wilkinson, 5.
28-29 E. H. K. Beecher, R. Lee-Johnson, 4.
30-32 E Douglas Fawcett, Austen Lacey Homer, J. W. Thornley, 3.
33-34 G. E. Barker, R. A. Hubbard, 2½.
Special Prize : E. Znosko-Borovsky.
---
First Class A: (1) Dr. J. E. H. Creed 9 ; (2) B. L. Wilkinson 8; (3) A. F. Crooks 7; A. Archer 6; Kenneth Stuart Procter, A. G. Midgley 5½ ; N. Clissold, G. Booth 5 ; T. E. L. Chataway, Oliver Cordery Gardiner, Rev. Arthur Percival Lacy-Hulbert 4½ ; T. S. Harris 1½.
First Class B: (1) G. L. Bindman 10; (2) A. H. Reeve 8½ ; (3) P. B. Sarson 8 ; D. J. Groen 7 ; Capt. N. Heneage 6 ; H. S. Littlechild 5 ; A. Jones, C. H. Matthews 4½ ; R. C. Turner 4 ; C. R. Rudolf 3½ ; F. S. Greenleaf 3 ; T. W. Crabb 2.
First Class C: (1) P. Kirstein 7½ ; (2) R. Smith 7 ; (3) F. H. Senneck 6½ ; F. Matthews, Stanley Sedgwick, Patrick Humphries Sullivan 5½ ; Rev. H. M. Blackett, George Arthur Peck, P. D. Sanderson 4½ ; Geoffrey George Homan 3½; B. L. Barnaby ½.
Second Class: (1) D. Ll. Jones, E. Priestley 9½ ; (3) Gregory Owen J. Melitus 8½ ; N. L. Johnson, R. W. Weatherill 7½ ; A. Flanigan 5½ ; Mrs. V. H. Caine 5 ; J. V. Malet, F. Passingham 4 ; F. R. Morrish, J. Salt 2; Rev. D. R. Mitchel 1.
Third Class: (1) Brian G Locke 9 ; (2) A. MacLennan 8 ; (3) F. G. H. Nicholson 7½ ; J. B. Crayston 7 ; H. E. Baxter 5½ ; W. Byrne, A. Terrett 5 ; T. Rawlinson 4½ ; F. E. Tanner 2 ; A. H. Welburn 1½ ; D. E. Budge 0.
Lightning Tournament: (1) Sir George Thomas 7 (out of 7) ; (2) Peter J Oakley 5½. Special handicap prize : N. Clissold.
A ballot taken during the congress in regard to the times of play resulted in a two to one majority in favour of afternoon play with five hour sessions for both the British and the Ladies' Championships, and a majority of six to one in favour of morning play, with four hour sessions, in the other classes.
---
THE PRIZE GIVING (from the BCF Year Book, 1949-50, p39)
The farewell meeting on Saturday, September 2nd [1950], proved to be as happy a gathering as the rest of the Congress had been, though it was tempered with some regret that this was to be the last time our President, Mr. J. N. Derbyshire, would officiate in his own intimate and homely style. He insisted, however, that there was no question of his disappearance from the chess world for a long time to come, and his assurance that he expected to be among us for many years yet was obviously no empty one. His youthful energy remains unbounded.
The Mayor of Buxton attended to present the prizes and expressed his pleasure at the very successful outcome of the Congress and the hope that the town would be the scene of more of these tournaments in the future.
Votes of thanks to the Midland Counties Union, the Derbyshire C.A. and the Press were carried with enthusiasm, but the biggest ovation of all was reserved for the efforts of our Secretary when I mentioned the hard work which he had put into making this and other congresses successful. Only those who have worked with him know the vast amount of detailed work he does in all Federation activities, and at Congress times particularly, he seems to be able to carry on without food or sleep. It was quite clear that the competitors appreciated this, for I was unable to proceed with my real task of thanking the Mayor for several minutes, and the enthusiasm was renewed when the President called on Mrs. Chetwynd ("the unpaid secretary of the paid secretary") to acknowledge the plaudits of the assembly.
Advantage was taken of the occasion to present to Miss E. Tranmer a beautiful memento of her visit to Moscow, where she was placed fifth in the Women's World Championship. This took the form of an ornate certificate of her place in the tournament, in a red leather folder presented by the Soviet Chess Organisation. W.R.M. [William Ritson Morry]
---
1950 British Boys' (Under-18) Championship, Hastings CC, 17-22 April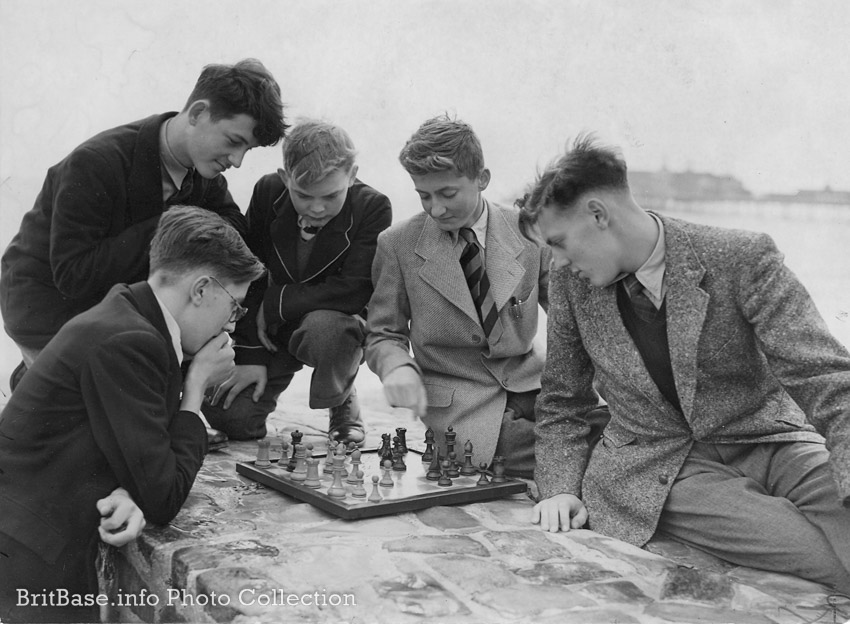 1950 British Boys' Champion Malcolm Neil Barker is 2nd from right in this group photo.
Other boys stated to be present include James Phipps, C Stone and B Phillips but it is not known which they are.
(BCM, June 1950, ppn 180-181 - report by Richard Clewin Griffith - forenames added where known, also corrections to names)
The Twenty-fifth British Boys' Championship, played between April 17th and 22nd, at Hastings, had an entry of thirty-eight boys from fourteen counties. It was held on the Swiss system, as last year, and the pairing was done by Frank A Rhoden.
The time limit was again 24 moves an hour, which meant that the more studious, and slower thinking, boys, were frequently in time trouble, especially in the first hour. It was generally agreed that the play, on the whole, was not even so good as last year, which Mr. Arthur Albert Rider, the Hon. Secretary of the Hastings Chess Club, explained was partly due to the fact that there were far less boys of seventeen this year.
Unquestionably the end-game play was definitely bad, and there were several results which ought to have gone the other way. Here is an instance (Diagram 1).
Once again I should like to impress on competitors that concentration is one of the most important parts to good chess; the boys were far too prone to leave their boards directly they had moved, to see how their friends or enemies were faring.
Malcolm Neil Barker, the holder, was given an exceptionally stiff game in the first round by P. A. Rowbotham, of Hastings Grammar School, who had been promoted to the championship because of the illness of one of the entrants. Barker came out of the opening and middle game two pawns up, but from that point Rowbotham played excellently, won a pawn back, and at the adjournment the position was as given in [viewer/download].
Rowbotham's sealed move was K(from B 3)—K 4 and Barker played B—K 4, and after K—B 5 there is a certain draw, but he unwisely tried to win, and thereby as so often happens, lost.
Barker went on to win his next four games, though in one his opponent, at one time, had a distinct advantage, as also in one of the drawn games subsequently, but his play was certainly sounder than those of his opponents, and he thoroughly deserved his second victory. The boy who seemed to have most "chessy" ideas was Ian R Bradley1, of Doncaster Grammar School, who took one of the second prizes with 6½, one point less than Barker. And the boy who impressed me as likely to improve was Peter Hugh Clarke, nominated by the Southern Counties Union. The two other scorers of 6½ were Neill Thomas Honan, of Vaughan School, Kensington, and Henry Morton, of Alsop High School, Liverpool.
R. Hill, Bolton County Grammar School, and (Thomas) Peter Madeley, Chorlton2 High School, scored 6 each, and Brian John Hole, Varndean School, Brighton; Peter Thomas Kirstein3, Highgate4 School; Geoffrey L Homer, West Bromwich Grammar School, and Peter Hugh Clarke, scored 5½ and all these got prizes.
An objectionable attitude of the competitors was the ready agreement to draws, before 24 moves had been played—even before development had finished in some cases—twenty-two games were given up before 24 moves, and five before the 15th. Surely to come to take part in a championship from a distance, and give up trying to win so early is rather ridiculous.
Sir George Alan Thomas gave two prizes, one for the best game, won by Malcolm Neil Barker (Black) from Alan John Willson5 (White) [see viewer/download]
And one for the most brilliant game, which went to Neill Thomas Honan, when Willson (Black) was again the opponent—[see viewer/download]
The winner of the Rider Shield for the best performance of a Sussex boy in the championship was won for the second year running by Brian John Hole, with a score of 5½.
In the Open Tournament for which twenty-four boys entered, and were divided into four sections, the prize winners were: Section A: first prize, Michael Davis, Bexhill County School, with 5; second prize, divided between George Dengate and D. Thompson, both of King's College, Hastings, with 3.
Section B: first and second shared by N. Cole, of Bexhill County School, and D. Clarke, of King's College, with 4½ each.
Section C: first, Colin James Middleton, of Bexhill County School, with 5; second, Frederick D Baynton, late Hastings Modern School, with 3.
Section D: first and second shared by W. J. C. Hinkley, of Hastings Grammar School, and T. Rich, St. Leonards Modern School, with 4 each
The prizes were given away by the Mayor, Alderman J. D. Cooper, J.P., supported by the Mayoress, and Sir Clarence Sadd, President of the Sussex Chess Association.
The boys presented Miss Lankey with a handbag, and Mrs. Robinson with a pair of gloves, for all their kind attention. R. C. G.
1 BCM/Griffith gives "L. A. Bradley" - the first of a number of errors in this piece. Perhaps the writer should have taken his own headmasterly advice and remembered that "concentration is one of the most important parts to good chess" reporting!
2 "Charlton". Clearly an error for "Chorlton".
3 "P. T. Kirkstein"
4 "High Gate"
5 "A. G. Willson"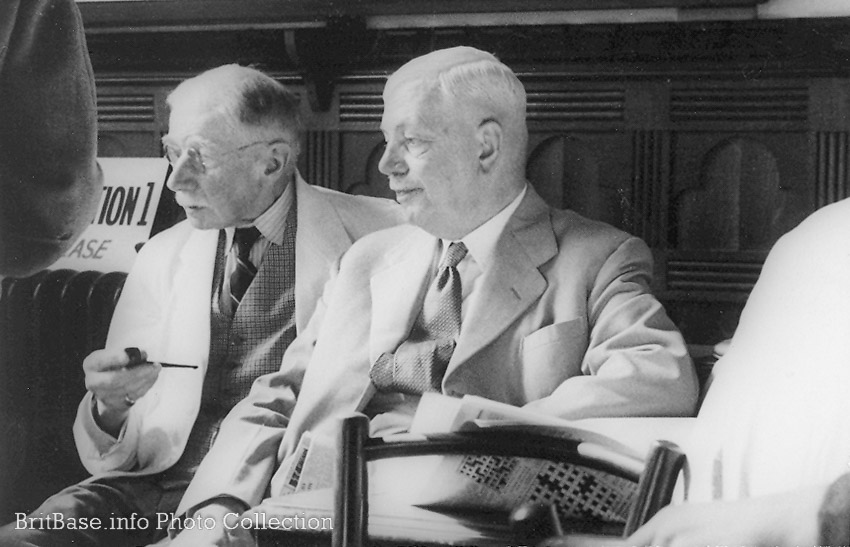 Two elder statesmen of British chess, Richard Clewin Griffith (left, who wrote the above report) and Sir George Thomas.
It is highly likely that this photo was taken whilst they were watching play at a British Boys' Championship in Hastings in the early 1950s.
---
CHESS, May 1950, Vol.15, no.176, p155
THE JUNIOR CHAMPIONSHIPS
Malcolm Barker, to the annoyance of the organisers, made no secret of the fact that he regarded the Birmingham Junior International as only a "warming-up" contest for the British Boys' Championship which immediately followed at Hastings. Sure enough, he made no mistake over retaining his title, leading the field throughout and making sure of first place, on his sixteenth birthday, with a final score of 7½/9. In a tie for the next place were R. Hill, Bolton; H. Morton, Liverpool and I. R. Bradley, Doncaster. Barker studies at King Edwards School, Birmingham, which produced C. H. Alexander.
The holder of the Girls' Championship, Miss Jean Craker, also retained her title. [see below]
---
The Chess Bulletin, Vol.1, no.18, 15 May 1950
"No Surprises at Hastings"
"Not a vintage year," was how one eminent authority summed up the Boys' Championship at Hastings.
Whilst Malcolm Barker won a well deserved victory,few new names appeared with any promise of outstanding ability.
With J.Penrose playing at Southsea, any hope of his participation disappeared, and Barker had an easy passage. He conceded only three draws in the nine rounds finishing a clear point ahead of Ian R Bradley (Doncaster), Neill Thomas Honan (Kensington) and Henry Morton (Liverpool).
Peter Hugh Clarke, the S.C.C.U. Boy Champion, came in a tie for 7th-10th places, and the Midland Champion, Alan John Willson, was half a point behind him with 5.
---
More on Malcolm Barker...
Neil Blackburn (a.k.a. 'Simaginfan') has put together some excellent material about three-time British Under-18 Champion Malcolm Neil Barker (born 1934), including photos and information supplied by Malcolm himself, at Chess.com:
Link to Part 1
Link to Part 2
Link to Part 3
---
1950 British Girls' Under 18 Championship, 12-15 April, St Brides, London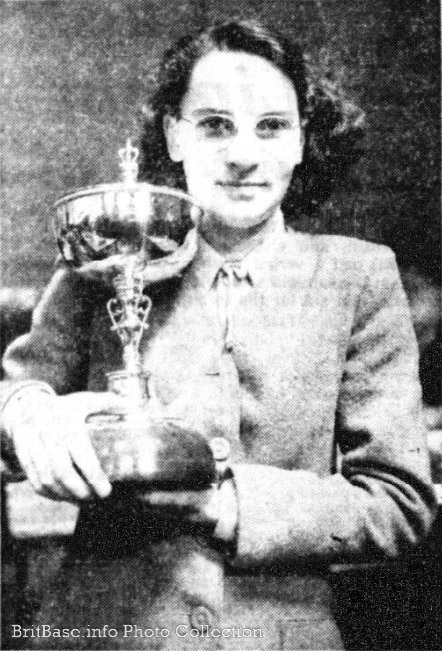 Jean Craker with the 1950 British Girls' Chess Championship trophy (photo: Lincolnshire Echo - Monday 17 April 1950)
BCM, May 1950, ppn 151-152
THE BRITISH GIRLS' CHAMPIONSHIP, 1950 by Elaine Saunders
The British Girls' Championship (under 18), held at St. Bride's Institute (April 12th to 15th) attracted an entry of twenty-nine. Following a suggestion made by the Chess Education Society, it was decided to introduce the Swiss System, amalgamating Junior and Senior Sections into one tournament.
As many anticipated, Jean Craker1 (West London C.C.) had little difficulty in retaining her title which she did with a clean score of 7 points. Jean is now experienced as a club player and her entry in the Ladies' Championship Tournament at Buxton would seem justified. Lesley Fletcher2 (Tiffins School, Kingston), Jean's close rival of the past four years, again took second place. Both Jean and Lesley will be ineligible to complete again and June Barker (Oxford Technical School), who greatly improved on her performance last year, must be considered a likely candidate for honours.
The Junior Trophy, awarded to the competitor under 15 with the best score, went to Constance Stenning4 (Aylesbury Secondary Modern School, Bromley). The winner was admittedly favoured by a comparatively easy draw but she maintained her unexpectedly good form throughout. The second place resulted in a triple tie which was unravelled by the aid of the Sonnenborn-Berger System. This gave the victory to Toni Fletcher3 (Lesley's sister), a young player possessing a great natural ability for the game. Third was Myrtle Barnes, also of Bromley.
The prizes for young competitors were awarded to Jennifer Dawkins, age 9, and Marianne Allwright, age 6, both of Comrie House School, Finchley, who this year enlarged their very youthful contingent to seven. Marianne, whose charming childish abandon truly "stole the show" in the eyes of the press, scored 2 points. It is difficult to refrain from comment upon this chess baby. With some apprehension I watched Marianne climb onto her chair to Queen a pawn and then quietly proceed to force the enemy King into a mating net. Although many of her moves were far from good and made without any deep consideration, the child possesses a commendably quick sight of the board.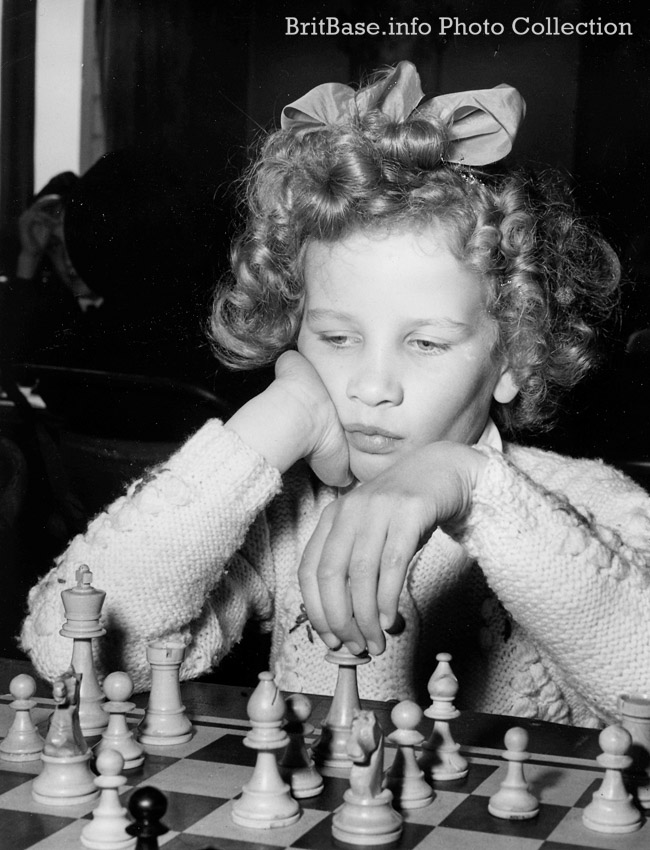 Marianne Allwright two years later, at the April 1952 British Girls Chess Championship
There was an exceptionally good attendance during the tournament. Prizes were distributed by Imre König, and appreciation to Miss Anness, who acted as controller, and to Miss Tranmer, was expressed on behalf of the competitors by Mr. [Eric] Coad-Pryor.
E. Saunders
---
The Chess Bulletin, Vol.1, no.18, 15 May 1950
"Girl Champion's Feat"
Jean Craker1, who was just inside the age-limit this year, won the [British] Girls' [Under-18 Championship] with a clean score of 7. Lesley Fletcher2 was again runner-up and her sister Toni3 was also runner-up to Constance Stenning4 for the Junior Trophy which was awarded to the player under 15 who made the best score.
1 Jean Pamela Margaret Craker, born 1932, married (Dennis) John Rogers in 1959.
2 (Jean) Lesley Mary (Elliott-)Fletcher, 1932-1982, married Robert Hans Pinner in 1962. Lesley was the daughter of the author of the chess book Gambits Accepted: A Study of Opening Sacrifices (Routledge & Kegan Paul, London 1954) under the name L. Elliott Fletcher. The author was Leslie Elliot Fletcher (1902-1983), né Leslie Elliott Britton. My thanks to Richard James for putting me right on this one.
3 Antoinette Mary Hope (Elliott-)Fletcher, b 1936, married Peter McLeod in 1958.
4 Constance Ethel Stenning, 1935-2004, married Norman V Childs, 1959.
---
Kensington Post - Friday 21 April 1950
OPEN-AIR CHESS GIRL KEEPS TITLE

After four gruelling days playing chess, eighteen-year-old Miss Jean Craker, librarian of the West London Chess Club, won the British Girls' Championship for the seoond time on Saturday.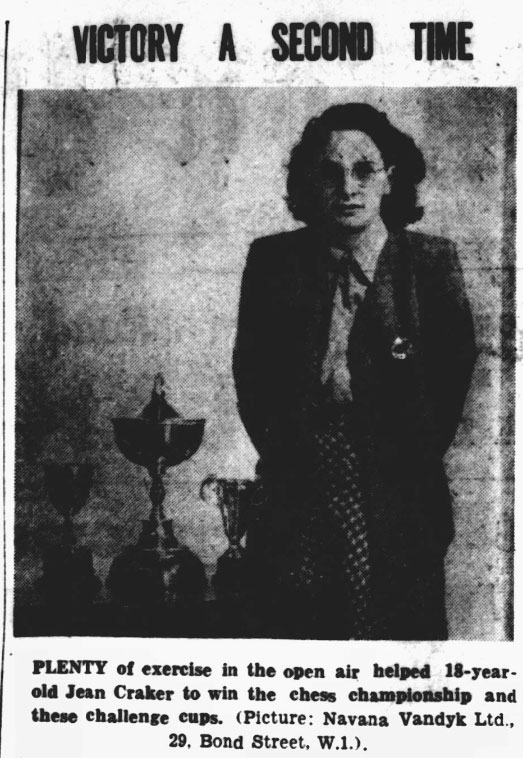 During the championship at the St. Bride's Institute, Bridewell, Miss Craker played eight games, beating 28 girls from all parts of the country for the silver challenge cup.
All the members of the West London Chess Club who have their headquarters in Stratford Road. South Kensington, were confident that Jean would hold the cup for another year. Most confident was her father, 50-year-old Mr. P[ercy]. M. Craker, secretary of the club.
After his daughter's victory, Mr. Craker told the Kensington Post what he thought lay behind her persistent success:
"Plenty of physical exercise is vital for a player. A great number of players put too much time in at the board." Since he taught Jean to play [at] nine years of age, Mr. Craker has always seen that she has plenty of exercise in the open-air to keep her brain fresh.
BEATS HER FATHER
Not long after her father had taught her the game, Jean was a good match for him and now she can beat him every time.
Mr. Craker cannot explain how Jean was the only one in the family to become a chess expert. Althougn he has played the game for nearly 40 years he would not call himself more than a fair player.
Mrs. Craker was taught the game and is interested in the success of her daughter, "but," says Mr. Craker, "she never really took to the game."
Jean was educated at Peterborough and St. Margarets School, Harrow. She is now a civil servant working in the Inland Revenue department. She plays chess for her department and at present is competing in the Ladies Championship which lasts a month.
OTHER SUCCESSES
During the past few years Jean has played chess all over the country but has yet to visit the continent.
Last year apart from her success in the Girls' British Championship, she won the West London Chess Club Tournament and came second in the West London Junior Tournament. At the age of fifteen she won the Under Fifteens' Cup. She has played three games against Oxford and Cambridge university players winning, losing and drawing respectively.
Jean gets the physical exercise, so necessary to her chess playing, by swimming, cycling and tennis.
"She has only 'chess boy friends' " said her father.
---
File Updated
| Date | Notes |
| --- | --- |
| 16 April 2016 | Originally posted here. 56 complete games out of a possible 198, plus 17 game fragments and 5 complete games from the Major Open. |
| 17 April 2016 | A further ten games added: some played by William Fairhurst (many thanks to Alan McGowan) and three more games from the Major Open (many thanks to Brian Denman). |
| 22 June 2022 | Added the game E.Ansell 0-1 D.Saunderson (Major Open), contributed by Gerard Killoran via the English Chess Forum. Many thanks, Gerard. |
| 23 June 2022 | Two more games added: (1) I.Bradley 0-1 P.Cook (Major Open, rd 10); (2) M.Henniker Heaton 0-1 Rowena Bruce (3rd play-off game). Many thanks to Gerard Killoran who contributed them via the English Chess Forum. |
| 24 June 2022 | Added 3 games from the British Under-18, plus photos, reports of the British Under-18 Boys' and Girls' which were held earlier in the year in Hastings and London respectively. |
| 29 May 2023 | Added one game: D.Hooper 1-0 T.J.Beach (rd 6), from David Hooper's scorebook via Kevin Thurlow, to whom many thanks. And a part-game, V.Buerger ½-½ D.Horne (rd 9). |