BRITBASE - British Chess Game Archive
Player: Roger Emerson (born 1949)
602 games played 1965-1982 • Download PGN •
page last edited Wednesday July 19, 2023 10:55 AM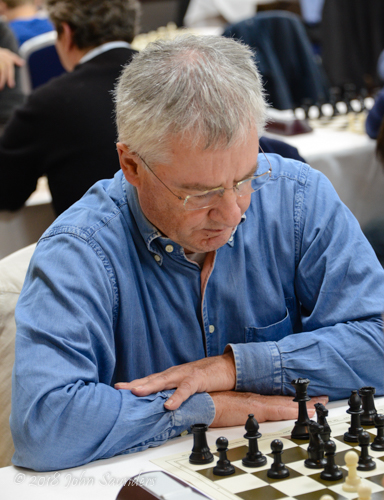 Roger Emerson has very kindly allowed BritBase to publish this collection of his games from 1965, when he first played competition chess, to 1982, when he left off playing completely to concentrate on his career. The number of games in the collection, 600, looks as though it has been arrived at artificially but this is a coincidence. Nothing has been left out: this is the exact number of games that Roger had noted down in his scorebooks. He entered the game moves himself, along with quite a lot of commentary.
It is clear from studying his games that Roger's trajectory as a player would have been at least the IM title and possibly higher had he been able to devote more time to chess. After returning to competition play aged 60 in 2009, he quickly regained a 200 grade (which approximates to a 2200 Elo rating). He has achieved three British senior championship titles, in 2013 (over 60), 2015 and 2017 (over 65). He has also benefited British chess by sponsoring and managing the Guildford club which has won the last six 4NCL (British Team League) titles. JS.
---
What follows is Roger's own resumé of his career:
"My grandfather, who was a strong club player and had represented the Civil Service at chess, taught me to play at about the age of seven or eight and I played often with him until I got a scholarship to Charterhouse at the age of 12. Charterhouse was not a strong chess-playing school, so I got no serious practice until I went up to Oxford in 1968. So I was a late developer, only reaching 200+ in 1975, and initially I struggled against positional players such as Andrew Law and Alan Perkins. Nevertheless, and despite the pressures of work at Coopers & Lybrand, I achieved some success both in team events with Streatham & Brixton and individually, winning or achieving high placing in a series of weekend tournaments.

"After 1978 commitments as I sought to become a partner in the firm meant I had no time for weekend tournaments and my chess over the next three years at club level was increasingly a case of avoiding opening theory and seeking to win through good technique. Following my marriage to Kate in 1981 I decided to retire from chess completely rather than see my play deteriorate further, although my grading had managed to stay at 210 or above.

"In 2010, following my retirement, I decided to take up chess again and was pleasantly surprised to be back at a grade of over 200 in my second year. Then in 2013 I managed to get a share of the British Seniors title. It will be interesting to see how long I can keep this up, but now I'm retired I've had the time to indulge in my quest for innovation in slightly off-beat opening lines."
1 / 3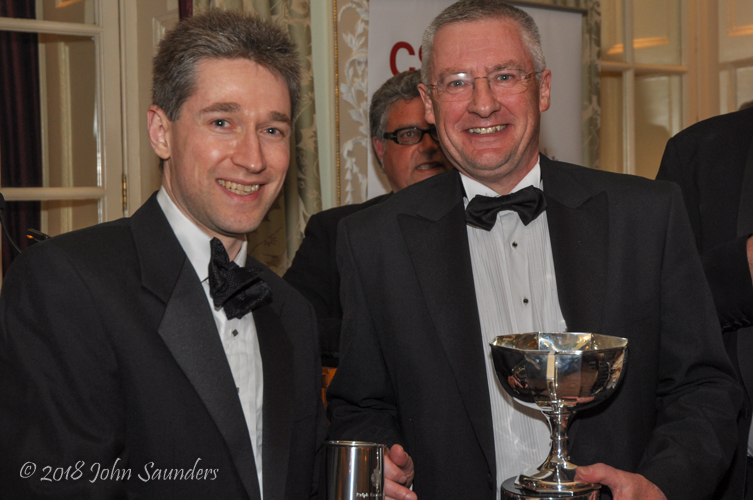 2011: Roger Emerson with Mickey Adams at an RAC Prize-giving
2 / 3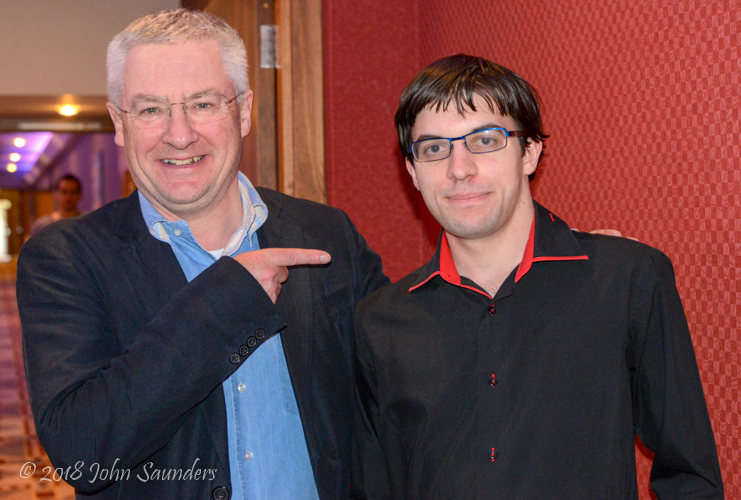 2014: Roger Emerson with his 'star striker' for Guildford, Maxime Vachier-Lagrave
3 / 3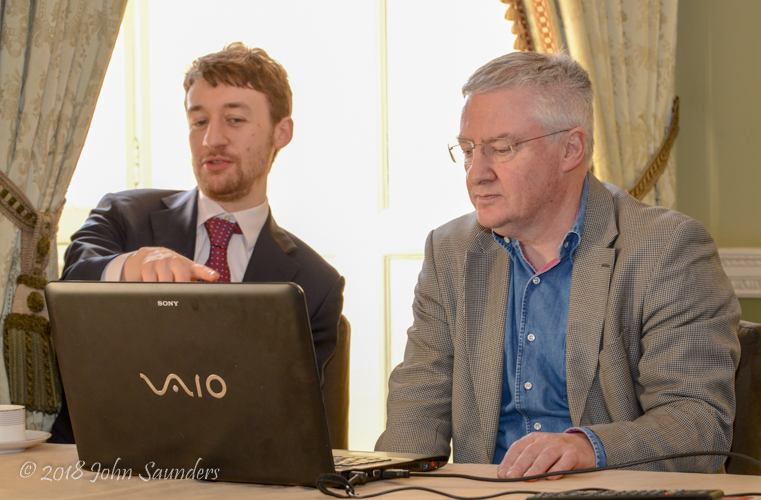 2015: Roger Emerson with GM Luke McShane at the Varsity chess match.
❮
❯
Published British Chess Federation annual grades from 1968 to 1981.
| Year | Grade |
| --- | --- |
| 1968 | 176 |
| 1969 | 178 |
| 1970 | 182 |
| 1971 | 187 |
| 1972 | 173 |
| 1973 | 198 |
| 1974 | 202 |
| 1975 | 189 |
| 1976 | 201 |
| 1977 | 203 |
| 1978 | 204 |
| 1979 | 208 |
| 1980 | 216 |
| 1981 | 204 |
---
File Updated
Date
Notes
Early 2018
First uploaded (originally 600 games)
28 Feb 2019
(1) Two games added - Emerson-C.Jones, Streatham CC Championship 1978 and G.H.James - Emerson, London League 1980.
(2) Corrections made to name - Chris S Jones now Chris Jones: the former is a later (post 1990) Hendon player, the latter is or was a Streatham/Wimbledon player and now Worthing)
(3) Date amendment: the game Keene-Emerson, County Match 1979. My thanks to Brian Denman.
19 July 2023
Identified the opponent in the Surrey v Bucks county match, 28 September 1968 - Peter A Horlock (not to be confused with Peter J Horlock). Board 50.