BRITBASE - British Chess Game Archive
Tournament: 45th British Chess Championship •
153 of a possible 154 games
& 17 other games (inc. play-off)
Venue: Leamington • Dates: 18-29 August 1958 • Download PGN • Last Edited: Thursday 5 October, 2023 9:39 AM • tournament programme
1958 British Chess Championship, Leamington, 18-29 August • 1957« »1959
1958 British Chess Championship
Resid.
1
2
3
4
5
6
7
8
9
10
11
Total
1
Jonathan Penrose
London
♦ 0/15
◊ 1/22
♦ ½/16
◊ 1/6
♦ 1/18
◊ ½/3
◊ ½/2
♦ 1/8
♦ 1/4
◊ 1/5
♦ 1/9
8½
2
Leonard William Barden
London
◊ 1/17
♦ ½/3
◊ 1/14
♦ 1/18
◊ 1/8
◊ ½/4
♦ ½/1
♦ 1/5
◊ 1/13
◊ ½/9
♦ ½/6
8½
3
Peter Hugh Clarke
London
♦ 1/11
◊ ½/2
♦ 1/6
♦ 0/8
◊ 1/13
♦ ½/1
◊ ½/5
◊ 1/4
♦ ½/9
♦ 1/14
◊ 1/10
8
4
James B Howson
Welling
◊ 1/27
♦ 0/10
♦ 1/24
◊ 1/26
◊ 1/5
♦ ½/2
◊ 1/8
♦ 0/3
◊ 0/1
♦ ½/13
◊ 1/14
7
5
John Arthur Fuller
North Harrow
♦ 1/25
◊ ½/9
♦ 1/15
◊ 1/10
♦ 0/4
◊ ½/19
♦ ½/3
◊ 0/2
♦ 1/7
♦ 0/1
◊ 1/13
6½
6
Bernard Cafferty
Derby
◊ ½/7
♦ 1/21
◊ 0/3
♦ 0/1
◊ 1/17
◊ ½/18
♦ 0/15
◊ 1/19
♦ 1/20
♦ 1/8
◊ ½/2
6½
7
Peter Campbell Gibbs
Bradford
♦ ½/6
◊ 0/13
♦ ½/11
◊ 1/15
♦ 1/16
◊ ½/10
♦ ½/9
♦ ½/14
◊ 0/5
◊ 1/21
♦ 1/17
6½
8
Arnold Yorwarth Green
♦ ½/20
◊ 1/12
♦ 1/13
◊ 1/3
♦ 0/2
◊ 1/9
♦ 0/4
◊ 0/1
♦ ½/10
◊ 0/6
♦ 1/15
6
9
David Edward Lloyd
London
♦ 1/22
♦ ½/5
◊ ½/26
◊ 1/19
♦ ½/10
♦ 0/8
◊ ½/7
◊ 1/18
◊ ½/3
♦ ½/2
◊ 0/1
6
10
Derek Geoffrey Horseman
Coventry
♦ 1/16
◊ 1/4
◊ ½/18
♦ 0/5
◊ ½/9
♦ ½/7
◊ ½/14
♦ ½/13
◊ ½/8
♦ 1/12
♦ 0/3
6
11
Edward Guthlac Sergeant
Kingston Hill
◊ 0/3
♦ ½/27
◊ ½/7
♦ 1/28
♦ 0/15
◊ ½/21
♦ ½/12
◊ ½/20
♦ 1/19
◊ ½/25
◊ 1/18
6
12
Thomas John Beach
Liverpool
◊ ½/21
♦ 0/8
◊ 1/27
♦ 0/13
◊ ½/24
♦ ½/17
◊ ½/11
♦ 1/28
◊ 1/16
◊ 0/10
♦ 1/20
6
13
Robert Graham Wade
Ilford
◊ ½/14
♦ 1/7
◊ 0/8
◊ 1/12
♦ 0/3
◊ 1/22
♦ 1/19
◊ ½/10
♦ 0/2
◊ ½/4
♦ 0/5
5½
14
Denis Victor Mardle
Cheltenham
♦ ½/13
◊ 1/20
♦ 0/2
◊ ½/16
♦ 1/26
◊ ½/15
♦ ½/10
◊ ½/7
♦ 1/18
◊ 0/3
♦ 0/4
5½
15
David Brine Pritchard
Brampton Park
◊ 1/1
♦ ½/26
◊ 0/5
♦ 0/7
◊ 1/11
♦ ½/14
◊ 1/6
♦ 0/16
◊ ½/17
♦ 1/24
◊ 0/8
5½
16
Derek George Ellison
Bolton
◊ 0/10
♦ 1/28
◊ ½/1
♦ ½/14
◊ 0/7
♦ 1/24
♦ ½/21
◊ 1/15
♦ 0/12
◊ 0/17
♦ 1/25
5½
17
Ronald A Slade
Caterham
♦ 0/2
◊ ½/25
♦ ½/20
◊ ½/24
♦ 0/6
◊ ½/12
♦ 1/23
◊ 1/27
♦ ½/15
♦ 1/16
◊ 0/7
5½
18
Baruch Harold Wood
Sutton Coldfield
♦ 1/23
◊ 1/24
♦ ½/10
◊ 0/2
◊ 0/1
♦ ½/6
◊ 1/26
♦ 0/9
◊ 0/14
◊ 1/27
♦ 0/11
5
19
Dr Stefan Fazekas
Buckhurst Hill
◊ 0/26
◊ 1/23
♦ 1/25
♦ 0/9
◊ 1/21
♦ ½/5
◊ 0/13
♦ 0/6
◊ 0/11
♦ ½/22
♦ 1/27
5
20
Andrew Rowland Benedick Thomas
Tiverton
◊ ½/8
♦ 0/14
◊ ½/17
♦ 0/21
◊ 1/23
♦ 0/26
◊ 1/22
♦ ½/11
◊ 0/6
♦ 1/28
◊ 0/12
4½
21
Richard Frank Holmes
Cambridge
♦ ½/12
◊ 0/6
♦ ½/22
◊ 1/20
♦ 0/19
♦ ½/11
◊ ½/16
♦ ½/26
◊ 1/28
♦ 0/7
◊ 0/23
4½
22
Thomas H Wise
Middlesbrough
◊ 0/9
♦ 0/1
◊ ½/21
♦ 1/27
◊ 1/28
♦ 0/13
♦ 0/20
◊ ½/25
♦ 0/23
◊ ½/19
◊ 1/24
4½
23
George A Dickson
Edinburgh
◊ 0/18
♦ 0/19
◊ 0/28
◊ 1/25
♦ 0/20
♦ 0/27
◊ 0/17
♦ ½/24
◊ 1/22
♦ 1/26
♦ 1/21
4½
24
(Henry) Alexander Samuels
Southampton
◊ 1/28
♦ 0/18
◊ 0/4
♦ ½/17
♦ ½/12
◊ 0/16
♦ ½/25
◊ ½/23
♦ 1/27
◊ 0/15
♦ 0/22
4
25
Francis William Viney
London
◊ 0/5
♦ ½/17
◊ 0/19
♦ 0/23
◊ ½/27
♦ ½/28
◊ ½/24
♦ ½/22
◊ 1/26
♦ ½/11
◊ 0/16
4
26
David Edward Rumens
Harrow Weald
♦ 1/19
◊ ½/15
♦ ½/9
♦ 0/4
◊ 0/14
◊ 1/20
♦ 0/18
◊ ½/21
♦ 0/25
◊ 0/23
♦ 0/28
3½
27
James Dean
Coventry
♦ 0/4
◊ ½/11
♦ 0/12
◊ 0/22
♦ ½/25
◊ 1/23
◊ 1/28
♦ 0/17
◊ 0/24
♦ 0/18
◊ 0/19
3
28
Alan Forrest Stobo
Altrincham
♦ 0/24
◊ 0/16
♦ 1/23
◊ 0/11
♦ 0/22
◊ ½/25
♦ 0/27
◊ 0/12
♦ 0/21
◊ 0/20
◊ 1/26
2½
Championship Play-Off Match (six games scheduled, 24 November – 5 December 1958)
1958 British Chess Championship Play-Off
Total
1
Jonathan Penrose
1½½½1
3½
2
Leonard William Barden
0½½½0
1½
---
1958 British Ladies Chess Championship, Leamington • 1957« »1959
1958 British Ladies Championship

Residence
Draw No.

1

2

3

4

5

6

7

8

Total

1

(Patricia) Anne Sunnucks1
London
1
1
1
0
1
1
1
1

6

2

Dorothea (Dody) Bourdillon
London
3
0
1
1
1
1
1
1

6

3

Mrs Hilda Naidoo
Ceylon [Sri Lanka]
4
0
0
1
1
1
1
1

5

4

Miss Margaret Wood2
Middleton Stoney
5
1
0
0
½
½
1
1

4

5

Dr Maria Maclean
Abertillery
7
0
0
0
½
½
½
1
2½

6

Sarah Margaret Steedman
Bothwell, Scotland
6
0
0
0
½
½
½
1

2½

7

Margaret E Lander
Gillingham, Dorset
2
0
0
0
0
½
½
1

2

8

Mrs S Weston
Hemel Hempstead
8
0
0
0
0
0
0
0

0
The women's championship was scheduled from Wednesday 20 August to Friday 29 August with the normal rest day on the Sunday (24th) but the withdrawal of Rowena Bruce (draw no. 5 in the original published table) necessitated changes to the draw numbers, pairings and/or round schedule. Originally nine rounds were needed but with the reduction to eight players it was possible to switch to a standard eight-player pairing table and play seven rounds rather than nine. Thursday 21st and Saturday 23rd became rest days. The Times, 22 August 1958: "there was no round scheduled for [Thursday 21 August], but Mrs Western (sic) lost her postponed first-round game against Miss Margaret Wood. In an adjourned game from the same round Mrs. S. M. Steedman lost to Mrs. H. Naidoo."

1 It would appear that Anne Sunnucks took part in both the British Ladies Championship (scoring 6/7) and the Major Open (scoring 5/11). According to the tournament programme both events were scheduled for 2pm to 7pm, which would have meant she would have had to play two games simultaneously on seven afternoons. Contemporary reports make no mention of this. One presumes that she would have had a dispensation to play one or other of the games during the morning session (when the junior events were scheduled).
2 note this was not Margaret Eileen Elizabeth (Peggy) Wood, daughter of BH Wood and future wife of Peter H Clarke, but Margaret Wood, daughter of Oxfordshire chess organiser Frank Wood and future wife of Jonathan Penrose.
Original pairing table for the 1958 British Ladies Championship (from the tournament programme):—
| | | | | | |
| --- | --- | --- | --- | --- | --- |
| Round 1 | 7-5 | 8-4 | 9-3 | 1-2 | 6 bye |
| Round 2 | 3-1 | 4-9 | 5-8 | 6-7 | 2 bye |
| Round 3 | 8-6 | 9-5 | 1-4 | 2-3 | 7 bye |
| Round 4 | 4-2 | 5-1 | 6-9 | 7-8 | 3 bye |
| Round 5 | 9-7 | 1-6 | 2-5 | 3-4 | 8 bye |
| Round 6 | 5-3 | 6-2 | 7-1 | 8-9 | 4 bye |
| Round 7 | 1-8 | 2-7 | 3-6 | 4-5 | 9 bye |
| Round 8 | 6-4 | 7-3 | 8-2 | 9-1 | 5 bye |
| Round 9 | 2-9 | 3-8 | 4-7 | 5-6 | 1 bye |
... however, because of the withdrawal of Rowena Bruce, they switched to the (then) standard eight-player pairing table, thus...
| | | | | |
| --- | --- | --- | --- | --- |
| Round 1 | 8-5 | 6-4 | 7-3 | 1-2 |
| Round 2 | 2-8 | 3-1 | 4-7 | 5-6 |
| Round 3 | 8-6 | 7-5 | 1-4 | 2-3 |
| Round 4 | 3-8 | 4-2 | 5-1 | 6-7 |
| Round 5 | 8-7 | 1-6 | 2-5 | 3-4 |
| Round 6 | 4-8 | 5-3 | 6-2 | 7-1 |
| Round 7 | 1-8 | 2-7 | 3-6 | 4-5 |
... and players with draw numbers 6, 7, 8, 9 (Wood, Steedman, Maclean, Weston) in the tournament programme became 5, 6, 7, and 8 respectively. So round by round scores were:—
1958 British Ladies Chess Championship - Round by Round Scores
Round 1
Wednesday 20 August
Weston 0-1* Wood
Steedman 0-1 Naidoo
Maclean 0-1 Bourdillon
Sunnucks 1-0 Lander
Round 2
Friday 22 August
Lander 1-0 Weston
Bourdillon 0-1 Sunnucks
Naidoo 1-0 Maclean
Wood ½-½ Steedman
Round 3
Monday 25 August
Weston 0-1 Steedman
Maclean ½-½ Wood
Sunnucks 1-0 Naidoo
Lander 0-1 Bourdillon
Round 4
Tuesday 26 August
Bourdillon 1-0 Weston
Naidoo 1-0 Lander
Wood 1-0 Sunnucks
Steedman ½-½ Maclean
Round 5
Wednesday 27 August
Weston 0-1 Maclean
Sunnucks 1-0 Steedman
Lander 0-1 Wood
Bourdillon 1-0 Naidoo
Round 6
Thursday 28 August
Naidoo 1-0 Weston
Wood 0-1 Bourdillon
Steedman ½-½ Lander
Maclean 0-1 Sunnucks
Round 7
Friday 29 August
Sunnucks 1-0 Weston
Lander ½-½ Maclean
Bourdillon 1-0 Steedman
Naidoo 1-0 Wood
*postponed to the following day, Thursday 21 August
1958 British Ladies Championship Play-Off Match
(two games played – dates/venue not known (maybe end Nov/beginning Dec) followed by a single game play-off after Xmas - source: The Times, 8 Dec 1958. End of match reported in BCM, Feb 1959, p49))
1958 British Ladies Chess Championship Play-Off
Total
1
(Patricia) Anne Sunnucks
0011—1
3
2
Dorothea (Dody) Bourdillon
1100—0
2
---
1958 BCF Major Open
| Rank | 1958 BCF Major Open | Total |
| --- | --- | --- |
| 1 | Fred Clough (Birmingham) | 8½/11 |
| 2 | Percy Baldwin Cook (Highgate) | 8 |
| 3-4 | Charles Reuben Gurnhill (Sheffield), Peter Harris | 7½ |
| 5-7 | Philip Edward Collier (Leicester), Maximilian Ernst Poolake (Bristol), Walter J E Yeeles (Gillingham) | 7 |
| 8-9 | Michael Philip Furmston (Birmingham), Lewis Johnstone Mills (Alexandra Park, London) | 6½ |
| 10-15 | Edmund George Ansell (Harrow), Harry Gethin Thorp Matchett (Birmingham), James R Nicolson (Longsight), Leonard William Oliver (South Shields), Douglas Saunderson (Chesterfield), Jack A Speigel (Southend-on-Sea) | 6 |
| 16-20 | Peter C Doye (Haringay), Robert H Northage (Quorn), James Thomas Pascoe (Ilford), Roger J Stockwell (South Croydon), Keith B Watson (Whitley Bay) | 5½ |
| 21-25 | Philip James Meade (Croydon), Dr. Leonard B Pawson (Cleethorpes), Miss (Patricia) Anne Sunnucks, John Hubert Watts (Coventry), Stephen Wilkinson (Loughton) | 5 |
| 26-27 | Richard F Bradley (South Cerney), Peter D Briley (Bristol) | 4½ |
| 28-30 | Rev. Henry Middleton Blackett (Hastings), Bertram Goulding Brown (Cambridge), Daniel Castello (London) | 4 |
| 31-32 | Herbert Francis Gook (Croydon), Peter Eric Whitehead (Plymouth) | 3½ |
| 33 | George William Henlen (Ashtead) | 3 |
| 34 | Albert Stanley La Lond (Cosford) | 2 |
Note - the British Under-21 Championship was not held between 1956 and 1960 (inclusive) - JS
1958 British Boys' Under-18 Championship (Swiss, 11 rounds, mornings of 18-29 August - no play on Sunday 24th - two rounds on 18 August). (1) David J Mabbs (Harrow) 9½/12; (2-3) Michael E Binks (Hull), David Sherman (London) 9; (4) John Anthony Sutton (Stafford) 8½; (5) Adrian S Hollis (London) 8; (6-7) Colin Malcolm Bloodworth (Pontypridd), David Graham Wells (Bristol) 7½; (8-14) Patrick J Bennett (Newport, Mon), C[olin? Burton (Birmingham), Michael R B Clarke (Epsom), Brian H Hare (Stroud), John A Lawrence (Birmingham), George W Wheeler (Plympton), John F Wheeler (Plympton) 7; (15-18) J Hewitt (Wirral), David G Macdonald (Hoylake), Leonard Samuel Sunderland (Cambridge), Philip E Walker (Weston-super-Mare) 6½; (19-25) Frederick Michael Akeroyd (Whitby), Christopher J Arthur (Stafford), Michael M Broido (Barnet), Patrick H Hansen (Darlington), R[alph?] Hulme (Leamington Spa), Roger William Morgan (Bolton), Arthur S Rooker-Roberts (London) 6; (26-28) Andrew Robert Grant Horton (Winchester), Robert H Mellor (Stockport), D A Smith (Leeds) 5½; (29-36) James Alwyne Benson (Dewsbury), John V Dawkins (Coalville), Richard H Donaghay (Cambridge), Peter J Hamblett (West Bromwich), Ronald F A Harman (London), William McCartney (Liverpool), Roger S Scowen (Leicester), Vivian H Woodward (Leicester) 5; (37-38) Michael A Hammett (Nottingham), George P Webb (Leicester) 4½; (39) William P B Jones (Hyde) 3; (40) J R Davies (Leamington Spa) 1½; (41) D Blower (Coventry) 1.
1958 British Boys' Under-15 Championship (all-play-all: 15 rounds, mornings of 18-29 August - no play on Sunday 24th - additional afternoon rounds on 19, 20, 22, 27 August)—(1-2) Martin Julian Neave (London), Michael A Stevenson (Wolverhampton) 11½/14; (3) Nicholas J C Argyris1 (London) 11; (4) Richard A Beach (Liverpool) 10; (5) Stephen P Broido (Barnet) 9½; (6) Richard G Jones (Aberdare) 8; (7-8) Martin S Bodinetz (London), John Henlen (Ashtead) 7; (9) Roland E Graf (Leicester) 6½; (10) B Cox (Luton) 6; (11) J J Fahy (Luton) 5½; (12) L M C Bell (Leamington Spa) 5; (13) C Parsons (Yatton) 4½; (14) R Hazlewood (Coventry) 2; (15) Laurence A Strike (Plymouth) 0.
1 full name Nicholas J C Hadjiargyris, born 1st qtr of 1943, Hammersmith, London.
---
1958 British Girls' Championship (Monday 25 August - Friday 29 August, two rounds on Monday and Wednesday)
1958 British Girls Championship

Residence
Draw No.

1

2

3

4

5

6

7

Total

1

Sheila A Corbyn (later Robinson)
Birmingham
6
½
1
1
1
1
1
5½

2

Josephine E Critchley (later Turner)
Bristol
5
½
½
1
1
1
1
5

3

Rosalie Norbury (later Hughes)
Kirkby
3
0
½
1
1
1
1
4½

4

Elizabeth A Slade (later Duke)
Birmingham
4
0
0
0
1
1
1
3

5

Myra Ann Wherry
Plymouth
2
0
0
0
0
1
1
2

6

Carol Sadler
Birmingham
7
0
0
0
0
0
1
1

7

Jacqueline C Orton (later Page)
Birmingham
1
0
0
0
0
0
0
0
1958 British Girls Championship Pairing Table
| | | | | |
| --- | --- | --- | --- | --- |
| Round 1 | 6-4 | 7-3 | 1-2 | 5 bye |
| Round 2 | 3-1 | 4-7 | 5-6 | 2 bye |
| Round 3 | 7-5 | 1-4 | 2-3 | 6 bye |
| Round 4 | 4-2 | 5-1 | 6-7 | 3 bye |
| Round 5 | 1-6 | 2-5 | 3-4 | 7 bye |
| Round 6 | 5-3 | 6-2 | 7-1 | 4 bye |
| Round 7 | 2-7 | 3-6 | 4-5 | 1 bye |
BCF First Class (Swiss, 11 rounds, mornings of 18-29 August, no play on Sunday 24th)—(1-2) Alan Edgar Nield (St Leonards), K Wilkinson (Leamington Spa) 8/11; (3) Patrick Humphrey Sullivan (Dartford - born 1879, died 1971 - played in the first BCF Congress in 1904! His last BCF Congress was 1959.) 7½; (4-5) A Archer (Stoke-on-Trent), Roy D Hollands (Normanton) 7; (6-7) Peter G Moore (Cheadle), Robin Humphries Rushton (Luton) 6½; (8-10) Kenneth George Percy Gunnell (Richmond), Arthur H Kirkman (Liverpool), D W Stobie (Norwich) 6; (11-14) Harold Edward Druce (Richmond), P Griffiths (Warrington), J W Thornley (Manchester), Arthur T Watson (Worthing) 5½; (15-16) William A Greenhow (Cheltenham), John Taynton Evans (Newport, Monm) 5; (17-18) Michael W Alcock (Birmingham), D P Winder (Wirral) 4½; (19-20) R E Hopkins (Ashtead), Harry Starbuck Littlechild (Wisbech) 4; (21) John Daniel Sayle (Epsom) 2; (22) W H Thomas (Newport) 1½.
BCF Second Class (all-play-all, 11 rounds, mornings of 18-29 August, no play on Sunday 24th)—(1) Gregory Owen John Melitus (London) 8/10; (2-3) J H Brown (Farnborough), David Rowcliffe R Ellis (Chester) 6½; (4-5) Jack Salt (Chesterfield), F[rederick?] C[larence?] Shorter (London) 6; (6-7) William George Oliver (Cheltenham), Miss N F Harris (Surbiton) 5½; (8) A E Terrett (Norwich) 4; (9-10) Mrs Jean M Gunnell (Richmond), Thomas W Crabb (Sheffield) 3; (11) H Ford (Derby) 1.
BCF Junior Open. (25-29 August, double-cycle all-play-all, mornings): (1) David W Anderton (Wolverhampton) 5/6; (2) David Roy Hopkin (Gloucester) 4; (3) David G Allen (Coventry) 3; (4) P A Morley 0.
---
[Illustrated London News - Saturday 13 September 1958 - by B H Wood] "OF the five titles at stake in the British Chess Federation's congress at Leamington, only two were decided outright.
"Leonard Barden and Jonathan Penrose tied for the British Championship and will play a match, to resolve the tie, in November. Barden must already be regretting his two drawn games in the last two rounds against opponents (D. E. Lloyd and B. Cafferty respectively) from comparatively far down the list. With two rounds to go, Barden was a whole point ahead of the field. To certain natures, this can be a more nerve-racking situation than to be neck-and-neck. Anyway, all he could manage was two somewhat jittery draws, whilst it was by beating that same D. E. Lloyd in the last round, after overcoming J. A. Fuller (recently mentioned in these notes) the round before, that Penrose was able to draw level.
"Mrs. 'Dody' Bourdillon and Miss Anne Sunnucks tied for the British Ladies' Championship. Both are from London, as are Barden and Penrose, so the metropolis made a clean sweep in the senior events.
"The British Boys' Championship 'under eighteen' went to D. J. Mabbs, of Harrow. Last year's winner, D. E. Rumens, could have competed again, but entered for the preliminary stages of the British Championship itself, successfully qualified from quite a strong group and opted to go in for the senior competition instead. He beat Dr. Fazekas, the reigning British Champion, in the first round—a result which naturally made newspaper headlines, 'Boy beats British Champion,' etc. He tired later and finished nearly bottom. He must have regretted his decision to 'commute' daily by train between Harrow and Leamington. Some 2000 miles' travel with eleven British Championship games interspersed makes rather a strenuous fortnight's programme.
"Dr. Fazekas's decision to compete, after the events reported in these 'Notes' a few weeks ago, struck me as a most sporting gesture. Chatting with him on the phone a few days before the start of play, I asked him quizzically 'Is it your aim to win the championship again, so as to shatter the Selection Committee, who have dropped you from the British team, completely?' 'Whoever won the British Championship twice?' he asked in reply (and certainly very few ever have; the tournament system is all against the title-holder; it makes him a marked man); 'I certainly shall not!' He entered again just for the fun of it and because he enjoys playing chess, which I think showed a wonderful spirit.

"For the 'under-fifteen' Boys' Championship, there was another tie, between M. J. Neave (London) and M. A. Stevenson (Wolverhampton). This is far from being a minor event; the standard of play and the intensity of the competition compare not at all badly with those of the two feminine championships. (Am I sticking out my neck!)
"Finally, the Midlands came in again for the British Girls' Championship, retained with ease by Birmingham's Sheila Corbyn.

"A most pleasant and well-run congress from every viewpoint.

"Immediately after Leamington came Whitby where J. H. Donner (Holland), F. J. Perez (Spain), H. Camilleri (Malta), P. Guillaume (France), V. Lushkott (New Zealand), also Bob Wade, who must almost have forgotten his Maori by now, face thirty-two home-grown rivals in the sixth 'Open' Championship. Paignton's annual event clashed, unfortunately, with the second week at Whitby. Next year's dates are better, but the geographical distribution of events not so happy; there are no clashes, a straight run of five weeks' congress chess, but Whitby follows a B.C.F. Congress at York."
---
[Birmingham Daily Post - Tuesday 19 August 1958] "HIS FIRST GAME IN AN ADULT CONTEST - by a Staff Reporter - Eighteen-year-old David Rumens, the British boys' chess champion, beat Dr. S. Fazekas, the 80-year-old British champion, in the first match of the contest for the 1958 British title at Leamington Town Hall yesterday. Chance threw the champions together, contestants' names being picked out of a hat by the Mayor of Leamington. Coun. Frank Gundry.
"It was David's first major adult contest, and he had been one of about 12 out of nearly 200 starters who had competed in eliminating contests for the honour of taking part in the final of this year's big tournament, which is part of the 45th annual Chess Congress. During his match with Dr. Fazekas, stretching his legs while awaiting his turn to make a move, David said he felt far from nervous at meeting an adult champion in a big match. "What is there to be nervous about?" he asked. "If you lose you lose, and it is good practice, anyway." David, a clerk at King's Cross station. London, is travelling to Leamington daily for the congress. 'A RISING STAR' - Dr. Fazekas. a naturalised Czechoslovakian, chess champion of Slovakia in 1928. seven times holder of the Essex championship and a chess plaver with more than 40 years' experience, said of his young conqueror from Harrow Weald: "He is one of the hopes of British chess; a rising star." David is not the youngest competitor in this battle of the giants, however. That distinction goes to G. Dickson, aged 17, from Edinburgh, who was drawn to play against B. H. Wood, of Sutton Coldfield, Chess Correspondent for The Birmingham Post & Gazette.
"The British Championship was staged in the centre of the hall roped off like a large boxing ring. Schoolboys played their contests along the sides of the hall. Soon the neat picture of tidy rows of chess-boards and pieces, with double-faced clocks ticking away the playing time, had given way to a sort of organised untidiness, with cups of tea and coffee and sandwich wrappings and fruit peel surrounding many boards. Spectators, at first quiet and tip-toeing from board to board, became forgetful as the games became more exciting, and the tick of the clocks was drowned in the squeak of floorboards and the shuffling of feet.
"Check - [side panel] When the congress opened competitors were warned not to use the room set aside for analysing games.
The room is the Magistrates' Court, which was sitting yesterday. There was laughter when Mr. Peter Shaw, chief controller of the congress, made the announcement and added: "We do not want to lose anyone for the rest of the fortnight."
---
[Birmingham Daily Post - Monday 01 September 1958] "'Insult' to British Chess Champion - A protest at the exclusion of Dr. Stephen [sic] Fazekas from the team to represent Britain at the Chess Olympiad at Munich in October was made at the annual members' meeting of the British Chess Federation at Leamington on Saturday.

"Dr. Fazekas won the British championship last year but lost the title in the championship contest at the Federation's annual congress which ended on Friday.

"In July, after his exclusion from the British team, Dr. Fazekas returned the championship trophy to the Federation stating that it had 'ceased to be a source of pride and inspiration' and had become 'a symbol of humiliation.'

"'Strongly Resented' - Mr. A. Terrett, of Norwich, said at the meeting that he was convinced he was speaking for a huge number of chess players in England who strongly resented the insult to Dr. Fazekas in excluding him from the team.

"Mr. Peter Shaw, of Harrow, said that while he sympathised with Dr. Fazekas personally, his record in a number of tournaments after he won the championship did not justify his selection, but he felt that the case required some sympathetic consideration.
The meeting passed by a large majority a resolution advising the Council of the Federation that future British champions should be granted automatic right of inclusion in British teams.

"Dr. Fazekas, who was not present at the meeting, is an international chess master. He is Essex champion—a title he has won seven times—and a former Southern Counties champion."
---
[Illustrated London News - Saturday 18 October 1958 - by BH Wood] "Having played through some 150 games from the last British Championship and found 120 very boring, I consider the odds against any particular game taken at random... being unusually interesting, must be high..."
---
[Sunday Times, 30 November 1958] "THIRD GAME OF CHESS TOURNEY - Today's Encounter - By BRUCE HAYDEN - In the tie match of six games for the British Chess Championship which is being played in London today, Jonathan Penrose is leading Leonard W. Barden by one point at the end of the second game. Penrose, with the white pieces, won the first game, in which Barden adopted the King's Indian defence and surmounted the opening difficulties to achieve equality. He then prematurely exchanged Queens, and this allowed Penrose to force the win of a pawn and with it the game in 45 moves.
"It was good to see the lively old Boden-Kieseritzky Gambit revived by Barden in the second game, but sad to see it end in a tame draw as early as the 13th move, with each player remaining with Queen, Rook, Bishop and a number of pawns, even though the exchange of Queens was virtually forced on the next move. The opening transposed from a Petroff defence. Penrose immediately returned the gambit pawn, which led into a well-known and lively variation of the Two Knights' defence.
"The third game of the match is being played today [30 November 1958?]. The match is a sequel to the British Championship Tournament at Leamington in August, when both players tied with 8½ points, going through the 11 rounds without loss and drawing their Round 7 game together in 20 moves."
---
[The Guardian, 6 December 1958] "PENROSE IS BRITISH CHESS CHAMPION - Mistake by Barden - By our Chess Correspondent -
Jonathan Penrose, aged 25, a research student in psychology at London University, is the new British chess champion. He won the fifth game of his play-off match against Barden in 31 moves yesterday and thus gained a winning margin of 3½ to 1½ in the match.
"Barden played the Sicilian Defence but a mistake in the early middle game allowed Penrose to obtain a strong king's .side attack. He won a pawn and although Barden tried to counterattack this was soon repulsed and Penrose decided the game by a clever rook sacrifice."
---
[Sunday Times, 7 December 1958] "British chess champlon.—Jonathan Penrose, aged 25, a student of psychology at London University, is the new British chess champion, having beaten Leonard W. Barden in his tie match in London."
---
[The Times, 8 December 1958] "NEW BRITISH CHESS CHAMPION - J. PENROSE'S WIN OVER L. W. BARDEN - FROM OUR CHESS CORRESPONDENT - The play-off for the British chess championship has been won by J. Penrose, who beat L. W. Barden in a match by 3½ to 1½. These two players had tied for first place in the championship tournament at Leamington in August, but the match of six games was postponed until after the Munich international team tournament in October. Penrose won two games, drew three, and lost none, the last game of the match being left unplayed since it could not affect the result
"The new champion is a 25-year-old graduate in psychology at London University, where he is taking a post-graduate course. He has long been one of the leading British players. Now- he has clearly established himself as the best, and though this is the first occasion on which he has gained the title, his results in the international team tournament at Munich alone are sufficient to show he will win the championship many more times.
"His play is distinguished by deep strategy and a capacity for playing the right combination at the right time; that is perhaps a rarer gift than is usually imagined.
"Another British chess championship tie is still pending. The joint winners of the British women's championship, Mrs. Bourdillon and Miss Sunnucks, have drawn a match 2—2 and will play the decisive game for the title soon after Christmas."
---
[The Guardian, 18 Dec 1958] "The British Championship. Penrose's convincing win by 3½ to 1½ in the play-off match for the British championship is additional confirmation that he is now clearly the country's outstanding player. Psychologically, his conduct of the match was excellent, for he continually produced surprises in the openings, and Barden never had the opportunity to play one of his prepared variations.
"In the last year Penrose has become both more confident and more resourceful when under pressure. In the following game, the decisive one of the match [game 5], he combines a well-thought attack with an accurate refutation of Black's counterplay."
---
Biographical Notes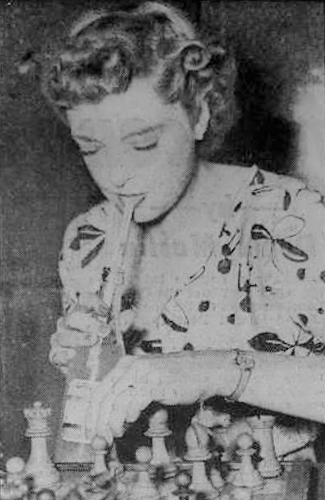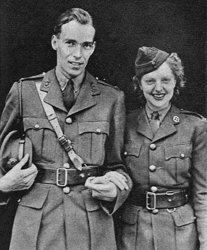 Dorothea 'Dody' Bourdillon (pictured at the 1953 British Championships in Hastings, left, and at her 1941 wedding, right) who won the first two games of the British Ladies' Chess Championship play-off match with Anne Sunnucks but lost the next three (source: BCM, July 1968, p192): Dorothea Denise Alma Hunter Rodwell, born 7 January 1918 (Kenilworth, Cape of Good Hope, South Africa), died 20 May 1968 (London SW10). Dau. of Sir Cecil Hunter-Rodwell (1874-1953) & Lady Ethel Clarissa (née Randall, stage name Chrissie Ralland) (1883-1960). Actress, stage name Dorothea Rodwell—Graduated from RADA in 1937. Entry on IMDb. Married (1) 12 July 1941, Peter Nicholas Phizackerley (1916-70), at Holbrook, Ipswich, Suffolk; married (2) 1947, John Francis Bourdillon (1914-92), at Chelsea, London, divorced 1952 (sources: BMD; Ancestry.co.uk; FindMyPast.co.uk; Chess Notes 5891). Obit in BCM, July 1968, p192: "British ladies' chess has sustained a loss in the recent death of Dodie [sic] Bourdillon at a comparatively early age. A colourful personality of many talents, she was an actress before her first marriage, and later became the leading speed-writing typist to the Courts of Appeal. She missed winning the British Ladies' Chess Championship in 1958 by the smallest of margins. Having tied for first place with Miss Sunnucks, and having led by 2-0 in the play-off match, she then lost the three last games when ½ point would have given her the title.—E.T." [the obituarist was Eileen Tranmer - exactly the same obit, but for minor cosmetic differences, appeared in CHESS, 18 July 1968, p333]. (Another photo of Dody Bourdillon may be found on the 1953 Paignton Congress page.)
Richard Frank Holmes (born 1928, Romford, Essex, died 24 August 2007) - obituary found here amongst Darwin College, Cambridge web pages — some extracts: "Richard Holmes, who died on 24 August 2007, was a Fellow of Darwin College for almost the whole of its existence. 'Dick', as he was known to his close friends, and 'Holmes' as he was universally known in Cambridge, spent almost all his adult life in Cambridge. He suffered from tuberculosis as a young man, and had to spend long periods in sanatoria. During these periods of recuperation, he came to love languages and literature. He came up as an undergraduate to Corpus [Christi College, Cambridge] from Bancroft's School in Essex, and graduated with First Class Honours in Modern and Medieval Languages in 1953. Thereafter, the whole of his career was spent in the central administration of the University, from which he retired as Deputy Registrar in 1993... Dick had an acute mind, and he was an avid reader. He had a particular liking for chess, where he was many times Cambridgeshire champion; and for bridge which he continued to enjoy playing to the end of his life." Was president of Cambridge City Chess Club until 1981 (see here) and was president of Cambridgeshire Chess Association, circa 1962, and delegate to the SCCU at that time. He did not represent Cambridge University in any of the Varsity chess matches. Often confused with an equally strong player of exactly the same name, Richard Frank Holmes (born 1962) who represented Cambridge University in the 1981 Varsity Chess Match. Also sometimes confused with another strong player, Roger de Lacy Holmes (born 1948) who represented Oxford University in the 1967, 1968 and 1969 Varsity Chess Matches.
Francis (Frank) William Viney (1897-1979) - an active player as early as 1926, playing for Finchley CC and the GPO in the Civil Service League in the 1950s (and possibly earlier).
---
File Updated
| Date | Notes |
| --- | --- |
| 14 April 2018 | Uploaded for the first time |
| 15 April 2018 | Added six new games, all from round 1 of the Championship, kindly forwarded by Andy Ansel: Sergeant-Clarke (Rd 1.1), Wade-Mardle (Rd 1.2), Samuels-Stobo (Rd 1.3), Barden-Slade (Rd 1.8), Ellison-Horseman (Rd 1.11), Pritchard-Penrose (Rd 1.12). Plus some minor spelling corrections. |
| 16 April 2018 | Added one game from the Major Open: Cook-Matchett (Rd 8), contributed by Brian Denman, for which many thanks. |
| 17 April 2018 | Full names found for (H)A Samuels and FW Viney - thanks to Leonard Barden and Gerard Killoran respectively. |
| 26 April 2022 | No extra games: I have included more detail in the crosstables (forenames and places of residence), mostly taken from the tournament programme (I own Bertram Goulding Brown's copy of the programme). |
| 25 October 2022 | Added two games: (1) D.Ellison 0-1 R.Slade (Championship, rd 10); (2) B.Hare 1-0 D.Sherman (U18), contributed by Gerard Killoran via the English Chess Forum. Many thanks, Gerard. |
| 16 February 2023 | Added the game P.Gibbs 1-0 R.Holmes (Ch'ship, rd 10). Many thanks to Ingrid Ives who posted the undated press cutting on which it appears on the English Chess Forum, 16 February 2023. |
| 9 April 2023 | A major update: previously only 30 games (and 7 part-games) of the Championship were available, but we now have all available games from the Championship bar one which is missing (Dean 0-1 Fazekas, rd 11). One game was a default (Viney 1-0 Rumens, rd 9) so there were 153 games played in total. Three are part-games due to defective scores (Dean 0-1 Wise, rd 4; Ellison 0-1 Gibbs, rd 5, though this game is missing only the last three moves; Beach ½-½ Sergeant, rd 7); plus two suspect scores (Green 1-0 Clarke, rd 4; Slade ½-½ Beach, rd 6). Also note that a couple of the games already posted have had emendations to the scores. Many thanks to Andy Ansel who input the extra games from the tournament booklet edited by Eric Fisher. The games from lower sections and the play-off match are unchanged. |
| 14 April 2023 | I've now made the 1958 BCF Congress Tournament Programme available as a 26-page PDF file. The copy from the scan was made was formerly owned by Bertram Goulding Brown and includes his manuscript records of scores and results. |
| 15 May 2023 | Amendments applied to the scores of the following games: (1) E.Sergeant ½-½ R.Holmes (rd 6 - see game score for changes); (2) G.Dickson 0-1 R.Slade (rd 7 - game moves unchanged but note added that the game went to 96 moves); (3) J.Fuller 0-1 L.Barden (rd 8 - - game moves unchanged but note added that the game went to 57 moves). My thanks to Andy Ansel for proof-reading. |