BRITBASE - British Chess Game Archive
Tournament: 2nd British Championship (won by Atkins)
(40 games of a possible 66, plus 28 games from subsidiary events)


Venue: Southport • Dates: 14-26 August 1905 • Download PGN

• updated Thursday 3 May, 2018 11:23 PM
1905 British Chess Championship
| | | | | | | | | | | | | | | |
| --- | --- | --- | --- | --- | --- | --- | --- | --- | --- | --- | --- | --- | --- | --- |
| | | 1 | 2 | 3 | 4 | 5 | 6 | 7 | 8 | 9 | 10 | 11 | 12 | Pts |
| 1 | Atkins,Henry Ernest | | 1 | ½ | ½ | ½ | 1 | 1 | 1 | 1 | ½ | 1 | ½ | 8.5 |
| 2 | Sherrard,Charles Hugh | 0 | | 1 | 0 | 1 | 1 | ½ | ½ | ½ | ½ | 1 | 1 | 7.0 |
| 3 | Ward,William | ½ | 0 | | 0 | ½ | 1 | 1 | 0 | 1 | 1 | 1 | 1 | 7.0 |
| 4 | Bellingham,George Edward H | ½ | 1 | 1 | | ½ | ½ | 0 | 0 | 1 | 1 | 0 | 1 | 6.5 |
| 5 | Blackburne,Joseph Henry | ½ | 0 | ½ | ½ | | 0 | ½ | 1 | 1 | 1 | ½ | 1 | 6.5 |
| 6 | Wainwright,George Edward | 0 | 0 | 0 | ½ | 1 | | 1 | 1 | 0 | 1 | ½ | 1 | 6.0 |
| 7 | Wahltuch,Victor Leonard | 0 | ½ | 0 | 1 | ½ | 0 | | ½ | 1 | ½ | ½ | 1 | 5.5 |
| 8 | Palmer,Wilfred Charles | 0 | ½ | 1 | 1 | 0 | 0 | ½ | | 0 | 1 | 1 | ½ | 5.5 |
| 9 | Michell,Reginald Pryce | 0 | ½ | 0 | 0 | 0 | 1 | 0 | 1 | | 1 | 1 | 1 | 5.5 |
| 10 | Gunston,William Hewison | ½ | ½ | 0 | 0 | 0 | 0 | ½ | 0 | 0 | | 1 | ½ | 3.0 |
| 11 | Mackenzie,Arthur John | 0 | 0 | 0 | 1 | ½ | ½ | ½ | 0 | 0 | 0 | | 0 | 2.5 |
| 12 | Shoosmith,Hector William | ½ | 0 | 0 | 0 | 0 | 0 | 0 | ½ | 0 | ½ | 1 | | 2.5 |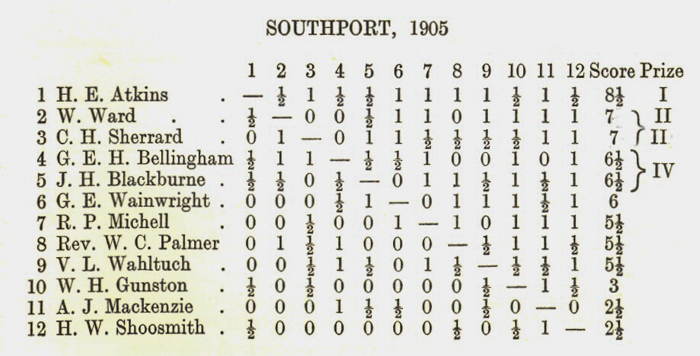 Note - the table above (taken from Sergeant's A Century of Chess) originally showed Ward's total as 7½ but this is wrong: he scored 7/11 and shared second place with Sherrard. I have attempted to photoshop it slightly.
---
1905 British Ladies' Chess Championship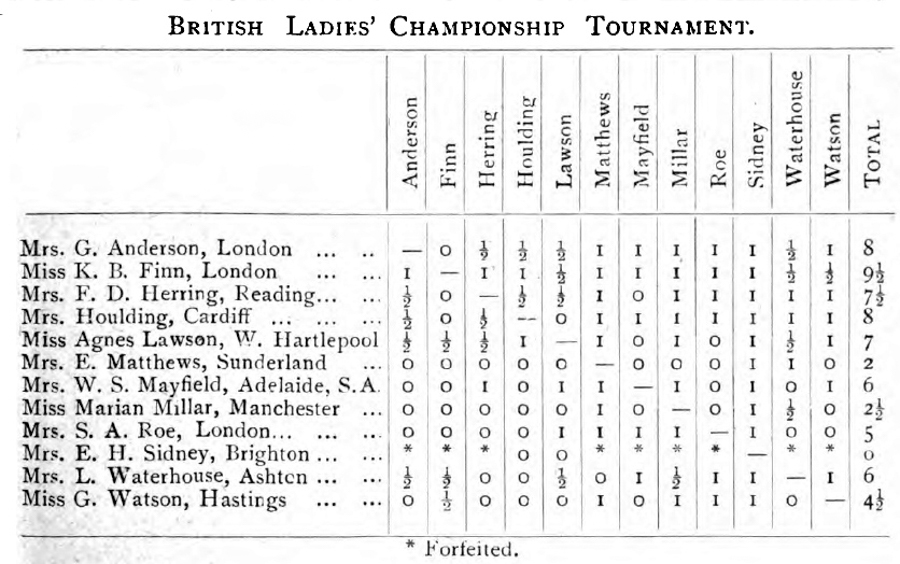 ---
1905 First Class A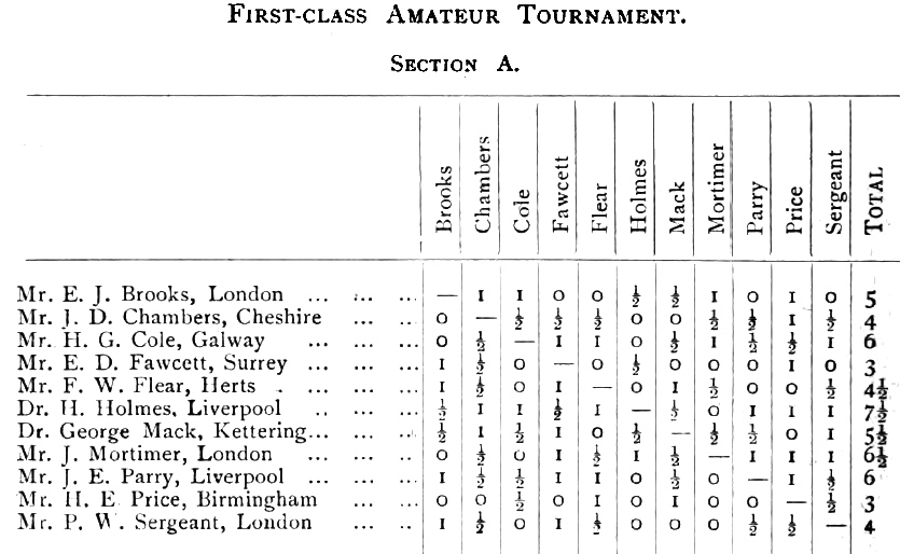 1905 First Class B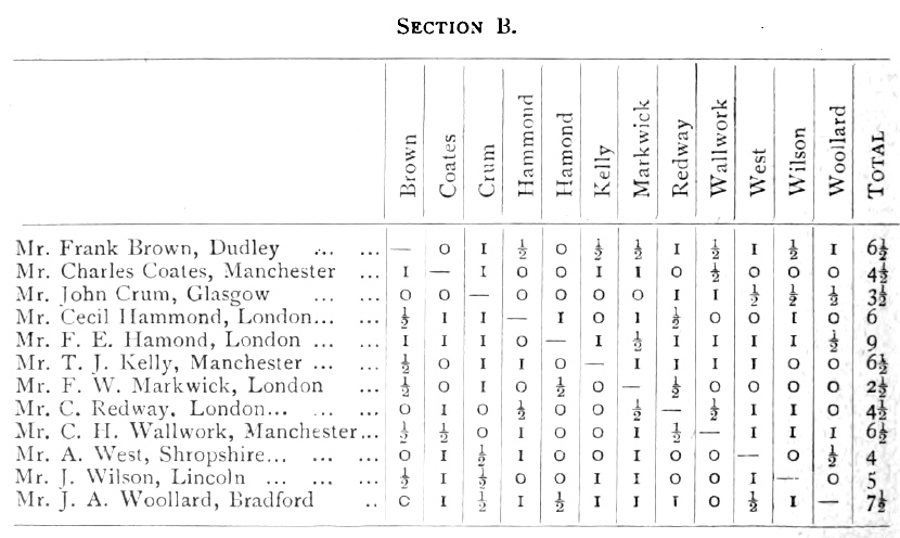 ---
1905 Second Class A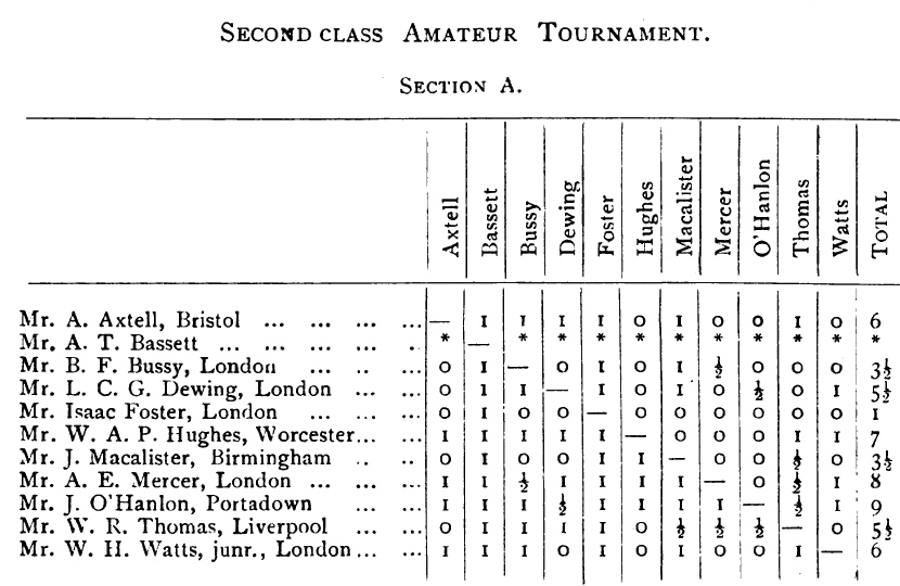 1905 Second Class B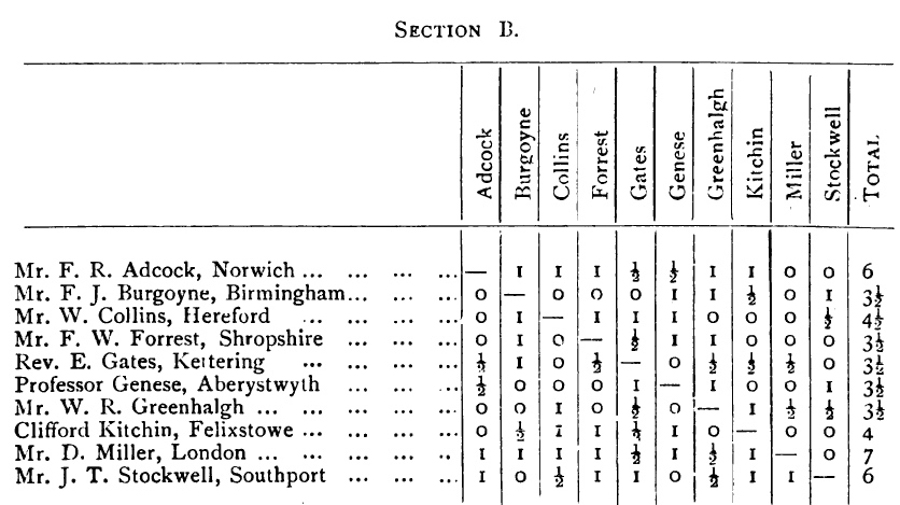 ---
1905 Third Class A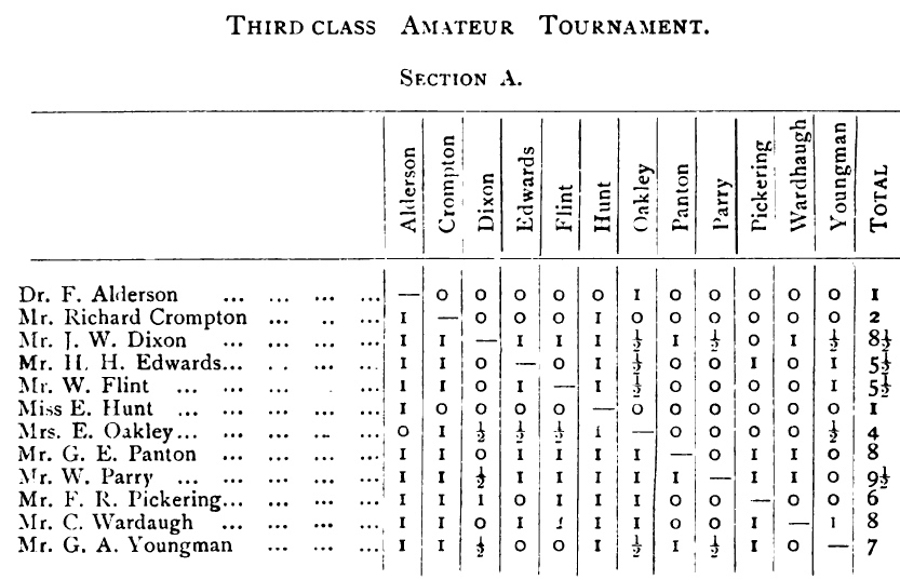 1905 Third Class B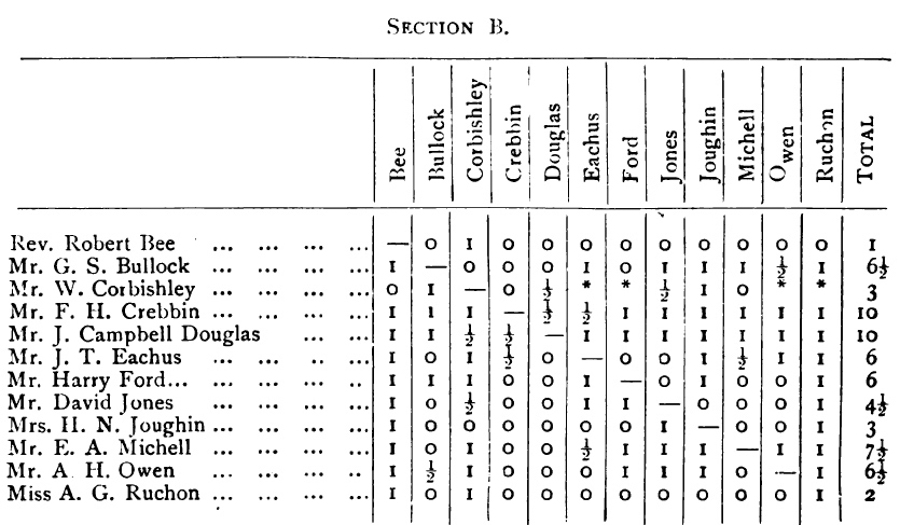 1905 Third Class C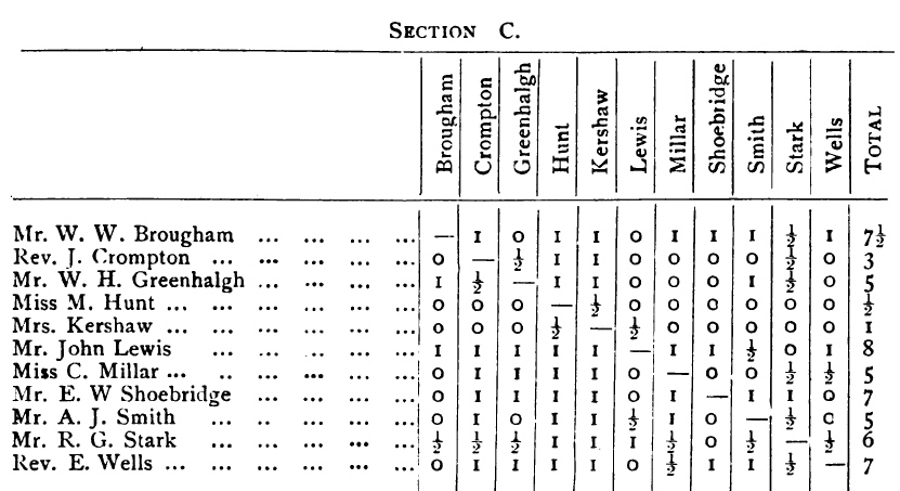 ---
"In the case of the British championship the Anglo-American Master Napier, who won the trophy after a tie with Mr. H. E. Atkins, has not come over to defend the title, but Atkins is again competing. The oldest of the list is Mr. J.H. Blackburne, now in his 63rd year, the most popular of British chess masters, fresh from the Ostend tournament, where, if he did not take a very high place, he had the honour of being awarded a brilliancy prize and of twice defeating Marshall. There are also competing Mr. G. E. Bellingham, of Dudley; Mr. R. P. Michell, of London; the Rev. W. C. Palmer, of Bolton; Mr. A. J. Mackenzie, of Birmingham, who played last year, and the following, who, though players of established reputation, make their first appearance in the championship competition: Mr. W. H. Gunston, Cambridge; Mr. V. L. Wahltuch, Manchester; Mr. G. E. Wainwright; Mr. H. W. Shoosmith, and Mr. W. Ward, of London; and Mr. C. H. Sherrard.
The first-class amateur tourney is being played in two sections. The corrected list of competitors is as follows:—
Section A.—E. J. Brooks, P. W. Sergeant, and J. Mortimer, London; H. E. Price, Birmingham; J. E. Parry, Shrewsbury; J.D. Chambers, Manchester; H. G. Cole, Galway; E. D. Fawcett, Mickleham; F. W. Flear, St. Albans; Dr. H. Holmes, Liverpool; and Dr. George Mack, Kettering.
Section B.—F. W. Markwick, Cecil Hammond, F. E. Hamond, and C. Redway, London; Frank Brown, Dudley; J. Wilson, Lincoln; A. West, Market Drayton; C.H. Wallworth, C. Coates, and.T. J. Kelly, Manchester; J. Crum, Glasgow; and J. A. Woollard, Keighley.
In the British ladies' championship tourney the competitors are as follows:—Miss K. B. Finn (holder of the trophy), Mrs. G. Anderson, and Mrs. A. S. [Annie Sophia] Roe [née Verdon, 1847-1921], London; Mrs. L. [Elizabeth Walmsley] Waterhouse, Ashton-under-Lyne; Mrs. E. H. Sidney, Hove; Miss Marian Millar, Altrincham; Mrs. W. S. Mayfield, Adelaide, South Australia; Mrs. F. D. Herring [misprinted as "Fleming"], Reading; Mrs. Ho[u]lding, Newport; Miss Agnes Lawson, West Hartlepool; Miss E. Matthews, Sunderland; and Miss G. Watson: Hastings." (Manchester Guardian, 15 August 1905)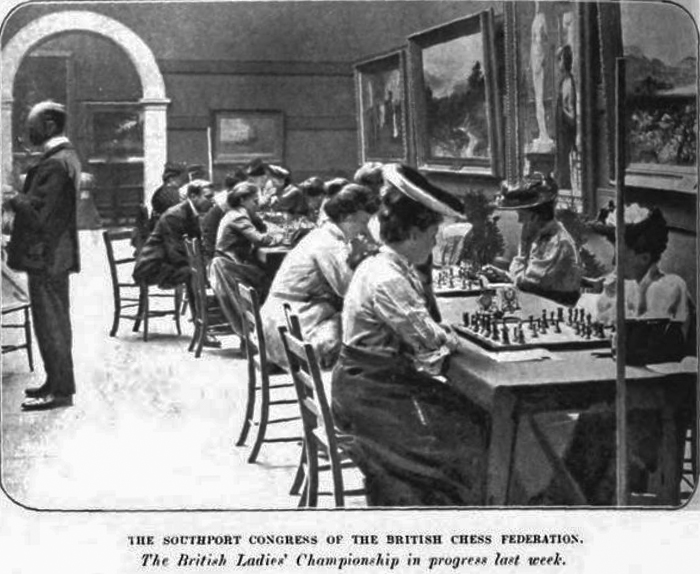 (thanks to Gerard Killoran for sourcing and supplying the above photo)
More photos of the event here at Gerard Killoran's Ilkley CC site: here, here, and here.
"With the sixth round of the various tournaments, which was decided at Southport on Saturday, the second half of the competition has been entered upon. In the play for Championship no competitor has established any such superiority as was shown in last year's contest at Hastings at about the same stage of the competition. The absence of Napier is the cause of this. If the non-participation of one strong player causes such a difference it is a matter for speculation what the state of the score would have been if not only Napier but a stronger English player, Burn, had competed, to say nothing about Teichmann and other strong foreign players, who by all the laws of sportsmanship ought to have been in this competition. It is not only one competition whioh thus suffers. One of the strongest lady players in England is undoubtedly Mrs. Fagan. Her participation in the ladies' championship contest would have added very great interest to the competition. She has been identified with chess in England and in India for many years, but she is excluded from competing because she was born in America. Two miners of Blaina, South Wales, Messrs. David Jones and John Lewis, who have played chess for only two or three years, are doing very well in the third-class tournament, in spite of the fact that they are meeting players of much longer experience. Mr. Lewis is one of the leaders in this section." (Manchester Guardian, 21 August 1905)
"CLOSE OF THE SOUTHPORT CONGRESS.
Yesterday the chess competition arranged by the British Chess Federation in co-operation with the Mayor
and Municipal Authorities of Southport were brought to a successful conclusion with the distribution of numerous prizes by Mrs. Naumann, wife of the president of the Federation.
"At a final meeting in the Art Gallery of the municipal buildings, at which the Mayor and Mayoress were present, it was pointed out that the game of chess is making great progress throughout ihe United Kingdom, and the number of its votaries is rapidly increasing amongst all classes of society. In the tournaments which have just terminated there were over 100 competitors, many of whom journeyed from far-away places in order to take part in one or other of the different sections of twelve players each, organised according to the strength of each contestant. Thus, in the principal event of the congress, the British Chess Championship, three players came from London, one from Manchester, one from Brighton, one from Leicester, one from Dudley, one from Cambridge, one from Birmingham, one from Bolton, one from Surbiton, and one (Mr. Sherrard, second prize winner) from Cairo. In other competitions there were representatives from America, Australia, Scotland, Ireland, and other distant places.
"One of the most remarkable incidents was the participation of two Welsh working miners from a colliery at Blaina, Monmouthshire. One of these, John Lewis, is, as will be seen from the list of prizes appended, winner of the first prize in his section." (The Observer, 27 August 1905) [As the grandson of a "Welsh working miner" from very near Blaina, I couldn't resist appending this passage, which speaks volumes about the class system which obtained in the chess world at the time - JS]
"Southport chess players and lady members: A proposal to admit ladies to membership of the Southport Chess Club has been defeated by the casting vote of the chairman. One of the members feared ladies would suggest chess dances in winter and chess picnics in summer. Another member said that men were a chicken-hearted lot if the presence of ladies drove them from chess" (Yorkshire Evening Post, Friday 22 September 1905)
---
| | |
| --- | --- |
| Date | Notes |
| 21 October 2015 | Added Shoosmith-Ward (Rd 5), contributed by Gerard Killoran (many thanks). |
| 13 October 2015 | Added Bellingham-Wainwright (Rd 11) and Atkins-Ward (Rd 11), contributed by Gerard Killoran (many thanks). |
| 11 February 2016 | Added Atkins-Michell (so we now have all Atkins' games) and Mortimer-Holmes from First-Class A - many thanks to Gerard Killoran. |
| 25 March 2016 | New Championship game added: Wahltuch-Bellingham (Rd 10). Many thanks to Gerard Killoran. |
| 26 April 2016 | The game score with both players unidentified has now been identified as Fawcett-Brooks by Gerard Killoran. Many thanks, Gerard. |
| 3 May 2018 | Added nine more games from subsidiary sections, all contributed by Gerard Killoran: three from First Class B — Coates-Hamond, Wallwork-Hamond, Hamond-Crum (this last one was already on file but without clarity about result or end of game); and six from Second Class B — Adcock-Burgoyne, Collins-Adcock, Greenhalgh-Adcock, Adcock-Kitchin, Adcock-Stockwell, Adcock-Forrest. Many thanks, Gerard. I have taken the opportunity of adding complete crosstables (in draw order) from BCM. |