John Saunders's Chess Pages
Obituary: David Raeburn (1916-2002)
Orginally posted 2002, revised 2021: last Edited: Sunday April 25, 2021 4:08 PM
I am very grateful to Peter Walker for contributing this tribute to the 1934 British Boys' Chess Champion David Raeburn, who died on 28 December 2002, aged 86.
David Raeburn (born 9 June 1916, died 28 December 2002)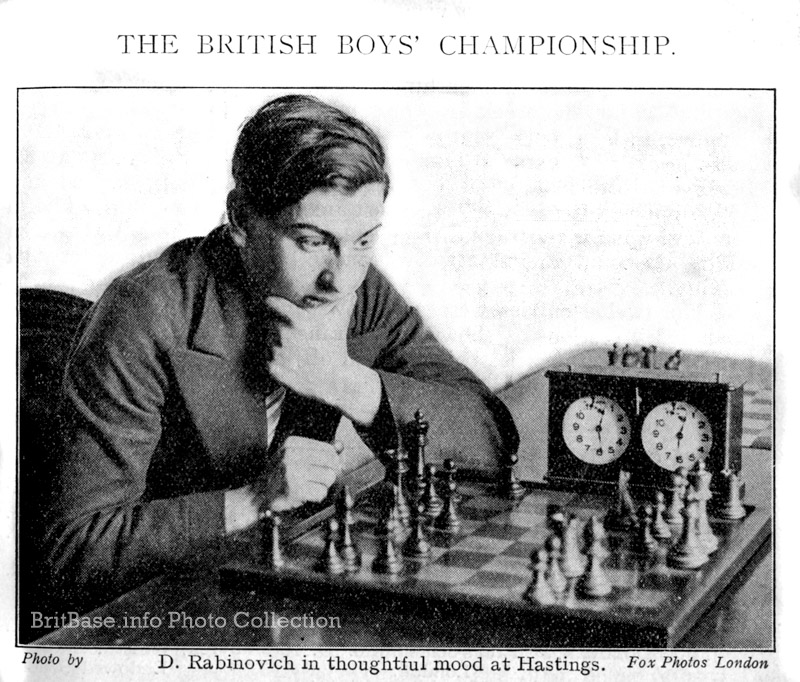 David Rabinovich, BCM, May 1934, p189
David Solomon Rabinovich was born in the Finsbury Park area of North London on 9th June 1916. "I changed my name to Raeburn when I got married. My wife didn't want to be called Mrs. Rabinovich, and I can hardly say I blame her," was David's account.
David's parents originated from different parts of Europe, according to David "to escape some pogrom or other". His Romanian father, when aged 14, jumped on a ship to escape persecution, leaving his entire family behind. His mother, Lottie Applebaum, was sent to London from Austria before the First World War. David took up chess quite early in life. In 1934 (see picture left, from BCM, May 1934, page 189), he became the British Boys' Champion § as a result of beating Frank Parr, who went on to win the title the following year. "Frank was a much better player than I was. How I won the Final I will never really know..." Disarming modesty was one of David's attributes.

§ editor's note: some old issues of the BCF Yearbook refer to Dave incorrectly as 'F. Rabinovich' in the list of junior champions.
Being the age he was, David was called up to the armed services early in World War Two. Some "old soldiers" had relatively easy wars. Not David. Initially stationed in Tobruk, North Africa, he was one of many flown out to defend Singapore. "I didn't see any fighting: as soon as we arrived in Singapore we were taken prisoner." He spent almost four years in a Japanese PoW camp in which the mortality rate was about 90%. "I was one of 300 to go in and one of 25 to come out...". It seems a crass thing to say, but it was almost as though this unimaginably horrendous experience haunted him almost every minute of his life afterwards.
He was a vegetarian, not, I think, out of any conscientious leanings: "When I was in the camp, they didn't give us a lot of meat ... come to think of it, they didn't give us a lot of anything... but I used to dream of food. I promised myself that, if I ever got back to Britain, one of the first things I was going to do was have a big roast chicken dinner. When we finally landed at Liverpool, I found a restaurant and ordered my meal, but when it arrived I couldn't eat any of it. I haven't touched meat since."
After the War he settled in Surrey and joined the Clapham Common Club, becoming acquainted with such players as Michael Franklin. Apart from his chess, he used to walk. In his heyday, a walk to Brighton from the South London borders was not out of the question. Even when he moved to Southend, almost 70 years old, he would quite happily walk 20 miles in a day, striding out in a manner which most men half his age would not have been able to emulate, head down, arm swinging, often with a battered shopping bag on the crook of his left elbow. This was quite a regular sight around South-East Essex but if you offered him a lift, it was a mistake you only made once as he made it perfectly plain that he was quite happy walking, thank you.
David had a great love of music, Beethoven in particular, which he was able to discuss most knowledgeably. It was a great sadness to him that his musical appreciation was ruined in his last few years as he increasingly suffered from tinnitus. Similarly, failing eyesight in the final year of his life prevented him from completing the Sunday Times Crossword each week, something he was previously accustomed to doing.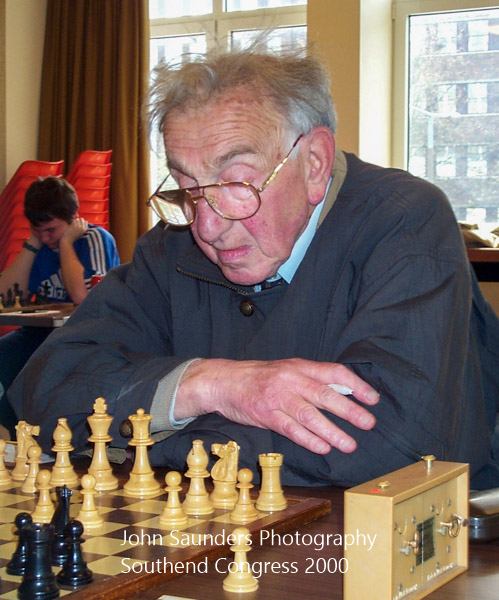 David Raeburn, photographed by John Saunders at the 2000 Southend Easter Congress
He was a formidable opponent but always a courteous one and was left completely baffled by the petty squabbles that seem to embroil some chess players. After one incident at the Southend Congress (pictured, playing there in 2000 - editor) a few years ago in which a strong and experienced player became involved in a vociferous altercation at the board, David remarked "I remember (that player) when he wore short trousers and he had tantrums then. Come to think of it, he hasn't changed much...". My own experience was that you couldn't afford to make a mistake against him and I beat him only once, with several draws and several wins to him. The most painful of these defeats was in the last round of the Southend Club Championship some years ago. Southend's Champions' Cup is a beautiful piece of engraved silver dating back to the 1920s, I coveted it and would have won the title had I won that game. I had the upper hand and just before the adjournment, was a pawn ahead and had a simple plan of exchanging the pieces (which David couldn't avoid) but, of course, I rejected the plan and lost. To my eternal shame, my efforts at hiding my disappointment were feeble and David said quietly "I think I'm going to give up chess... I hate it when I lose and I don't enjoy it when I win." He didn't of course, and in two separate years well past his 75th birthday simultaneously held the Southend Club & League titles, four in all, at longplay and lightning chess. To the end he still attended the Westcliff Club as often as he could, his last visit there being about a fortnight before he died.
David was a very loyal man and he nursed his wife for five years through the Alzheimer's disease to which she eventually succumbed. It took a massive toll upon him and, with his own health not so good as it had been, he left it for as long as he could before she was transferred to a home. He would sit with her for hours when there was no recognition left. It was my guess that he felt that he owed it to her for helping him to remain relatively balanced after his war-time experiences.
David's one other interest was horse-racing. Very early in my acquaintance with him, probably about 1985, Southend were to play against Waltham Forest in a completely meaningless Saturday afternoon fixture in April. I was captain and had offered David a lift. I waited at the appointed place for him to arrive and a couple of minutes later he emerged from the Bookies'. "You b******, Walker!" was the reply to my cheery greeting. I didn't know him well at that stage and was not certain that this was a joke. "What's the matter, Dave?" I enquired, wondering what I had done wrong. "Do you know, this is the first time since 1947 that I have missed the Grand National!"
David leaves two daughters, two grandchildren who, to his delight, addressed him as "Papa" and many, many friends who will miss him enormously. PW
---
John Saunders adds: Dave Raeburn was a former team-mate of mine – we both played in the same London League team for Mitcham Chess Club in the late 1970s and early 1980s. He was a great character and a formidable player. I know he will be missed by all his former Mitcham colleagues, and at South Norwood Chess Club where he also played.
---
David Rabinovich - Frank Parr
British Boy's Championship, Hastings, 14.04.1934
The May 1934 BCM's commentary on this play-off game included the following: "Rabinovich won the toss for move and played P-K4. Parr replied with ...P-Q4 and had of course the inferior game throughout." I'm sure all Centre Counter/Scandinavian Defence players will have enjoyed the "of course" in that sentence! ...
1 e4 d5 2 exd5 Nf6 3 d4 Nxd5 4 c4 Nf6 5 Nc3 e6 6 Nf3 Be7 7 h3 c6 8 Be3 Nbd7 9 Bd3 Qc7 10 Qc2 Nf8 11 Rd1 Bd7 12 Ne5 Bd6 13 f4 a6 14 Qf2 c5 15 0-0 cxd4 16 Bxd4 Ng6 17 Bb6 Qb8 18 Nxd7 Nxd7 19 Bxg6 hxg6 20 Qd4 Nxb6 21 Qxb6 Be7 22 Ne4 Qa7 23 Qxa7 Rxa7 24 Rf3 b6 25 Rb3 Rb7 26 Nd6+ Bxd6 27 Rxd6 Rc7 28 Rdxb6 Rxc4 29 Rb8+ 1-0
© 2003, 2021 John Saunders