BRITBASE - British Chess Game Archive
Tournament: 33rd British Chess Championship • All 66 games
(plus 92 other games from subsidiary sections)


Venue: University Coll., Nottingham • Dates: 12-23 August 1946 • Download PGN

• Last Edited: Friday 30 October, 2020 1:21 AM
1946 British Chess Championship, Nottingham, 12-32 August
1946 British Chess Championship
Resid.
1
2
3
4
5
6
7
8
9
10
11
12
Total
1
Combe,Robert Forbes
Elgin
1
½
1
½
1
0
1
1
0
1
1
8
2
Wood,Gabriel Jacquin
Southall
0
0
1
1
½
1
1
1
1
0
1
7½
3
Winter,William
London
½
1
0
0
1
0
½
½
1
1
1
6½
4
Abrahams,Gerald
Liverpool
0
0
1
½
0
1
1
1
0
1
1
6½
5
Golombek,Harry
London
½
0
1
½
½
½
0
½
½
1
1
6
6
Alexander,Conel Hugh O'Donel
London
0
½
0
1
½
0
1
1
1
1
0
6
7
Broadbent,Reginald Joseph
Cheadle
1
0
1
0
½
1
1
0
0
0
1
5½
8
Milner-Barry,Philip Stuart
London
0
0
½
0
1
0
0
1
1
1
1
5½
9
Wood,Baruch Harold
Sutton Coldfield
0
0
½
0
½
0
1
0
1
½
½
4
10
Parr,Frank
Sutton
1
0
0
1
½
0
1
0
0
0
0
3½
11
Thomas,Andrew Rowland Benedick
Tiverton
0
1
0
0
0
0
1
0
½
1
0
3½
12
Wade,Robert Graham
New Zealand
0
0
0
0
0
1
0
0
½
1
1
3½
1946 British Ladies Chess Championship
1946 British Ladies Championship
Resid.
1
2
3
4
5
6
7
8
9
10
11
12
Total
1
Elaine Saunders
Gt. Kimble
½
½
1
½
1
1
1
1
1
1
½
9
2
Rowena M Bruce
Plymouth
½
0
1
1
1
½
1
1
1
1
1
9
3
Eileen Betsy Tranmer
London
½
1
½
0
½
1
1
1
1
1
1
8½
4
Mary Henniker-Heaton
London
0
0
½
½
1
1
1
1
½
1
1
7½
5
Cicely Mary Murphy
Whitchurch
½
0
1
½
½
1
0
1
1
1
1
7½
6
Esme Hewetson Budge
Kilmacolm
0
0
½
0
½
0
½
1
1
1
1
5½
7
Edith Charlotte Price
London
0
½
0
0
0
1
1
0
1
1
1
5½
8
Agnes Margaret Crum
Edinburgh
0
0
0
0
1
½
0
0
½
1
1
4
9
Miss K Austin
London
0
0
0
0
0
0
1
1
½
0
1
3½
10
May Dew
Plymouth
0
0
0
½
0
0
0
½
½
0
1
2½
11
Helen Muriel Cobbold
Cambridge
0
0
0
0
0
0
0
0
1
1
0
2
12
Miss M(ary?) C(onstance?) Forbes ‡
Edinburgh
½
0
0
0
0
0
0
0
0
0
1
1½
In the play-off for the women's title, held in Covent Garden, London, from 30 September to 2 October 1946, Elaine Saunders defeated Rowena Bruce 2½-½. ‡ The identification of Miss M C Forbes as Mary Constance Forbes is very tentative - see here for the reasoning.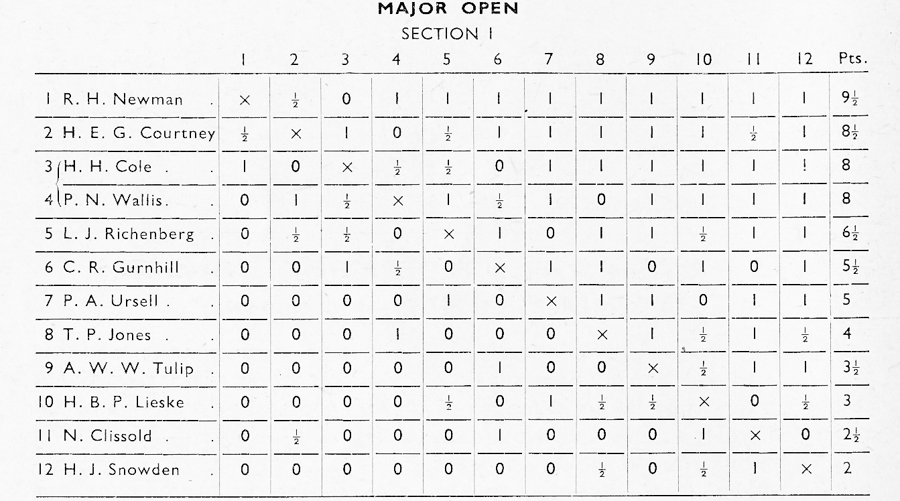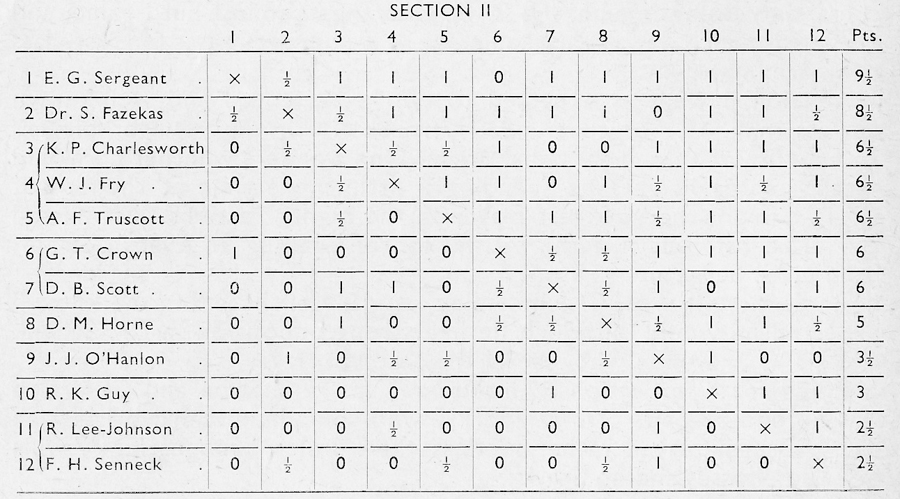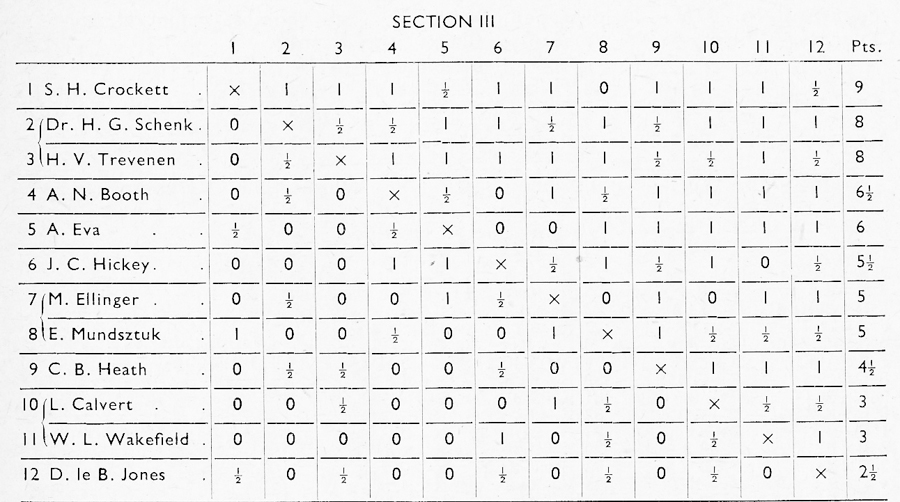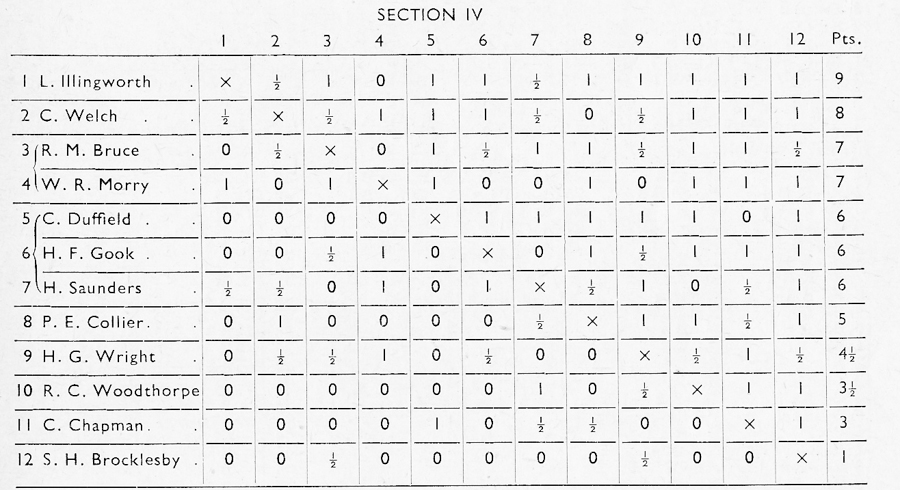 (Draw order for Section 4 was 1 Brocklesby, 2 Woodthorpe, 3 Collier, 4 Welch, 5 Morry, 6 Bruce, 7 Duffield, 8 Gook, 9 Wright, 10 Illingworth, 11 Saunders, 12 Chapman - apply pairing rules to find rounds and dates of games)
FIRST CLASS Section 1: 1 B. Pawliszyn (Nottingham) 9½ ; 2 H. W. Scarlett (Cambridge) 8½; 3 F. E. Beadles (Thorneywood) 7½. Section 2: 1 J. Harwood (Doncaster) 9; 2 J. H. B. Bennett (Darlington) 7½; 3 R. Teene (London) 7. Section 3: 1 Frank Leonard Osborn ‡ (London) 8½; 2 Miss Fenny Heemskerk (Holland) 7; 3, W. W. Henderson (London) 6½ .( ‡ Frank Leonard Osborn was the son of John Alan Milton Osborn, from British Guiana, who played in one of the sections of the 1935 British Championship congress.)
SECOND CLASS Section 1: 1-2 F. J. Andrews (Redhil), T. J. Hart (Plymstock) 8½; 3 Rev. H. C. de Barathy (Bromley) 8. Section 2. 1 R. A. Wagstaff (London) 8½; 2 K. F. Wroe 8; 3 W. N. Emeny 7½.
THIRD CLASS Section 1: 1 D. A. Thomas (Bristol) 9 ; 2 R. L. Nunn (Tring) 8½ ; 3 Rev. C. Ball (Sherwood) 8. Section 2: 1 D. Ll. Jones (Barry) 8½ ; 2-3 D. G. Horseman (Coventry), A. F. Thomas (Worcester) 8.
JUNIOR 1 J. A. Wall (London) 9 ; 2 P. Worthington (Birkenhead) 8½ ; 3 B. Doy (Mansfield), H. W. Rayson (Nottingham) and I. P. Russell (Hull) 8.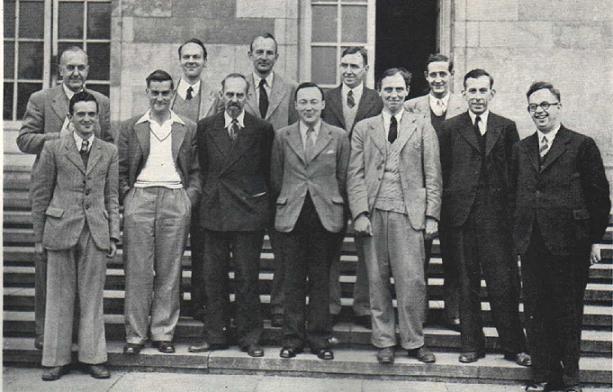 Back row, left to right: Gabriel Wood, Reginald Broadbent, Philip Milner-Barry, Andrew RB Thomas, Baruch H Wood.
Front row, left to right: Bob Wade, Frank Parr, William Winter, Robert Combe, Hugh Alexander, Harry Golombek, Gerald Abrahams.
---
Robert Forbes Combe (16 August 1912, Logie Buchan, Aberdeenshire — 12 February 1952, Aberdeen)
Note - according to a report in the Hastings and St Leonard's Observer of 31 August 1946, the Championship winner's surname was pronounced 'coam'.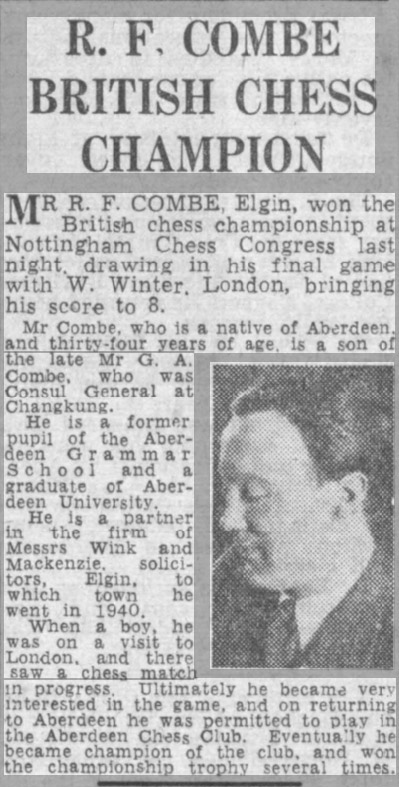 From the Aberdeen Journal, 24 Aug 1946
---
Gabriel Jacquin Wood (23 June 1903, Battle/Bexhill-on-Sea, Sussex — 5 November 1983, Dereham, Norfolk) A very unusual middle name, given in both birth and death registrations, but not hitherto in any chess references to him. In 1939 he was listed as a "chemist photographic dealer" living with his wife Gladys M Wood in Southall, Middlesex, with a Mary E(dith) Wood, who could well have been his (unmarried) mother. He was with her in 1911 in Hull. He married Gladys in 1927 in Peterborough.
From the Hull Daily Mail, 28 August 1946: "G. Wood, who has just finished second with 7½ points against R. F. Combe's 8 in the British Chess Championship Tournament at Nottingham, is a Hull man, and his performance is of much interest to the strong group of chess-players in the city.

"He became a junior member of the Hull Chess Club at a time when the club was rich in junior talent and with Teddy Hanger, grandson of Ald[erman]. Hanger, and E. B. Waller made a good show in the club tournaments. He lived in Caughey-st., and was employed by Boots, at the former King Edward-st. premises. Mr Wood then moved to London and little was heard of him here, until, about a year ago, it was seen that he had won the London Championship. Since then his victories include this year's British Correspondence Chess Championship. It was this fine achievement that secured for him the invitation to play in the British Tournament and he has not failed to add to his reputation.
"Hull players hope before long that they will see the British champion risen from their ranks."
Gabriel Wood's obituary in BCM, Jan 1984, p21: "Gabriel Wood (23 June 1903 — the date has been supplied by our correspondent Andrew Blackburn, whose firm is acting in the deceased's estate) died at Dereham, Norfolk, on November 5th 1983. We are informed by Owen Hindle that the 1946 British Correspondence Champion had played in Norfolk chess circles in recent years. The wider chess community had lost touch with him decades ago, since we understand that he gave the game up shortly after his most successful period at the end of the war, when he was runner-up to Combe in the 1946 British Championship. In the 1948 British Championship he beat Alexander in only 19 moves, but after a loss 4-2 to Winter in a match in 1949 he seems to have given up OTB competitive play."
---
Miss M C Forbes [section added 29 October 2020]
To date, Miss M C Forbes has proved elusive as regards biographical data. Jeremy Gaige's Chess Personalia (McFarland 1987) has "Forbes, Mrs M C" and then blanks where the birth and death info would normally appear (it would be good to have access to the unpublished second edition of this work but unfortunately I don't). Ken Whyld's Chess: The Records (Guinness 1986) has "Forbes, M C – Scottish women's champion 1920, 1935-6." There is no biography of her amongst the admirably curated list of Scottish chess players at the Chess Scotland site. She is referred to in DM McIsaac's 1943 piece on women's chess in Scotland reproduced at the same site, adding the detail that she was winner of the Edinburgh Ladies' CC Cranston Trophy in 1921, 1936, 1939, 1942 and 1943, and the fact that she was active in the management of said club. We know that she participated in the British Ladies' Championship a number of times between 1920 and 1946, and there are plenty of newspaper references to her on most of these occasions, but always she is simply Miss M C Forbes, perhaps with a reference to Scotland or Edinburgh.
My hunch is that she was Mary Constance Forbes as a number of circumstantial details point to it, though an explicit link between that name and chess is still to be found. Mary Constance Forbes was born 0n 27 May 1869 in Edinburgh. Her parents were Capt. James Arthur Forbes (1831-1905), a naval officer, and Fearne Jemima (née) Kinnear (1836-1904). Capt. Forbes was Fearne Kinnear's 2nd husband after the death of her first, who was William Edmondstoune Aytoun (1813-65), a Scottish poet and barrister. There were no children of the first marriage and Mary Constance was the first of seven children of the second. She never married and stayed close to her parents who, following Captain Forbes's retirement, settled in Berwick where he became a pillar of the local establishment. One imagines that she was at something of a loose end following the deaths of her parents in 1904/5, aged 36 in an era when women usually married in their early 20s. There is an earlier record of her having sat and passed Cambridge examinations, presumably the equivalent of A-Levels, and she must have been interested in wildlife as she accompanied her father on various excursions (he was a keen naturalist). In 1918 Miss Mary Constance Forbes was awarded the M.B.E. for being hon. sec. of the Edinburgh Red Cross during the war. It is around 1920 that the name M C Forbes starts to appear in Scottish chess records and there is a group photo taken in Edinburgh in 1920 showing her as a lady who could well be around the same age as Mary Constance, who died on 11 March 1959, aged 89.
One complication is the existence of Miss Forbes-Sharp, a Scottish chess player who took part in the 1897 Ladies' Chess Tournament. Is this the same person as Miss M C Forbes? There is a photo at the head of the linked article. I've tried comparing the two faces in the 1897 and 1920 photos – it's hard making up one's mind but it's possible they are one and the same. If they are the same person, it weakens the Mary Constance Forbes theory as there seems to be no reason why Miss Forbes would suddenly change her name to Forbes-Sharp.
I stress I have found no overt references to Mary Constance Forbes being the chess-playing Miss M C Forbes but the circumstantial evidence is as least worthy of consideration – location, longevity, a serious, enquiring mind of a type which might well be attracted to the game, and the fact that she was a single lady of some wealth, as was the norm for chess-playing ladies in that era, with the means to stay for a fortnight wherever the BCF Congress happened to be played. I have no evidence to 'convict' Mary Constance of being a chess player but merely set out what I have found so that another chess detective can take it from here.
---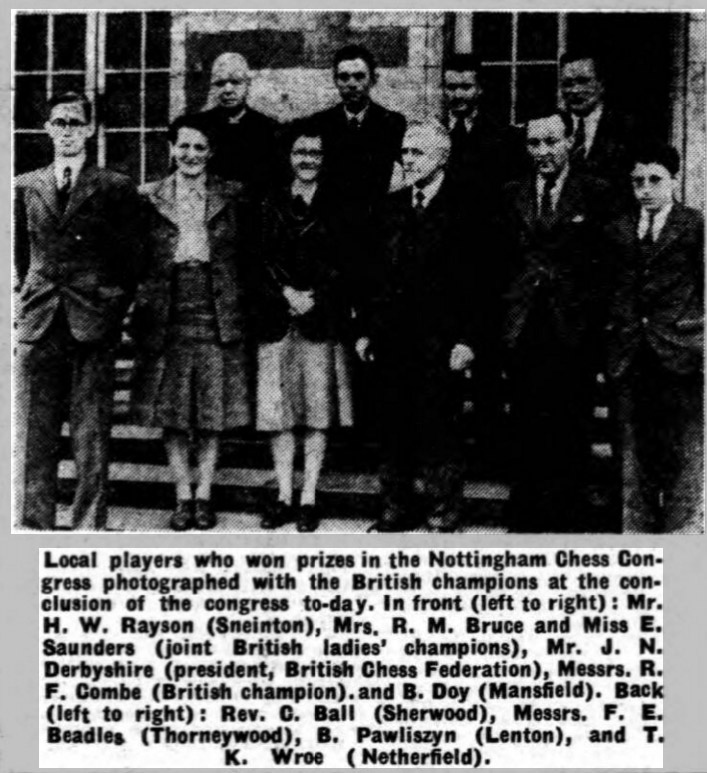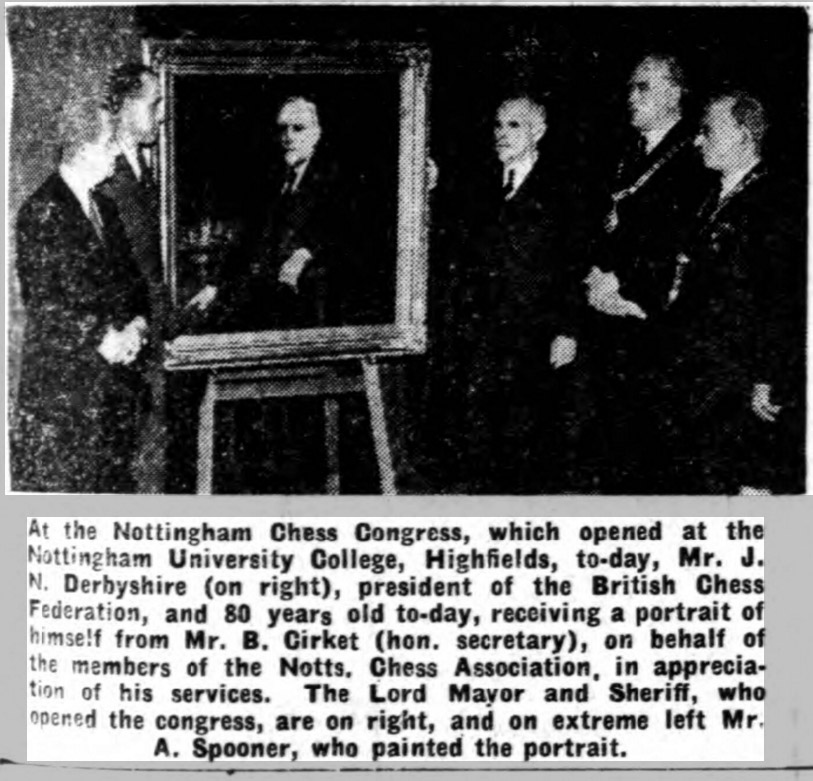 ---
| | |
| --- | --- |
| Date | Notes |
| 28 March 2016 | Already on BritBase for many years but round numbers, dates, press cuttings and photos added in 2016. Included seven more games played by Ron Bruce in the 4th section of the 1946 Major Open, taken from the Ron Bruce file input by Bob Jones and Bill Frost some time ago. This enabled me to work out round numbers and dates for other games played in the 4th Major Open section. |
| 7 April 2016 | Added three games from the First and Second Clas sections - thanks to Brian Denman. |
| 29 October 2020 | Some cosmetic amendments to crosstables, including full names, plus biographical information expanded. |