Your reminiscences on the Masters
Last Edited: Tuesday January 4, 2022 5:32 PM
I am grateful to David Jago & Bob Mitchell for starting this list and reminding us of their nicknames.


Clicking on the names will take you further down the page to read additional comments, some of which are not always complimentary:-
You may also find links to extra pages devoted to individual masters where more space is needed.
Contributors are :- KCB = Ken Bowell, MC = Michael Claridge, AJH = Tony Hare, DMJ = David Jago, RCJ = Roy Jones, GG=Geoffrey Gunning, RDM = Bob Mitchell, DN = David Neil, BJR = Brian Ransley, PNR = Peter Rogers, JS = John Saunders, RV = Rennie Vickers, DW = David Wiltshire, RHW = Ron Wynands.
See also the List of Masters, which gives a short summary of every master from the founding of the school to the 1970s
---

Name

Nickname

---

Ashford, L.J.
Les
Contraction of first given name
Barnes, D.J.
Wally
After '43-'56 Arsenal soccer player
Benson,J.B.
Tiny
Physical size
Browning, G.G.
Doc
Doctorate of Divinity
Clark, W.A.
Wally or Bulldog
Contraction of first given name & appearance
Coventry, A.A.W.
Curly or Killer
Baldness & love of shooting and fishing
Cowan, J.P.
?
?
Davies, M.M.
Taffy
Welsh
Edwards, J
Jimmy
First name & the comedian, 'Professor' Jimmy Edwards
Eldridge, F.S.
Fred
Contraction of first given name
Emery, R F
Evely, J.P.
Jock
According to Geoof Gunning - He was actually from Devon, so "Jock" was meant to be the opposite
Grant, G.A.
Gag
Initials
Haworth, C.M.
Kit or Poop
Contraction of first given name & haughty manner
Hett, A.S.
Hett, Hetty or Crappy
Surname without title & play on name & initials (Crappy?) - but see his war record
Hills, A.C.
Pinhead, Min or Dome
Small head, pomposity & baldness/Dome of Discovery
Hollingworth, L. T.
Hollybolly or Holly
Play on name
Hood, T.E.
Cruiser
HMS Hood
Howard, R.
Reggie
Contraction of first given name
Johnson, H.W.
Hosh
Contraction of first given name
Jones,E.
Emlyn, Chunky or Chunk
Given name and appearance
Jones,G.M.
Ginger
His hair & volcanic temper
Jones. P.L.
Piljy / Pilgy
Adaptation of initials PLJ
Leggett, A.D.
Alpha
First initial and/or marque of the ancient motorbike he rode
Lloyd, J.G.
Adolph
Hair style and moustache
Male, S.A.
Sammy
Adaptation of initials (his first name was actually Stanley)
Mewse, E.
Pussy
Play on surname
Morgan, S.
Sam
Adaptation of initials
Nicholas, A.L.
Nick
Contraction of surname
Nightingale, D.R.
Nifty or Tweet
Relic of service in Navy & surname
Pattinson, R.
Moan
World-weary manner of speech
Perfect, E.J.
Polly
Polly Perkins (Perfect) of Paddington Green
Piner, L.W.
Lou
Contraction of first given name
Rainbow, B
Ben
Contraction of Bernarr
Rees, W.A.
Aubrey
Second given name
Roberts, J.O.
Johnny
Contraction of first given name
Runswick, A.L.
Beaky
Appearance
Scott, H.S.
Doggy or Harry
Scotty Dog (?) & contraction of first given name
Sheppard, T.V.
Tus
Adaptation of initials TVS (as if they were Latin capital letters)
Sladden, C.E.
Sloppy or Dewdrop
Relic from Eton and perpetual drop on end of nose
Tucker, E.R.
Boss
Headmaster
Tucker, J.A.
Boswell
"Mister James"
White, N.H.
Blanco
He taught Spanish
Young G.
French & German 1948-52
Reminiscences
We must remember that as pupils we did not always appreciate the total of a Master's character. As an example "Crappy" Hett was almost universally disliked, but he did have an extraordinary First World War experience as Martin King has uncovered.
Read Hett's war record here. You might be surprised.
He wrote the earlier chapters of the School history, published to mark the 400th anniversary in 1962, with Mr. Haworth contributing the later ones, covering the headships of G.W. Arnison and E.R. Tucker from 1905. (DMJ)
A reliable cricket umpire. (RDM)
A soccer player himself who wanted to take on the uphill struggle of getting the game introduced - was he successful? (RDM)
I had a great respect for him and I still remember about 90% of the French he taught me (even though I can't remember my wife's name some days). (AJH)
CO of the Naval section; looked very smart in his RNR uniform. (DN)
Refused to sponsor a mock election - 'do not want to know your parents' politics'. (RDM)
He also played the piano for morning assembly; I don't think he ever missed during the eight years of my time at the school. The hymn-book, Hymns of the Kingdom (presumably a patriotic pun), was a very good one. There were plenty of solid tunes that have remained with me for life, and some I have never met elsewhere, such as the Imperial Russian national anthem, with which Tchaikovsky concludes the 1812 overture (but breaks off before the end). (DMJ)

Wally Clark was a formidable character of two parts. Some lessons would rattle along well, where we learnt something. Others he would be in a bad mood. (RHW)

While I will always be grateful to Bulldog for his one-on-one help (what a deal @ 5 bob an hour!), I have to agree that he left a lot to be desired as a classroom teacher. As for the violent temper, that seemed to come with the job of being a Maths teacher at the RGS - Doggy Scott, Ginger Jones, Jock Evely were all blessed with one. (RDM)
Taught Maths, but lost control of discipline. I remember coming down the stairs and seeing the classroom door leaning against the wall beside the doorway: he had wrenched it off in his fury. (DMJ)


I was looking at all the masters and their nicknames. "Jock" Evely had a "?" next to it. As far as I remember it was the perverse logic of schoolboys that gave him that nickname. He was actually from Devon, so "Jock" was meant to be the opposite. That's how it was explained to me. (GG)
Old Boy (1927-33) and Master (1945~49), Read his Obituary here
Although only a master for a few years, many of us knew him at the rugby club in the following years Old Wycs later packed up due to lack of players, so changed to HWRFC to widen access; still going strong I could not get to the funeral, but I heard it was fully packed out No doubt a few pints were sunk ! (RHW)
As I recall 'Gag' never actually taught. I don't think he ever drew anything on a blackboard or explained a technique. It was more of 'Here's an old plimsoll or half a cabbage, spend the lesson drawing it', after which he would award a mark. (MC)
Comment on the above anecdote:
At least he was a great pencil sharpener. (RDM)

One summer Gag asked our class to draw our hand as part of his exam. The less artistically inclined, me included, plonked our hands on the paper and simply drew round them. Job done. Gag was furious and beat us all vigorously with his heavy ruler. (RCJ)
Amost unversally loathed - the most prolific contributor to the Detention and Punishment Drill Books. (RDM)

In my memoires I remarked that most boys at RGS in the 1947/48 year thought that Hett's period in Canada was a good idea. (BJR)

I really disliked Hett's French lessons. Lots of quite silly asides about slummy boys, and shoving a ruler into pupils mouths. "Say, A_E_I_O_U clearly boy". Coming from Stowe Public School, with smaller classes and its alleged touch of class, he probably felt it beneath him to teach hordes of scruffy boys in a state school. However outside school I remember he bought ice-creams all round on a theatre outing. Also he championed the UNO in those early days. which held monthly meetings in the room above W H Smith in the High Street. I attended once, and he was quite civil. Do you remember school dinners in the Hall at the end of term? The masters passed down one side on the way to their dining room by the stage. Cheers and enthusiastic banging on the table for most, silence rising to hissing for ASH. Incorrigible schoolboys! (RHW)

I remember his long, repetitive sermons on "the slums of Totteridge", meaning a high density housing development so badly needed in the late 1940's. Eventually Mr Hett took me for a pint in The Flint House when I left school in 1954. I remember him as a man of mystery and definitely a "one-off". (ADB)

I only had Hett in First Year Sixth, when he taught us Corneille's Horace, and seemed admirably suited to the frigid rigidities of French Classical Tragedy. (DMJ)

Actually, although Mr. Hett was a martinet, I owe my reasonably good French accent to the fact that he would accept nothing less than perfection. (PNR)

Hett seemed to all of us as embittered and sarcastic. I was scared of him, and yet I achieved the highest place in French during my year in his class, than in any other. That probably says much more about my attitude as it does about his! (KCB)

I can't really contribute anything meaningful in respect of Mr Hett. At the time I considered myself "very lucky" to miss being taught by him throughout my RGS days. I did play for the School Colts cricket team a few times and Mr Hett accompanied the team to an away match on one occasion. I realised then, that away from the classroom he was quite a "pleasant" chap! I did come across him in later years but I don't intend to say anything more about that! (RV)

Despite all the above, it seems that Hett had a rather remarkable story. Read about him here

see also John Saunders' comments about Mr Hett in 1963/64 - Hett's last year at the RGS.

Watching him tack up the drive on his 'sit up and beg' bike was a great distraction to learning. (RDM)

Pinhead (in those early years). Later it became The Minister, shortened to The Min, or just Min. But 'Pinhead'?! We certainly wouldn't have called him that as it was 1960s slang for 'thick' and he was anything but that. Mr Haworth referred to him as 'the Oracle'. (JS)
Comment on the above anecdote:
As one of that earlier generation, I always assumed that Mr. Hills was called Pinhead because his head was slightly small in proportion to his body. He was later called The Minister, because there was a distinct strain of pomposity in him. (DMJ)
'Hollybolly or Holly' Hollingworth
'Cruiser' Hood (see photo on right)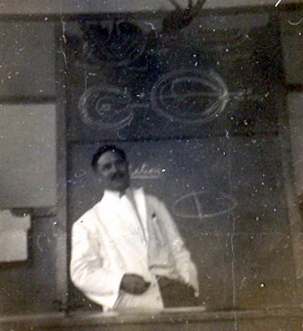 Started the CCF Naval Section. (RDM)

Ron Wynands sent in the photo on the right and explains "Taken secretly during a lecture by pupil Richard H Wheelband, 1st Year Sixth, 1949"
Richard later fled to Canada, and has not returned, to escape the long arm of Headmaster E R Tucker, and six of the best.
Another victim of world-weariness. Housemaster of School House until Adrian Runswick took over. (RDM)

You can read reminiscences and a lot more about Reg Howard on his own page
'Emlyn, Chunky or Chunk' Jones
You could see his craggy features in minimalist sketches on many a desk.
One of the few acts of rebellion in all my life was to decide (under the influence of Adrian Runswick) to take English, and not French and German, at university, and when Chunk awarded me the French prize in First Year Sixth, rather meanly I refused to choose Legouis and Cazamien (Histoire de la litterature française), but opted for Boswell's Life of Johnson. By chance, that volume is on my shelves where I pass it daily, and I feel a twinge of guilty triumph every time I do so. (DMJ)

I found (Hett's) French periods easier to endure than Chunk's and probably he was a better teacher, though his accent somewhat unusual to those who had become accustomed to the standard grammar school 'French twang'. Chunk was a crammer rather than a teacher, who seemed to concentrate on huge amounts of vocabulary. Did his French have a Welsh accent? (BJR)

I blame Chunky's diction for the disaster of my O Level French oral - I couldn't understand what he was saying. Hett's pronunciation, as affected as it was, seemed pristine compared to Emlyn's. Son Barrie took a lot of ribbing on his father's behalf. (RDM)
Quite a good physics teacher - but had the misfortune to have to demonstrate Kundt's Tube to 4th formers - Lycopodium powder will live forever in my memory.
In the days before Health & Safety, he had boys put their hands between a Roentgen tube and a fluorescent screen to see what X Rays could do - some may still be discovering! (RDM)
Longtime OIC of the CCF Air Section. Excellent teacher. Wife, known as 'Kitty', was the CCF secretary. (RDM)
Deputy Headmaster. His voice could stop charging bulls. Described the River Thames as 'a piddling little stream'. (RDM)

Gave me a Saturday morning detention in my first year for a poor homework free-hand drawing of the outline of England, Wales & Scotland. Should have cheated and used tracing paper.
Loved his class tests. 20 questions. Only 18 set! Nobody could get more than 18. 16 on geography, then one on current affairs (Who was elected in yesterday's by-election in Sunderland?) one on sport (Who scored a century at Lords on Saturday?). (RHW)

At the risk of derisive howls - Sam Morgan was the best master of the time, by at least 3 handicap strokes. He never resorted to physical violence - he didn't have to, as to receive his demonic apoplectic look and his rasping voice was a fate worse than death.
My elder brother Les took up teaching in 1959 and revisited RGS before embarking on his new career. He had been taught by Sam and had been awarded the Geography Prize in 1947. Having discovered that it was the younger Ransley who had gone to NZ not the older one, Sam took it upon himself to offer Les some good advice. -- 'First of all you must establish an environment of complete terror amongst the pupils! Unless you do this you will find that there is a risk that most of them will not listen to what you are talking about.' (BJR)

Read the Obituary sent in by Ron Wynands
CCF Commanding Officer and commander of the reconstituted Home Guard - his demeanour could have made him the model for John LeMesurier's role in Dad's Army. Tylers Wood Housemaster. Reputedly a scratch golfer whose instructional abilities were frequently applauded by residents of Uplyme House. (RDM)

He was a very good amateur. He played in the UK Open, and came well up the leader board. Boss would announce his progress each day, adding Mr P will not be taking lessons today.
In WW2 and afterwards I think he had a pig-bin attached to his car, probably full of unrequited school dinners. Taught Chemistry, not very inspiring- just told at the start of a lesson to read chapters x & y. We were more into practical stink-bombs: hydrochloric acid + ferrous sulphide--> hydrogen sulphide (pre Health & Safety). (RHW)
"Our teacher of the Russian language - by the name of Mr. Perfect - turned out to be an interesting person. During the war, he served in the airborne troops and took part in fierce battles near Arnhem in Holland, where the British air force was severely defeated. Outwardly, he did not look like a paratrooper at all - stooped, thin, bespectacled. He spoke in a low voice. He was self-taught. Without any help, he single-handedly learned Russian. The reason was the following: once he read somewhere Pushkin's poem in English translation. He liked it so much that he immediately set himself the goal of learning Russian in order to read the poem in the original." Prince Oleg Volkonsky (RGS 1952-58, as told in his memoirs of the school) (added 3 February 2021)
'Bernarr' Rainbow (See also notes at bottom of the G& S Operettas page)
Went on to great things (you have the detail?). Really knew how to enthuse little boys in short trousers about music. I well remember being allowed to bang our desk lids in time to the William Tell Overture. Also Schubert's 'Earl King' sung to the words: "He rides through the night on his motor-bike". I have never looked back; Bach, Beethoven, Brahms, Britten, and all the others, for a life's time enjoyment. (RHW)
He left to teach at Winslow, of which he said: "It's a nice town. You put the kettle on, go out and do the town, and then come back and make yourself a cup of tea." (DMJ)

A self-described aesthete and remarkably successful teacher in an environment that was adept at exploiting soft-spots (RDM)
Some lads had chocked his car up on bricks so that there was just a small gap between the tyres and the gravel. Tus hopped in, switched on, engaged gear, and nothing happened. Quite amusing for those in the know who were watching from the classrooms. (RCJ)
Comment on the above anecdote:
I believe the 'Tus Bus' was a 1935 Jowett Weasel - a rare but noisy beast. (RDM)

Did NOT own a car with the registration TVS 149 - this school myth still persists well into the 21st century! (JS)
Once, during a chemistry lesson with Dewdrop, we all blew down our bunsen burners to back up the gas and thereby extinguish his burner on the master's bench.
Unfortunately, we also put out the cookers in the canteen. It was a complete mystery, we could have gassed the cooks ! Lunch was late that day. (DN)
Comment on the above anecdote:
Poor old Sloppy seems to have had a lot of trouble with bunsen burners. One day while leaning back on the demonstration bench with a lit bunsen burner on it, he set his lab coat on fire. Fortunately we beat out the flames before any real harm was done. He was partially blind in one eye so that when he tried to demonstrate something that involved heating a test tube, he usually failed to line it up with the flame. We came to expect this and there were delighted sniggers whenever it happened. But his time as a master at Eton had given him style and he took all these difficulties with great good humour. (RDM)
'Boss' Tucker see also in Obituaries
Prone to threaten expulsion, but expelled very few. (RDM)

One winter we had a heavy fall of snow. As was the custom, a snowball fight took place on the rugby field between the school and the prefects. As was predictable, the prefects were heavily outnumbered, and soon beat a retreat to the Prefects' Room. However the affair got out of hand, windows were broken and the Prefects' Room was slowly filled up with snow.
The following morning, The Boss called all those involved at midday to the hall for a caning, probably expecting a poor turnout.
The morning after that he marched into Morning Assembly as usual, but with one small change - the School Captain bore the Bible and placed it on the lectern. It seems that The Boss and Sam had carried out the canings on in excess of three hundred boys, and developed serious cases of tennis elbow. (DN)
Comment on the above anecdote:
I remember your snowfight story well and remain embarrassed to this day about it. I was involved in the fracas, as was probably 90% of the school, When the headmaster asked all involved to own up and get caned I'm afraid I chickened out and kept stum. Not only did the honest ones get caned but I believe they got fined sixpence each. I feel very guilty to this day about it all. (AJH)

Re Boss Tucker: as you guessed, he died in harness.
It happened just after the Summer term ended in July 1964. Boss Tucker had been greatly affected by the sudden death of his wife in (I think) 1962. But he carried on working right to the end.I think he had been planning to retire in 1965 but in the end he didn't make it.
My brother (1957-64) had a less favourable opinion of Tucker - on one occasion he was told by some boys in his class that the headmaster wanted to see him. He duly trooped off to the head's study and knocked on the door. He should have checked a calendar first - it was 1 April! The significance of the date was not lost on the Boss and he gave my brother a couple of strokes of the cane, just for being gullible. (JS)

In December 1954 six or eight of us went to Cambridge for four or five days to sit the scholarship exams for Jesus College. And on the last night, we gathered in somebody's rooms (like real undergraduates) and got drunk (ditto), for which the College fined us corporately £10. We arrived back in Wycombe on Saturday, binding each other to a strict vow of silence. Despite which, on Monday, the entire School knew - with the exception of Boss, who was the last to know. When he did find out, his displeasure was so great that he vacated his study to us, so that we could jointly meditate on the depth of our misdemeanour in those august surroundings, and decide what to tell him. Anti-climatically, I cannot now remember anything specific happening; no lightning flashed from the storm-clouds above our heads - but I never got raised to Senior Prefect the next summer. Still, I did get a Major Scholarship a year later, and was presented by him to the audience (it was the last night of Iolanthe) wearing a peer's robes. What dreams my parents, sitting in the middle of that audience, must have had! (DMJ)
Officially known as Mr. James, to avoid confusion with the Headmaster. (DMJ)

At the RGS he did have the nickname of 'Boswell'. That was the one given him by the members of the RAF section of the CCF. He was an officer and always wore a forage cap, so much so that a song used to be sung about him. It went (as far as I can remember) 'Boswell wouldn't buy me a flat hat, he's got a forage cap and he's very fond of that', repeated endlessly The tune I remember but I can't put another name to it. (DW)
Comment on the above anecdote:
The song was: Daddy wouldn't buy me a bow-wow, bow-wow,/I've got a little cat, and I'm very fond of that,/But I'd rather have a bow-wow-wow! (DMJ)
Called overweight boys 'Slug' (RDM)

He also flew the school glider on occasions. One day he summoned a squad of about thirty boys to launch the glider. The glider was firmly pegged by the tail to the ground; a huge elastic band looped to the front; the boys marched away with the band until it was at full stretch; Blanco pulled the handle and soared into the central blue. Unfortunately, he landed on the first XI cricket square and gouged out a huge rut across it. This was fenced-off, hallowed ground, waiting for the next important inter-schools match. Almost before Blanco had stopped skidding across it he was confronted by an irate groundsman. Poor Blanco, he really got torn off a strip. (DN)
Comment on the above anecdote:
I remember being on the rubber rope team when the glider first arrived at the school. All anyone managed were a few swift takeoff and lands before the glider started to fall apart and finally got burned in its hut. (Years later I met a chap who claimed to have taken part in burning the glider hut, but fortunately I don't remember your name David). (AJH)