Henry Sandon (1939 - 44)
HENRY SANDON (BBC Antiques Roadshow et al) was a pupil at RGS 1939-1944, 3LB to 5UC.
Ron Wynands dug up this item from the past after reading Henry's autobiography.
Ron writes:-
In his autobiography Henry includes a photograph of the 1941 school play, 'The Amazing Dr Clitterhouse'. Henry played a nurse.
Mrs Tucker taught me to walk on high heels and sit like a woman, and made a very fine job of turning me into a female.
On writing to Henry he wrote back that it would be great to see the photograph of the play in the Old Boys' section. The photo was shown on TV when I was the recipient of the big red book from Michael Aspel of "This is Your Life".
In his letter to Ron Henry ends, I remember those doodlebugs and SAM- what a character and short trousers, oh dear, grazed knees and cold limbs in 1939/40.                     (RHW)
Henry Sandon- Living with the Past. An autobiography. Hodder & Stoughton 1997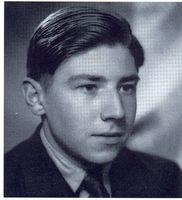 Read more about Henry Sandon
Henry Sandon in 1944
© Tony Hare 2019