Tudor Olsen
(1948 - 1954)
Greetings to all from Tudor Olsen [1948 – 1954] in New Zealand .
I have lived in NZ for 53 years & a good friend of Ken Bowell.

My wife Janet & I live on the Canterbury Plains in Rolleston [pop. 5,000] – a small , modern country town 22 kms S.W. of Christchurch.
Christchurch [pop. 400,000] is N.Z's second largest city. We moved here 7 years ago after 46 years in Auckland.
We love the quiet pace of life here & we look out on to the Southern Alps.
We visit the UK every couple of years. My wife Janet came from High Wycombe & we came out together.
SURVIVING A MASSIVE EARTHQUAKE
As you probably heard , we had a massive earthquake here on 4th Sept. 2010. It was the largest ground shake EQ ever recorded in NZ & we are only 2 km from the fault line.
I have written a very short account of our experience & wonder whether it would be of any interest to any of the "old boys "
Incidentally, we have had over 10,500 aftershocks in the Canterbury area since then & Christchurch was further decimated on the 22nd Feb. 2011 by another huge EQ.
We still get 5 or 6 shocks every day, but only feel the odd jolt & they are mostly small.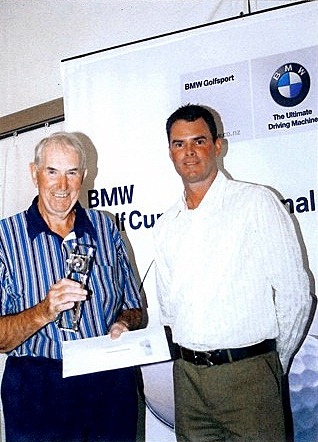 1st Feb. 2010. Tudor Olsen being presented with the trophy by David Smail for winning the NZ Final of the BMW World Golf Cup at the Hills Golf Club, Queenstown [ the day after the NZ Golf Open ].
The prize was a BMW golf bag travel cover plus an all expenses paid trip to represent N.Z.at the World Final [ to be played over 4 rounds ] at the Fancourt Golf Resort [ the home of Ernie Els & Gary Player ], George, South Africa.
The prize included an African Safari & a half day coaching clinic with Gary Player.
P.S. Tudor was nearly 73 years old & came 16th out of 38 players from around the world.
The Hills is a privately owned course & was the venue for the NZ Open for 3 years.The course is 1,200 ft above sea level & set in the middle of the Southern Alps & surounded by the majestic high mountains.