Alex Gray very kindly scanned this photo of the 'Ruddigore' cast photo for me. The production was staged at the RGS from 11-14 December 1963. There is a page with further photos and information on it at Tony Hare's website. It was the first Gilbert & Sullivan production to be put on in the Queen's Hall.
The above photo doesn't allow us to recognise anyone clearly so I have cut the photo up into smaller sections:
Section 1 • Section 2 • Section 3 • Section 4 • Cast List • Review (Wycombiensian)
SECTION 1: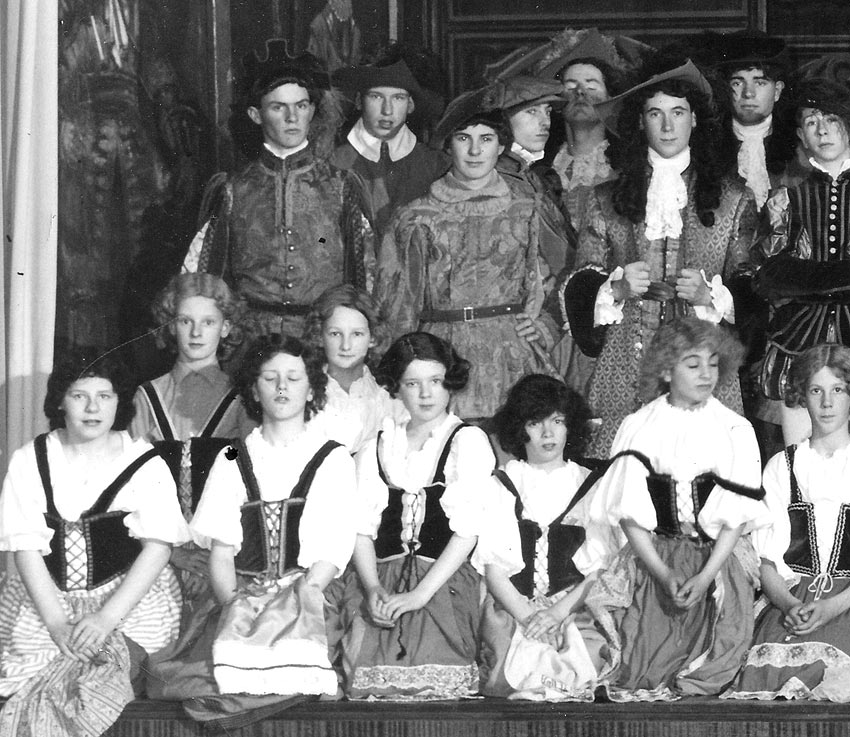 Section 1 "Ladies": PA (Phil) Davis (2E), BA (Bruce) Marsden (2B), DL Boobier?? (5A), WB (Brian) Rudd (3A), TR (Trevor) Toms (2A), NN, FCL (Franz) Ellul (3A), SM Perfect (4Y). Section 1 "Gentlemen": NN, NN, NN, PM (Peter) Colley (5A), AD (Andrew) Bissett (6T1), AJ (Alistair) Knox (6S2), NN, MJ (Michael) Cole (4A).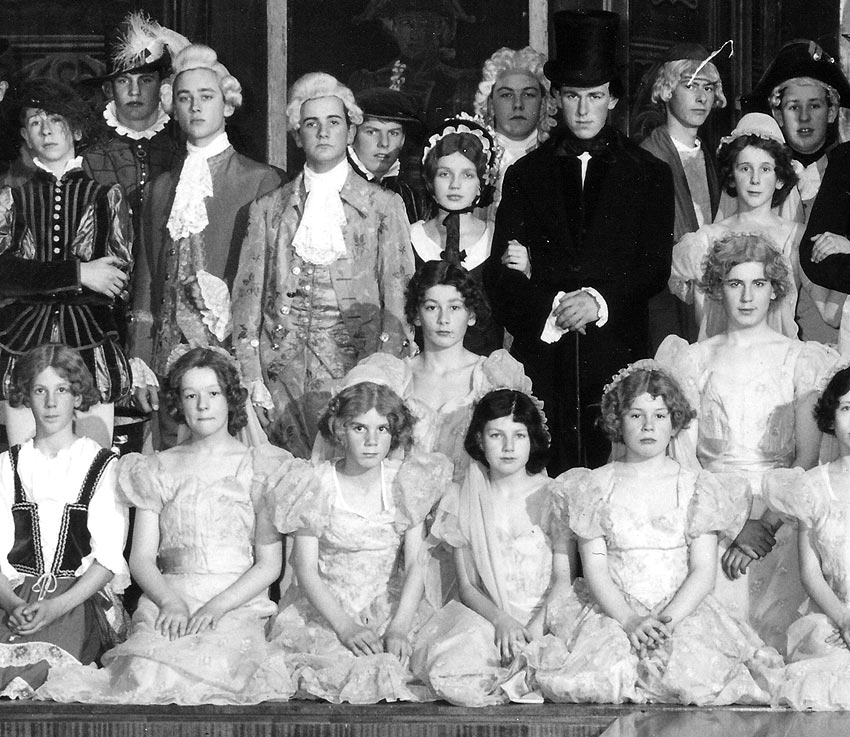 Section 2: "Ladies" at front: SM Perfect (4Y), REJ Faulkner (3SA), RM (Robert Muir) Wood (2B), JS (Jeremy) Luty (3A), MJ (Merv) Elias (3Y), TK (Terry) Gostlow? (3A), PTD (Paul) Fulton (4X).
"Gentlemen" and some "leading females": MJ (Michael) Cole (4A), NN, BJB (Bryan) Fox (6C1), RH Mullick? (6T1), DH (Dave) Holmes (5Y), PA (Paul) Roberts (5Y, as "Mad Margaret"), DA (David) Wakefield (6M1), JG (Jim) Scouse (6M2), PV Andrews (6M1), PG (Philip) Engel (4A, female dress), NN.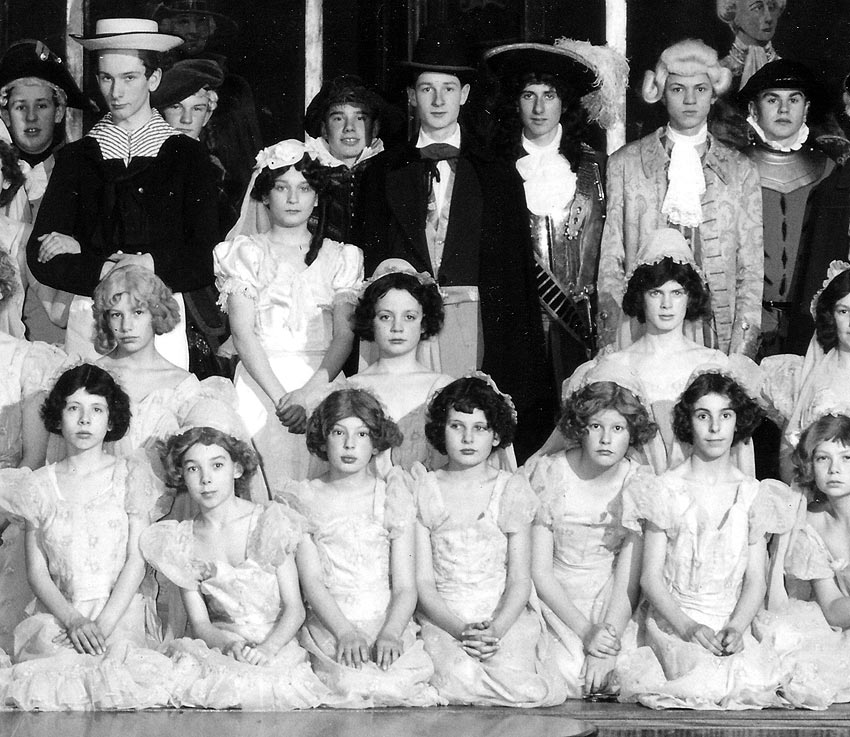 Section 3: "Ladies" - AD (Alex) Gray (3Y), DJ Brunton?? (4Y), JN (John) Elderkin (4Y), S (Steve) Jenner (4X, standing up), DJ (David) Moore (2E), JP Theophilus? (4SB), RL (Richard) Crayfourd (3SB), DE (Duncan) McColl (3X), PJ (Peter) Bedwell (4Y), SJ Hedges (4SB), MT (Martin) Coysh (4SB). "Gentlemen": NN, RW (Roy) Gravestock (6S3), AS (Tony) Farmer? (6B1), NN, AH (Andrew) Dixon (6S3), KF Woodbridge? (5UY), GJ (Graham) Jellis (6B1), DG Horley (6S3).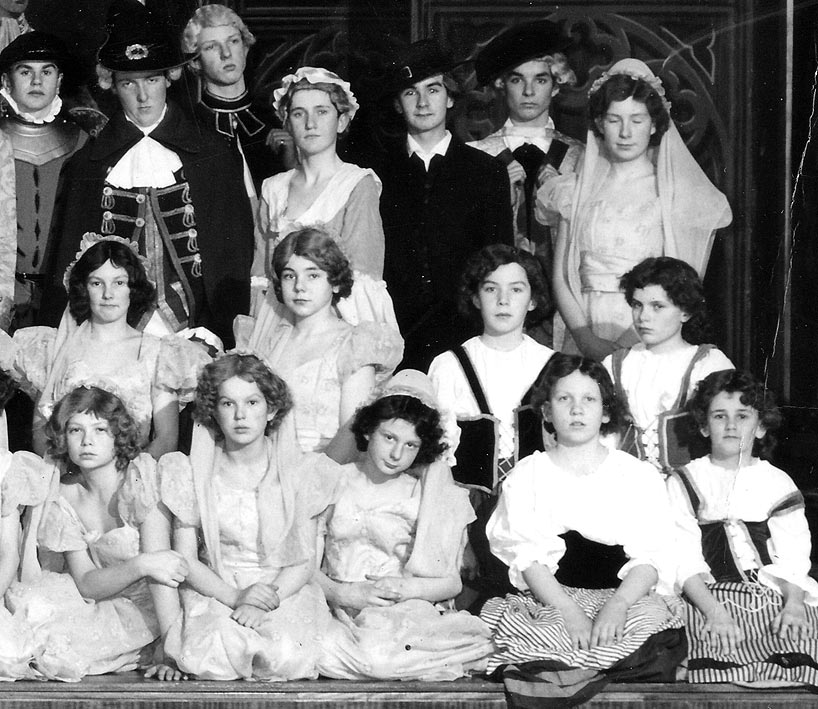 Section 4: "Ladies" - MT (Martin) Coysh (4SB), NN, MH (Michael) Whitaker (3SB), SE (Stuart) Toms (4X), ARN (Anthony Randal Nicholas) Harrison (4SB), NPG (Nigel) Hunt? (3X), AP (Adrian) Broadway (3X), NN, APR (Andrew) Knight (2A).
"Gentlemen" - DG Horley (6S3), RC (Richard) Jones (6M2), P (Peter) Merrington (6S3), MD (Malcolm) Goldring (4A), NN, NN, ADN (Andrew) Havard (5Y).
---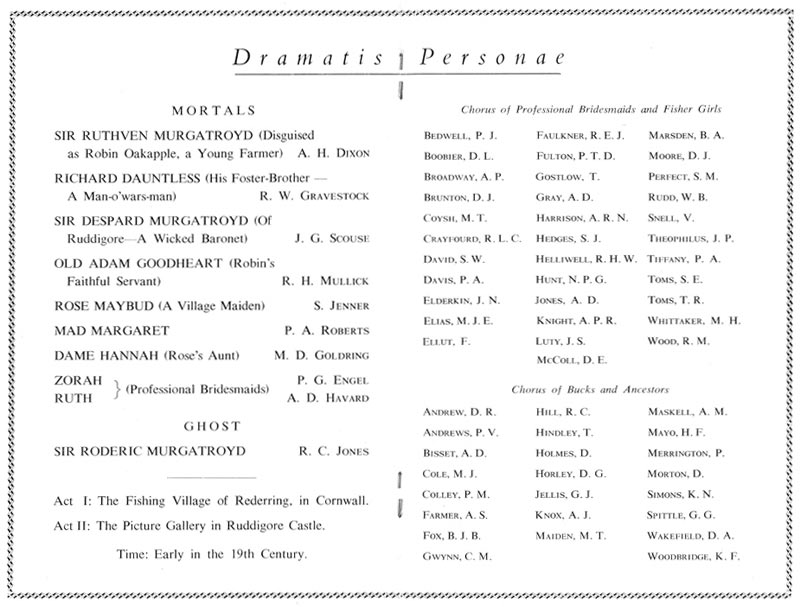 ---
"RUDDIGORE"
Review by D.J. Authers, Wycombiensian, May 1964, p546-547
The Operatic Society presented "Ruddigore" on the last four nights of the fifteenth and penultimate week of the Christmas Term. Your reviewer, attending his first R.G.S. opera production, went fearing the worst: "Ruddigore" in anything less than a good production can be a profound bore, as it is far from vintage Gilbert and Sullivan.
Seating himself gingerly on one of the Queen's Hall's new chairs, distinguished by their modern design and old-fashioned discomfort, your reviewer was pleasantly horrified at first by the ghostly cover of the programme and then gently lulled by the soothing warmth in the Hall – by no means a common experience in school halls, whether they be venerable with antique beams or aggressively modern with glass and concrete. With minimal pomp, the conductor arrived and launched the orchestra into the potpourri of the work's tunes which makes up the overture. It was immediately apparent that this was to be no ordinary amateur production: the orchestra played with zest and lightness : under Mr. Dawes' guidance the music fizzed happily with just the right spirit.
The plot of "Ruddigore" is too weird and wonderful to bear repeating in detail here: suffice it to say that there are two brothers, the elder of whom feigned death to avoid succeeding to the title and character of the wicked baronetcy of the Murgatroyd family: this deceit is discovered: the younger brother thankfully relinquishes his title and his wickedness. Before a court of the ghosts of his ancestors, who step down from their pictures in the Picture Gallery at Ruddigore Castle, the new baronet is arraigned on a charge of failing to do his daily wicked deed: his act of atonement is to abduct an elderly Sabine who turns out to be the fiancée of the wretched baronet's uncle: when this worthy man descends from his frame a second time – a veritable deus ex machina – there is the customary ritual marriage feast and rejoicing to end the play. There are also the usual maidens in, and out of, love with the various main characters and there are choruses of, of all things, professional bridesmaids, fisher girls, bucks and ancestors. With an array as motley as this, the omens of disaster are clustered close round any projected performance.
This was in no respect a disastrous performance: on the contrary it was a thoroughly excellent evening's entertainment. The wholly successful production diarchy, with Mr. Dawes in charge of the music and Mr. Newling directing the acting, gave us a stylish performance of great panache. The cast of seventy all sang well: the chorus had been well drilled and its interjections "Hail the bridegroom, hail the bride" in the Finale of Act One were perfectly timed and delivered. The grouping of the chorus was unobtrusively and effectively organised: in the revelling scenes, where the large stage was thronged with cavorting couples, any collision was quite unthinkable. This production was a far cry from the usual nadir of school presentations where, through insufficient discipline, somebody either treads on the train of his neighbour's costume or, thinking he will be unnoticed, chats to his neighbour. It was splendid.
The principals, as well as being able to sing, could act. We will long remember the horrific entrance of Mad Margaret, Rose Maybud composedly consulting her book of etiquette, Sir Despard Murgatroyd's towering villainy and the excellent portrayal of Dame Hannah. It is perhaps invidious to pick out stars in such an excellent group, but J. G. Scouse's acting and singing were in the highest class. His every gesture and every intonation fitted perfectly the part of Sir Despard. As his brother, Sir Ruthven, A. H. Dixon gave the necessary highly polished performance of this dapper squire, while R W. Gravestock sang well as Dick Dauntless, though one could have wished him to be at times more flamboyant, particularly during the hornpipe. R. C. Jones was a splendidly arrogant chief ghost. The lesser parts were well played by R. H. Mullick, P. G. Engel and A. D. Havard. The women were excellent. S. Jenner, as Rose Maybud, the girl who realised that it was not etiquette to hint, in print, managed his large part well; M. D. Goldring brought off brilliantly the portrayal of the old woman, Dame Hannah, and sang with distinguished excellence, while P. A. Roberts' Mad Margaret was in a class of its own. His acting of Margaret Mad – appearing like some Preraphaelite Ophelia – and of Margaret Not-so-mad, where Despard curbs her outbursts with the most pregnant of passwords, "Beaconsfield", will long linger in our minds. Particularly noteworthy was the patter song in which, while the smoke began to rise from the over-heated violins, the three participants not only acted but sang in such a way that every word was clearly audible, at least in Row G. D'Oyley Carte please note – it is possible. One slight oddity. Almost all the strapping great heroes were going to get married to charming heroines who barely reached their fiancés' elbow. This oddity must clearly remain as long as the Operatic Society puts on works which have characters of two sexes with actors of only one. Is co-operation with the High School really out of the question?
The production was acclaimed with the prolonged applause it deserved: your reviewer thoroughly enjoyed himself and looks forward eagerly to the producers' next offering, whether it be Mozart, Purcell, John Gay or G. & S. again.
D. J. A.
---
Email if you have any comments or queries.
Form 3Y, 1963/64 • Form 2A, 1963/64 • Form 2E, 1963/64 • Other Photos • Return to Main Page